A 75-year-old woman who plans to be ordained knows it will result in her excommunication from the Roman Catholic Church, but says ministry is her calling.
"Ministry is my true calling," Lewis told the news site.
The Roman Catholic Church prohibits women from becoming priests. Canon law states that "a baptized male alone receives sacred ordination validly." However, the Roman Catholic Womenpriests movement currently includes more than 140 ordained women worldwide, according to its website. Bishop Joan Hauk, who is a member of the group, will officiate Lewis' ceremony, according to the Associated Press.
Bishop Paul Bradley of the Catholic Diocese of Kalamazoo, Mich., issued a statement Wednesday condemning the ordination, which was originally planned to take place at the First Congregational Church in Three Oaks. Lewis told MLive that harassing phone calls caused her to move the ceremony to her house.
"Please be aware that such an action does not confer the sacred character of the priesthood for this woman; in fact, this action will further separate her from the Church in a very grave manner," Bradley wrote. "If this invalid 'ordination' takes place then the woman attempting ordination incurs an automatic excommunication."
Not only will Lewis be excommunicated, but Bradley warned other church members that they should not attend the ordination.
"Any Catholic attending or participating in this, or any invalid and illicit attempt at the sacrament of ordination, places themselves outside of full communion with the Catholic Church," he said.
In his 1994 Apostolic letter, Pope John Paul II said the church "has no authority whatsoever to confer priestly ordination on women."
On the Womenpriests website, the group explains why it has ordained women since 2002:
We women are no longer asking for permission to be priests. Instead, we have taken back our rightful God-given place ministering to Catholics as inclusive and welcoming priests.

Yes, we have challenged and broken the Church's Canon Law 1024, an unjust law that discriminates against women. Despite what some bishops may lead the faithful to believe, our ordinations are valid because we are ordained in apostolic succession within the Roman Catholic Church.
Lewis told the Harbor Country News that wrongs in the Catholic Church, including treatment of its female and gay members as well as cases of priest sex abuse, pushed her to become ordained.
"The Catholic Church is the last big patriarchy in the world. It's in the bloodstream. It's in the DNA," she told the paper. "There is a glass ceiling in the church that you keep bumping your head against."

Related
Before You Go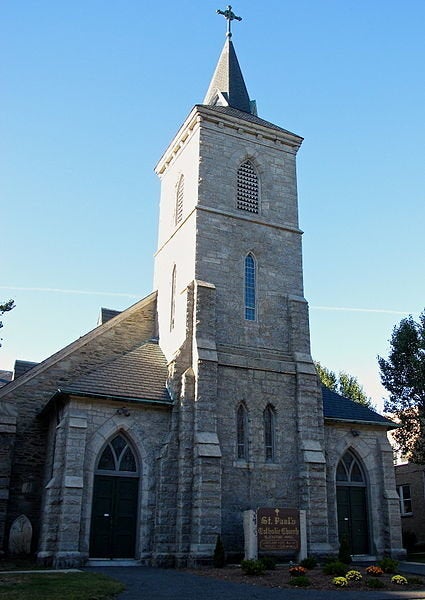 Most And Least Catholic States In The U.S.
Popular in the Community