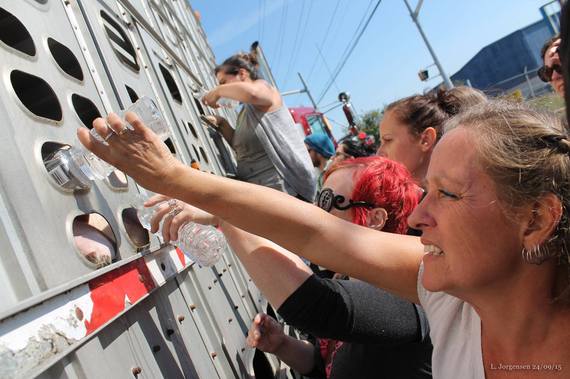 Members of the Save movement give water to thirsty animals in transportation trucks. Photo: Louise Jorgensen/Toronto Pig Save
On June 22nd, Anita Krajnc approached a stationary slaughterhouse transportation truck outside the Fearman's Pork Inc. slaughterhouse in Burlington, a city in the greater Toronto area. She squeezed water out of a bottle into the truck for the thirsty animals inside. The truck driver left his vehicle and told her to stop giving the pigs water. While Anita refused to stop, he told her, "No, you know what, these are not humans, you dumb frickin' broad." Anita repeatedly asked him to, "Have some compassion," as the pigs continued guzzling up the water, and the truck driver threatened her, "You do it again, and I'll slap it out of your hands." Eventually, the driver returned to his truck and left without any physical altercation.
On September 9th, a police officer came to Anita's house to issue her a summons for the charge of criminal mischief for giving water to the pigs. Anita worried that members of her organization, Toronto Pig Save (TPS), might be intimidated by these charges. Instead, on September 24th, more than 100 people came to Fearman's Pork Inc. to distribute water.
Anita appeared in court briefly yesterday, October 14th, to receive disclosure of her charges and schedule her next court date for November 4th. She stated in a Facebook post, "Compassion isn't criminal! Offering water to a thirsty pig is an act of compassion. It is not only a right, but a duty we all share. Causing the pigs to suffer in the first place is what is wrong. I face these criminal charges with dignity, knowing that truth and justice are on my side." Members of TPS gathered at the courthouse to support Anita and plan to do so in even larger numbers for her next court appearance.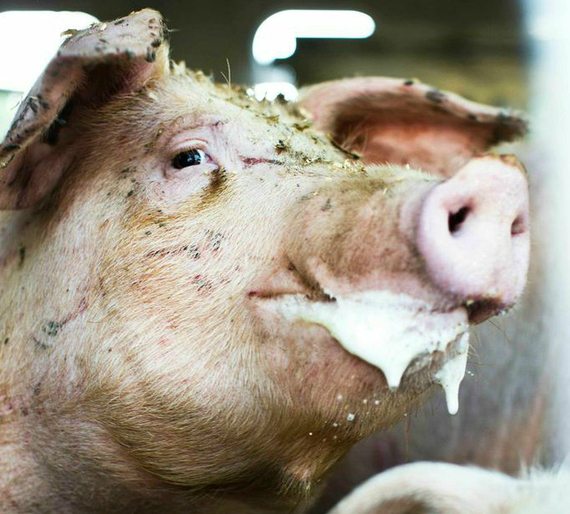 His mouth is foaming from dehydration. Photo from Anita Krajnc/Toronto Pig Save
Anita's charges raise important questions about our current food system. Pigs were recently recognized as outperforming dogs and matching the performance of chimpanzees in intelligence tasks. Although intelligence is a poor basis for moral consideration, it should make us stop and consider why we accept some animals into our altruistic circles but exploit others. All of these animals have a capacity for happiness and suffering much like we do.
Anita and other members of TPS work to bear witness to these suffering beings, spreading awareness of their plight and inspiring kind-hearted people to take action on their behalf, either through changing their eating habits, participating in activism, or other means.
According to the Canadian Coalition for Farm Animals (CCFA), horses, pigs, and chickens are all allowed to be transported 36 hours without food, water, or rest. Cows and other ruminants have a 52 hour maximum, and transportation can be continued after only a 5 hour rest period. Transportation regularly leads to hunger and dehydration, exhaustion, and overheating.
In Toronto, the heat can soar over 100º Fahrenheit in the summer. In the winter, TPS has witnessed pigs facing frostbite and hypothermia in temperatures under 10º Fahrenheit. All sorts of farmed animals face these issues in transport, even ones from "free-range" or "humane" farms.
TPS has inspired a larger "Save" movement with over 40 chapters that uses these practices to raise awareness for cows, pigs, chickens, and other farmed animals. This community is only a part of the larger, growing social movement for animal rights. For example, activists working for various organizations have recently sparked a cascade of commitments from companies in the US to no longer source eggs from facilities with battery cages, tiny cages that cause physical and mental health issues for chickens. Although cage-free facilities still involve tremendous suffering and abuse, this is important progress and signals hope and promise for the future of these sentient creatures.
It's incredibly important that we carry this momentum towards a future free of animal suffering. We need more people on the ground raising awareness of the plight of farmed animals. If you are in the greater Toronto area, please consider supporting Anita on her court date on November 4th, or TPS for their 24 hour vigil the following day. We need more people speaking out and raising awareness for these animals, whether it's sharing content on social media or advocating in person. Animal agriculture is one of the greatest atrocities of our time, but we can change this system together.
Believe it or not, the woman in this video, Anita Krajnc, is being criminally charged for this very incident, when she gave water to exhausted pigs during a scorching hot day in June this year.Yesterday was the first court appearance of the Toronto Pig Save co-founder. Here is the press release released by the organization:Compassion Isn't CriminalAnimal Rights Activist to Appear in Court on Charges of Giving Water to Thirsty PigsOn October 14th, animal rights activist Anita Krajnc will appear in the Ontario Court of Justice in Milton, Ontario, on charges of criminal mischief and interference with property. These charges were filed after Ms. Krajnc offered water to overheated and thirsty pigs on board a transport truck outside Fearman's Pork Inc. slaughterhouse in Burlington.Activists will hold a demonstration outside the Milton courthouse (491 Steeles Ave E) on Wednesday, October 14, 2015 at 8 am, the morning of Ms. Krajnc's court appearance.Thousands of people across this country and across the world give water to thirsty animals every single day. From shop clerks offering water to thirsty dogs to homeowners providing birds with birdbaths.Yet over 8 million farmed animals die each year in this country as a direct result of our outdated transportation regulations. Canada has the worst transportation regulations in the Western World, worse than Australia, New Zealand, the European Union and the United States. "Offering water to a thirsty pig is an act of compassion. It is not only a right, but a duty we all share. Causing the pigs to suffer in the first place is what is wrong," said Anita Krajnc, an organizer with Toronto Pig Save. "I face these criminal charges with dignity, knowing that truth and justice are on my side."Ms. Krajnc is represented by counsel James Silver and Gary Grill.For more information, please contact: torontopigsave@gmail.com

Posted by Best Video You Will Ever See on Thursday, October 15, 2015
Related
Popular in the Community