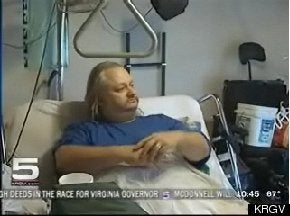 As part of its Bearing Witness 2.0 project, the Huffington Post is rounding up a few of the best local stories of the day.
In southern Texas, Estela Garza is donating her home to a paralyzed man who has been living in a storage shed, reports Jordan Williams of KRGV. She considered selling the house, she explained, which was her father's, but said she had the realization that "maybe God doesn't want me to sell it; maybe He wants us to give it to somebody that is in need."
The recipient, Woodrow Reed, lost his mobile home due to foreclosure, and last month the only money he had -- donations intended to help him get a new place to live -- were stolen out of the back of his caretaker's car. He is still recovering from a broken leg at a nearby hospital, but Garza is planning to have the house ready for him when he gets out.
Jeff and Jenette Lomax, of Victorville, Calif. won a court case against a loan modification company that scammed them out of $1,000, reports Patrick Thatcher of the local Daily Press. The couple -- the first in the nation to get legal support with the Center for Litigation and Consumer Real Estate Education -- claimed the Certified Financial Protection Group accepted their money for a loan modification even though the organization knew their house had already been foreclosed. After taking their money, the CFPG did not assist the Lomax couple in any way. A civil court ruled in the Lomaxes' favor, and awarded them more than $7,000, three times the amount they were seeking.
A food bank in Ft. Walton Beach, Fla., started to turn patrons away because of decreased funding and heightened demand this week, reports Meagan O'Halloran of NBC affiliate WJHG. The Sharing and Caring food pantry is looking for donations from the public, and had to cut some services for the first time ever. "Sharing and Caring has been here forever," said Theresa Red, who is homeless and depends on the organization. "They don't have any money," she explained, "they're almost homeless like we are!"
The public has stepped up, and since Monday donations have been pouring in. The response, including one man's pledge to donate a $1,000 check, is "very encouraging," said one volunteer, and "somewhat humbling."
Dave Dudley saw his layoff as an opportunity to live out an old dream and hit the highway -- permanently. The former software company VP and his wife Joleen gathered up their three kids, hitched a 41-foot trailer onto the back of their truck, and have spent the last year on the road, driving around the nation and turning their lives a never-ending road trip, reports the Today show's Michael Inbar. The kids go to school online, and the family claimed it has gotten a lot closer. They have also saved money: "Just taking care of the house, with the mortgage and the insurance and the utility bill and all that, we were probably looking at around $3,000 a month," said Dudley. "Now we're looking at around $300 a month for the same thing."
The Dudleys have a website documenting their travels, and are part of a small trend of families saving money by going on permanent vacation.
HuffPost readers: Seen a compelling local story? Have a neighbor going to bizarre lengths to get through the recession? Tell us about it! Email jmhattem@gmail.com.
REAL LIFE. REAL NEWS. REAL VOICES.
Help us tell more of the stories that matter from voices that too often remain unheard.