A college student who fled the deadly wildfire that swept through Santa Rosa, California, on Monday night would never leave her dog behind.
Natasha Wallace, who attends Santa Rosa Junior College, told news station KTXL that she was on her way home from studying across town at around 2 a.m. when she saw the flames in the distance and realized she and her pit bull, Bentley, needed to get out.
The pair quickly got stuck in traffic in Wallace's car. Fearing they'd be trapped in harm's way, she ran home and retrieved her bike — a mode of transportation that makes bringing along a 70-pound dog a lot more difficult.
Quick-thinking Wallace also got a duffel bag and, fortunately for both her and the dog, Bentley was compliant with her request that he get in.
"I grabbed my dog and I told him, 'Hey man, this is serious, you need to just sit in the bag.' ... And he, he hopped right in," she told KTXL in the video above.
Wallace biked a few miles away from the traffic jam with the large canine slung across her back, when a man named Paul Johnson pulled his truck over and gave both of them a ride to safety.
Wallace's story is the second dramatic bike escape widely reported in the wake of the fires. Multiple media outlets wrote earlier this week about Charity Ruiz, a pregnant woman fleeing Santa Rosa on Monday who also wound up stuck in traffic and fled on a bike, KPIX 5 reported.
Ruiz, who was scheduled to deliver her baby next week, biked away towing her two daughters in a small, attachable bicycle trailer. They also were ultimately picked up by a kind stranger who drove them to a friend's home.
The multiple wildfires that raged across Northern California this week are the deadliest in the state's recorded history, with at least 32 people confirmed dead as of Friday. Hundreds of people remain missing, and rescue workers continue to search the charred rubble for bodies.
Officials assessing damage estimated on Friday that 5,700 structures had been destroyed across the state. In Santa Rosa alone, where Wallace and Ruiz lived, nearly 3,000 homes were lost.
Daniel Berlant, assistant deputy director for the California Department of Forestry and Fire Protection, told HuffPost this week that climate change is creating an environment where wildfires become more intense and spread more quickly.
"Our summers are getting longer and our temperatures are getting warmer," he said."
Related
Before You Go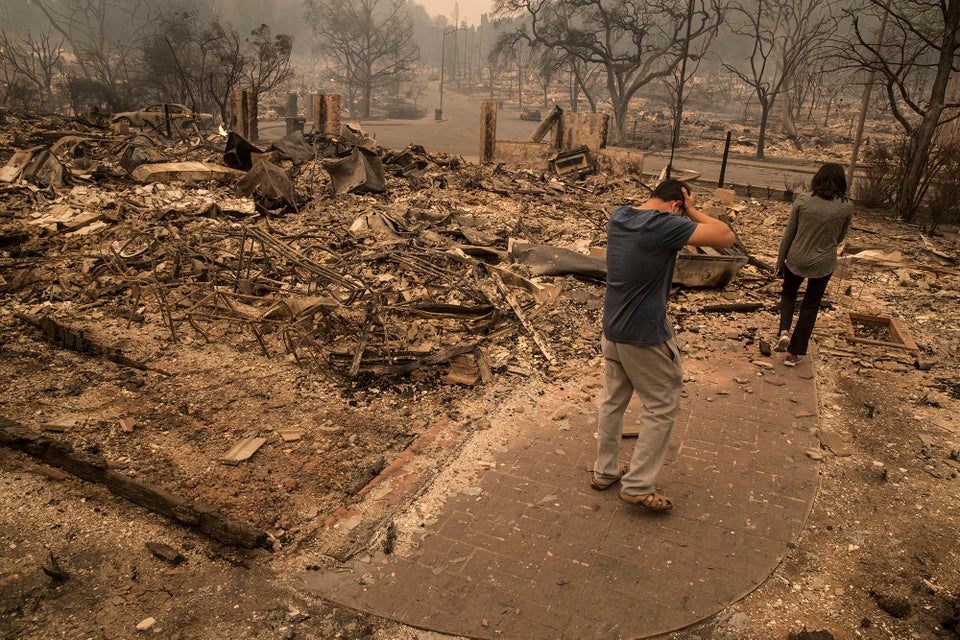 Apocalyptic Aftermath Of California Wildfires
Popular in the Community