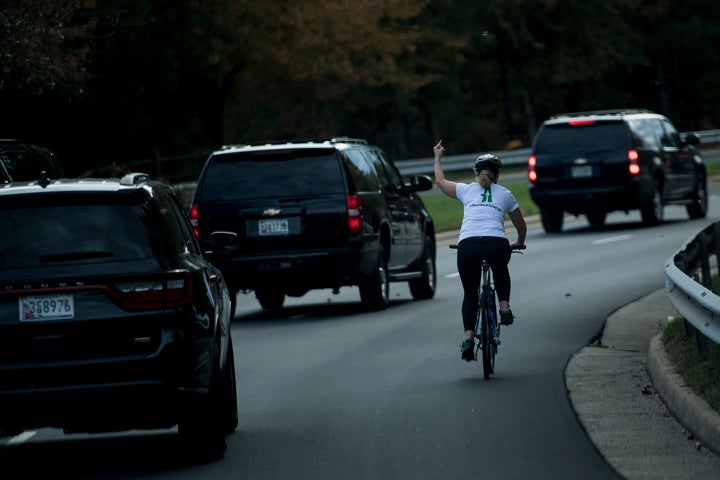 WASHINGTON ― It's been three weeks since Juli Briskman got fired after a photo of her giving the middle finger to President Donald Trump's motorcade went viral. She remembers driving home that day shocked at what had just happened and terrified about being able to afford health care.
"I was really, really worried," said Briskman, 50, a single mom of two. "I've been on Obamacare before. I've been vulnerable in that department."
Luckily, one of her friends set up a GoFundMe page to raise money for her while she looked for a new job. As Briskman's story began to spread, so did the number of people outraged that government contractor Akima LLC canned her over the Trump incident, particularly since it happened when she was riding her bicycle and not at work. The donations started to roll in ― and haven't stopped.
More than 5,500 people had given almost exactly $124,000 to Briskman as of Wednesday evening. Donations of $10 or $20 have come from people all over the U.S. and, for some reason, from lots of people in Germany. Even celebrities have kicked in some money. Rosie O'Donnell ― a longtime Trump target ― gave her $1,000.
Briskman said she's been stunned by the response and has been trying to thank every person who has given her money; so far, she's sent messages to about 4,000 people. She said she's been moved by the number of people trying to help her when they concede they don't have much to give.
"Some people are like, 'I don't have any money, but I want you to have a cup of coffee.' Or they'll say, 'I'm broke, I'm working two jobs, but damn it, have a beer on me,'" she said, choking up. "I'm filled with gratitude. I can't even say enough thanks."
Briskman said she's "definitely" feeling better financially and is looking for a new job in marketing. She said she's heard from several prospective employers since she was identified as the woman in the photo flipping the bird at Trump, including MoveOn.org, a Virginia congressman, an Arizona assistant attorney general and two bicycle organizations.
In the meantime, Briskman said she's trying to pay back some of the generosity she's benefited from. She recently came across a GoFundMe campaign for an elderly woman in Kentucky who needs dialysis treatments but can't afford transportation to the clinic. Briskman said she chipped in what she could and is trying to get others to help.
Before You Go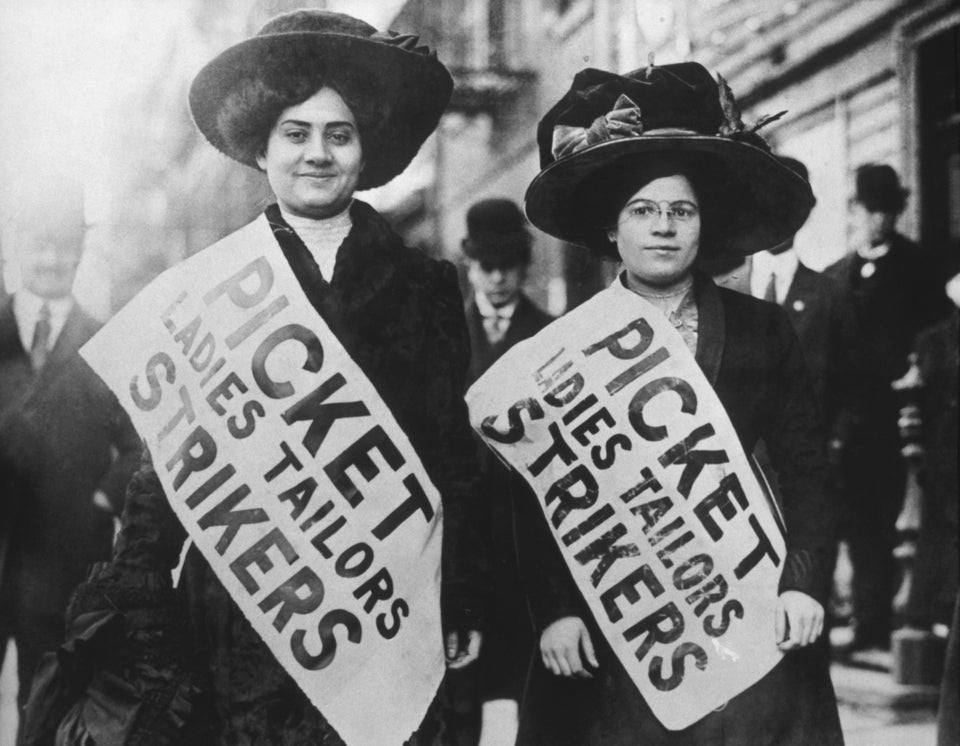 Women Protesting Throughout American History
Popular in the Community