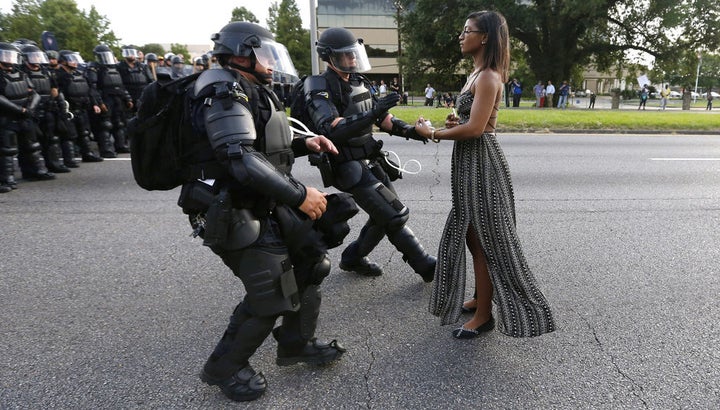 For Ieshia Evans, there was no hesitation in stepping out onto a Baton Rouge street to confront a row of armed police officers last week. "I needed to see them. I needed to see the officers. I needed to see their faces," she said.
The 35-year-old is the subject of an image taken at a recent Black Lives Matter protest, in which she stands calmly in a sundress, facing down three riot gear-clad police officers. The image, taken by photographer Jonathan Bachman, has since become an iconic representation of the protests currently sweeping the nation. 
On Friday, Evans sat down with Gayle King on "CBS This Morning" to discuss her encounter with police, and why she joined the Black Lives Matter Movement. 
"So Ieshia, you walk into the street... And you stand nose to nose [with the police] and you don't say anything. And what are they saying to you?" King asked Evans in the interview. 
"Nothing. It was silence. It was a lot of non-verbal communication," Evans responded. 
According to Evans, she wanted her silence to say:
"I'm human. I'm a woman. I'm a mom. I'm a nurse. I could be your nurse. I could be taking care of you. Our children could be friends. We all matter. We don't have to beg to matter. We do matter." 
Watch an excerpt from the interview below:
BEFORE YOU GO
PHOTO GALLERY
Baton Rouge Protesters Show Support For Alton Sterling