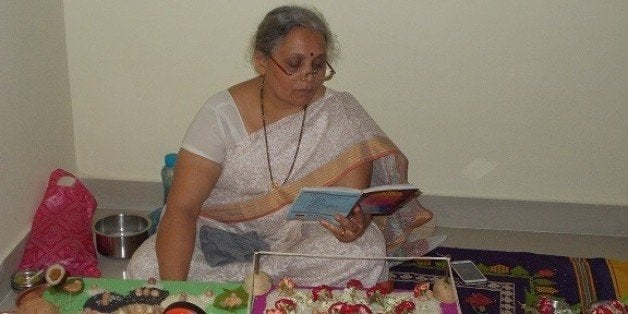 Megha Gokhale has been many things in her life: A graduate student, an accountant, a wife, a mother. In 1992 her life took yet another turn when she began training to become one of the few Hindu women priests in India at the time -- and the world has come quite a long way since then.
"There has been a significant growth in number of women priests in cities like Pune and Mumbai," Gokhale told HuffPost by email. "Many Hindu families are still with the orthodox outlook, but there is a growing acceptance in the society. People are being more practical and understand that the women priests can perform the rituals as well as their male counterparts."
Gokhale began her training in 1992 under her late guru -- and a fellow female priest -- Shrimatee Shubhada Jog from Pune, Maharashtra. She began serving as a priest in 1996 and shortly thereafter began training other women to take up the call. The classes were small at first but they grew over time, and many of Gokhale's students began performing rituals independently.
"Initially the response was less and I had 15 ladies who wanted to learn this science," Gokhale told HuffPost. "But as of today the count is 60 women. This definitely shows the increasing acceptability."
There may be as many as 1,600 Hindu women priests in India, research scholar and chief librarian at Pune's Bhandarkar Oriental Research Institute V.L. Manjul told UCA News. And even though there may be nothing in Hindu literature that says women cannot perform the function of priest, some men have rejected the practice due to economic concerns.
"Male priests, who are performing rituals in the traditional ways, have a great worry about their source of income because this is their bread and butter," Aarya Joshi, who has lead priesthood trainings for women in Pune, told Deutsche Welle.
Others oppose women priests on moral grounds. As another Hindu priest, Anand Pandharpure, told DW:
"Women often turn to priesthood after 40, once their kids have grown up, and they have nothing to do. But I don't think that's right. Priesthood is not just a hobby. It's an important responsibility. For us men, being priests is a lifelong learning experience."
To write female priesthood off as a "hobby" though is to disregard the important spiritual role women priests like Gokhale play in their communities.
"During all these years, in certain families I have become a part of all their religious functions," Gokhale told HuffPost. "They adjust their schedule according to my availability, and they see to it that I will be there to perform their puja or function."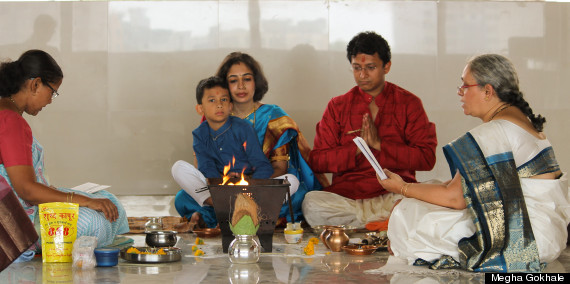 Gokhale's priestly role recently lead her to individuals' homes to perform services for Ganesh Chaturthi, a 10-day festival that began on August 29.
"I go to perform pujas at around 14 to 15 houses located in the vicinity around 7 kilometers from home," Gokhale told HuffPost. "For the whole festival of 10 days I am busy almost all day every day."
Pandit Gadadhara Das, an author and lecturer at Columbia University who practices in the Gaudiya Vaishnava tradition (also known as Hare Krishna), told HuffPost he sees no reason women cannot become priests.
"The scriptures that I've read have no mention that women can't be priests," Das said. "It's strange to say that because you have a certain kind of body you can't be on the altar."
Hinduism is not the only tradition that has warmed up to women in leadership roles. Women in Catholic, Jewish, Muslim and other religious traditions have challenged tradition in recent decades to take on more powerful roles in their communities.
"Across the board it's starting to happen more and more that women are coming into more prominent roles in religious institutions," Das said. "I don't think it matters whether it's a man or a woman doing the service. The priest brings their unique perspective to it."
BEFORE YOU GO
PHOTO GALLERY
Megha Gokhale, Female Hindu Priest, Conducts Ceremonies