WASHINGTON ― Jeff Sessions' Justice Department plans to put a woman who laughed at the now-attorney general back on trial yet again, a federal prosecutor told a D.C. judge here on Friday.
Desiree Fairooz, a woman taken into custody after she laughed during Attorney General Jeff Sessions' confirmation hearing, will go to trial in November for a second time.
Fairooz and her lawyer rejected a plea deal offered by the government in which she would have pleaded guilty to one of two charges in exchange for the government recommending a sentence of time served, Assistant U.S. Attorney Kimberly Paschall said in D.C. Superior Court on Friday.
Chief Judge Robert E. Morin previously tossed out a jury's guilty verdict against Fairooz in July because the government had improperly argued that her laughter alone was enough to convict.
Sessions, a hard-line conservative whose nomination as a federal judge had been rejected by the Senate back in the 1980s over concerns about his views on race, had drawn opposition from civil rights organizations and progressive groups concerned about his positions. Fairooz, a retired librarian and demonstrator associated with the group Code Pink, was seated in the audience for his Senate confirmation hearing.
While introducing Sessions, Sen. Richard Shelby (R-Ala.) claimed his colleague had a "clear and well-documented" record of "treating all Americans equally under the law." Fairooz found that laughable. So she laughed.
A rookie Capitol Hill police officer who had never made an arrest nor guarded a congressional hearing before then decided to take Fairooz into custody. Fairooz objected, at first questioning why she was being arrested, then voicing her opposition to Sessions as multiple officers escorted her from the room.
Fairooz was charged with disorderly and disruptive conduct and demonstrating inside the Capitol. She went to trial in D.C. Superior Court in May. A jury convicted her on both counts, but members of the jury told HuffPost they were focused on Fairooz's conduct after an officer took her into custody. "She did not get convicted for laughing," the jury foreperson said. "It was her actions as she was being asked to leave."
The government, however, had explicitly argued during the trial that Fairooz's laughter, in and of itself, would have been enough to find her guilty. Morin, the judge overseeing the trial, rejected that assertion and tossed out the jury's verdict, calling the government's argument that laughter alone was sufficient to sustain a guilty verdict "disconcerting." He ordered a new trial.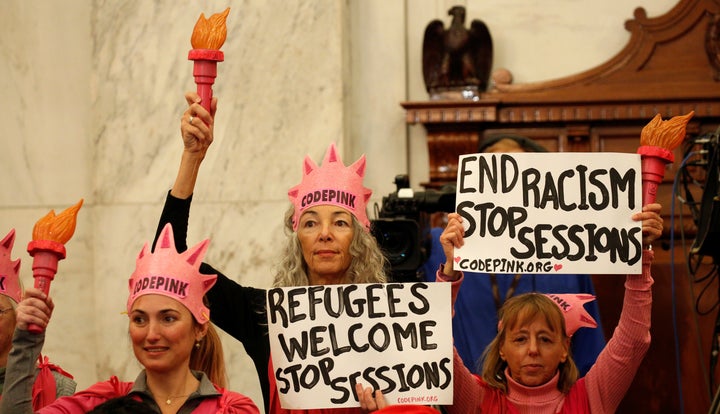 Coverage of Fairooz's trial went viral after the case was first reported by HuffPost, sparking jokes by late-night comedians and attracting the attention of Rep. John Conyers (D-Mich.), the ranking member on the House Judiciary Committee, who wrote that "substantial questions exist with respect to the application of law" in Fairooz's case.
Despite the criticism, the government has indicated it wants another shot at convicting Fairooz and plans to start over again. The whole process ― impaneling yet another jury, recalling witnesses, etc. ― will eat up several days of the court's calendar. A trial date has been set for Nov. 13-14.
Judge Morin said on Friday that he believed it was clear what he thought about the government's previous theory of the case that laughter was enough to convict.
This time around, the government will have to be more careful if it wants the jury verdict to stand. Because they cannot argue that laughter was enough to sustain a conviction, government lawyers essentially have to concede to the jury that Officer Katherine Coronado, the rookie cop who approached Fairooz, made a mistake. They'll have to argue that, even if the officer was wrong to arrest Fairooz, she didn't have the right to loudly object to her treatment, or at least didn't have the right to make political statements that briefly interrupted Senate proceedings.
Even if she's convicted yet again, Fairooz is highly unlikely to receive any substantial punishment, though jail time is theoretically possible. Two fellow demonstrators who went to trial alongside her received suspended sentences, meaning they wouldn't have to serve jail time unless they violated certain conditions.
But the second trial still raises the question of whether putting Fairooz on trial yet again is a wise use of government time and resources. Fairooz said it is "absurd," "ridiculous," and a "waste of tax dollars" that she'll have to go through this process again.
Fairooz told HuffPost on Friday that she had rejected the plea deal because it would amount to an admission of guilt, and she does not believe she should have been arrested for laughing in the first place.
Support HuffPost
The Stakes Have Never Been Higher
Popular in the Community