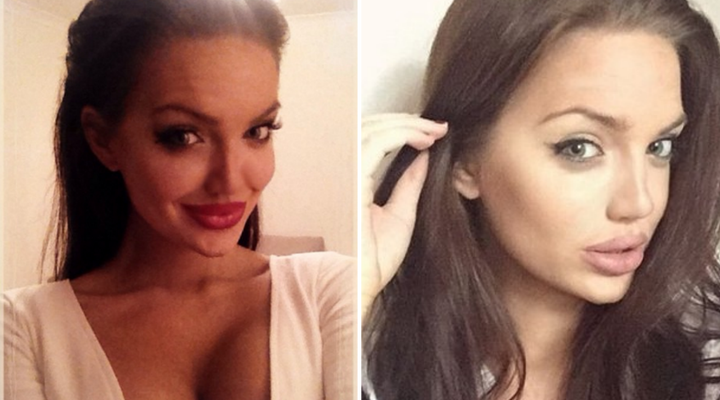 Chelsea Marr is a 24-year-old Scottish woman who has become Instagram famous over the last few weeks for looking exactly like Angelina Jolie.
If you ever wondered what Tomb Raider-era Jolie would look like in modern day, Marr provides an example that's AngeliA+.
According to a Facebook post Marr shared in August, she works for the oil and gas recruitment agency, Spencer Ogden Ltd., as an Operations Manager.
Her newfound Internet fame has been somewhat of a challenge at work, as she explained, "trying to get work done with all of this has been a bit of a strain as you can imagine."
Marr also responded to questions about whether she has gotten plastic surgery to specifically appear more like Jolie, writing on Facebook:
With regards to having had any 'plastic surgery' not just in the past week but for years my friends/colleagues/family and I constantly get asked if I've had this and that done or if I've photoshopped this and that.

Anyone who knows me knows I am extremely open and really don't mind discussing it. I have had lip fillers yes, not to look like anyone else but just because I wanted them a bit fuller just like all the other women that have also had theirs done. I had an operation on my nose a few years ago too however this wasn't a cosmetic procedure this was because as a child I broke my nose (quite badly) and therefore had complications with it and still do unfortunately. Lastly I did have a breast augmentation yes, but again this wasn't to try and resemble anyone, this was purely because I had absolutely nothing there before and it was something I was insecure about for years. I couldn't even fill an A cup - even the surgeon said they were the smallest he had seen🙈 I increased them to a B/C cup, and was just looking for enough to fill a bra and to look and feel more feminine in t-shirts and bikinis.
As seen in the photo above, Marr embraced her resemblance to Mrs. Brad Pitt even before the Internet swarmed on her pictures like a Hitchcockian murder of crows. 
So far, Marr seems to be AngelinA-OK, but hopefully the Internet will know when to Jo-leave her alone if she ever wants to no longer be married to this pit and cult of personangelinajolie.
PHOTO GALLERY
Celebrity Lookalikes!
For a constant stream of entertainment news and discussion, follow HuffPost Entertainment on Viber.
Calling all HuffPost superfans!
Sign up for membership to become a founding member and help shape HuffPost's next chapter