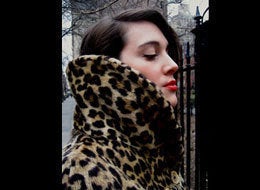 It's easy for Cate Blanchett or Kiera Knightley to look glorious on the red carpet: they have gaggles of stylists, make-up artists, and the world's most prominent designers adorning them.
Many other fashionable women celebrated by Vogue and its ilk have wallets the size of their grand walk-in closets. As the great Marlene Dietrich once said, "Best Dressed Lists are reserved for the rich, those who can afford to buy from the great designers, who have time for endless fittings, and then can be seen wearing these creations in the right surroundings."
Yet we won't be fooled: we know that true style is more democratic and creative than that.
True style is derived not from unlimited funds and a fleet of trend-setters who create a physical persona for women who lack the imagination to craft their own.
It is premised on courage, resourcefulness, and high individuality.
Introducing WOMEN OF STYLE, an original feature that showcases and celebrates women who embody this sort of boldness and creativity.
The women selected for this feature must have no formal affiliation with the fashion industry; nor can they have a personal stylist. The clothes and accessories are part of each subject's personal wardrobe, and cannot be provided by a designer or sittings editor.
Our inaugural subject is Ms. Katherine Johnstone, a New York-born Francophile with a flair for dramatic nostalgia. She is a press attaché for the French Government's Tourist Office. Her primary job responsibility: "Making sure Franco-American love affair stays alive."
Ms. Johnstone's approach to fashion demonstrates that money doesn't make the girl. A true vintage goddess, Ms. Johnstone, 29, has amassed the stunning wardrobe of a 1950s film star - almost entirely from thrift stores and flea markets around the globe.
A vivid magenta satin jacket from the late 1800s, a daring Jackie-Kennedy style leopard-print coat, a black mink beret - often purchased for the price of a Starbucks latte, and all elements of a ensemble that is exquisite, eye-catching, and unique.
Below, Ms. Johnstone offers tips on building the perfect vintage wardrobe, and recoils at the thought of being underdressed.
Q: How do you build up the courage to wear a truly opinionated piece?
A: Maybe it was all the Shakespeare plays I did in boarding school. I always played the men. Once you get over running about in a doublet and hose in front a few hundred people, you can wear anything.
There's an element of theater in wearing vintage, no question. To wear it with confidence, YOU also have to love the piece. If the stand-out piece isn't something you love, you won't carry it.
You do have to check yourself with vintage of ending up too costume-like. Temper it with some modern if you're worried, like jeans or basic black. Wear one super piece at a time.

Q: When you first started buying vintage, did you choose the clothes or did they choose you? After all, with vintage, you have to pick what's available and in good condition. How did the vintage market ultimately shape your personal style?

A: For a while the clothes picked me, and not always with great results. There was definitely a learning curve for me with vintage. There was a great deal of me running about as a teenager in ill-fitting, garish 60's floral print muumuus.
In college, I became curvy, but with a teeny waist. I found that I could pull tailored dress from the 50's over my head in a thrift store and it would fit like a glove, whereas not a single thing would fit me in a normal store.
I do not always pick pieces that are in perfect condition. I invest in tailoring and mending; I do some myself. In the end, having a one-of-a-kind piece outweighs any hassle for me.
Plus most vintage pieces are of a superior quality in the first place, so even if they are fifty, sixty, or ninety years old, a little bit of care can bring them to a better level then something new. I've had brand new designer bags fall apart on me after two years, whereas a dress from 1948 that I wear frequently is in fine shape.

Q: What are your main influences?
A: Old films and women in my family. My mother was taught to sew by my grandmother, who was a poor, single working mother with three kids in the 50's. But she always had style. She made most of her own clothes. My grandmother wore great tailored suits, furs and silver and gold evening dresses. The furs may have been secondhand, and the evening dresses copies of things she saw in magazines, but it was about treating herself.
In movies, I get certain images from film stuck in my head, and then do a variation on a theme: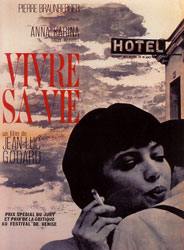 Photo: allposters.com
Anna Karina in Vivre Sa Vie wearing a trench coat, bare legs and black heels. . .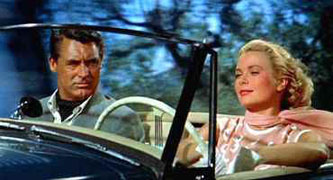 Photo: cinematographers.nl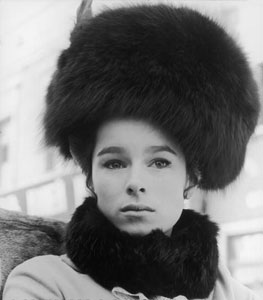 Photo: viewimages.com
Geraldine Chaplin in Dr. Zhivago. They create an image in my head when I shop.
Q: What's worse: being overdressed or underdressed?
A: UNDER. Perish the thought. If I end up drastically overdressed, I just pretend I either came from somewhere fabulous or am going to someplace fabulous later.
Q. Tell us what you'd wear to the following occasions:

... lunch at Le Bilboquet.
A: My grey dress with the buttons (see slide show), and heels, bien sur. With a trench coat and bare legs in spring and in winter, a short fur jacket and black stockings.
Q: ... a gala at the Neue Galerie.
A: Either my red silk dress (see slide show), or a giant black tulle skirt I have with black velvet corset, blue raw silk bolero, hair up, big pearl earrings. And flats for goodness sake -- a big skirt is enough to negotiate.

Q: ... a funeral.
A: Wide brimmed black hat with black lace veil, black shift, black leather heels, opaque stockings.
Q: ... a communist rally.
A: Oh! ouvrier chic! Battleship grey button-down shirt dress with matching head scarf.
Q: What style advice would you give to your daughter?
A: When she is younger, to dress her age. There is no need in my opinion for a girl to wear heels at 14, let alone own them.
Advice for when she is older: to err on the side of elegant and ladylike (in dress, movement, manner and speech).
Q: For which designer would you build an altar? Which one deserves to meet a hitman in a dark alley?

A: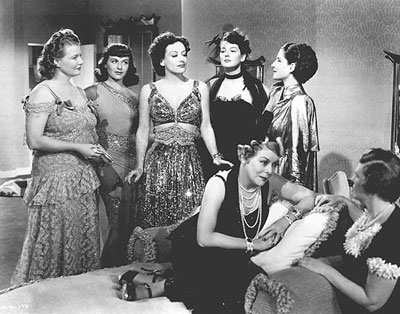 The Women Photo: wikimedia.org
And Hubert de Givenchy in the 50s.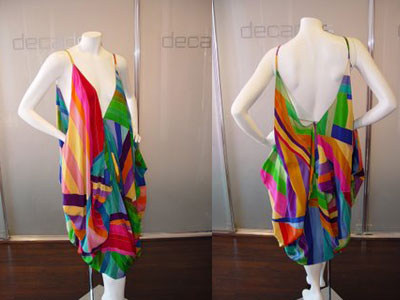 Photo: decadesinc.blogspot.com
I have nightmares about anything by Paco Rabanne in the 60s and 70s.
Q: Who are your style icons?
A: The door of my closet is completely pasted with old black and white photos of women that inspire me: Monica Vitti, Brigitte Bardot, Dita von Teese, Elizabeth Taylor, Audrey Hepburn, Edie Sedgwick, Jackie Kennedy, Jane Birkin, Ava Gardner, Claudia Cardinale, Catherine Deneuve, Marilyn Monroe. Looking at them gives me basic inspiration as I stand there bleary-eyed, drinking my tea in the morning.
I like them for the range they represent -- from the soul of ladylike, like Jackie, to super edgy, like Edie.
Q:Why should the modern, educated woman care about style?
A:If you put all that time and work into your education, your resume, and your job, why would you not want to put a similar effort into your appearance?!?
Produced, photographed, and edited by Lesley M. M. Blume
Sittings editor: Michele Wissot
This was originally posted in January, 2007.
Support HuffPost
A No-B.S. Guide To Life
Related
Popular in the Community