The father of New York's first openly transgender firefighter opens up about his journey toward acceptance in this exclusive clip from the documentary, "Woman on Fire." 
A third generation firefighter, Brooke Guinan began identifying as trans in 2011, three years into her career at the New York City Fire Department. Her father, George William Guinan V, is an FDNY lieutenant and a 9/11 first responder. In "Woman on Fire," he says he's become one of his daughter's biggest advocates in spite of his conservative political views and Christian faith.
"I suppose that she sensed there was not 100 percent acceptance by Mom and Dad. I'm supposing that could've been part of her motivation to take this job and want to do this job, to get closer to me because she knows how much I love it," George William Guinan V says of Brooke's decision to pursue a firefighting career. As a parent, he adds, "The only thing I can do is be as supportive as I can possibly be and as loving as I possibly can be towards this person who is my child."
"Woman on Fire," which will be released on DVD and Blu-Ray and available on iTunes and other streaming services Oct. 3, presents Brooke's struggle within the male-dominated world of her profession. According to the film, women comprise less than one percent of FDNY's 10,000-strong workforce. (At the national level, they made up about 3.5 percent as of 2012, according to the National Fire Protection Association.) Brooke is the only current member of the New York roster to openly identify as trans.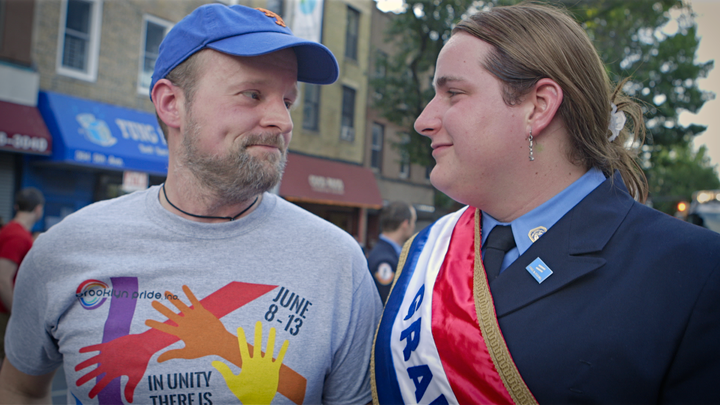 Filmmaker Julie Sokolow told HuffPost she first became interested in Brooke Guinan after a 2014 photo of her posing in a "So Trans, So What" T-shirt went viral. Once Sokolow learned about the Guinan family's firefighting legacy, she saw the potential for a film. 
"Brooke's family is a microcosm of the polarized political forces in America today," she said. "George's love and acceptance of his trans daughter, Brooke, suggests that our divided society is capable of reconciling its differences. Love can trump hate." 
Ultimately, Sokolow hopes viewers come away from "Woman on Fire" recognizing the story's "universality."
"Brooke's life demonstrates the importance of being true to yourself, even if you're working against pressures from society, family, and colleagues to conform to a narrow way of being," she said. She went through a ton of struggle and hardship when transitioning in her ultra-conservative, heteronormative workplace. Today she radiates wisdom and joy, and seeing her now encourages me to stay true to myself."  
Calling all HuffPost superfans!
Sign up for membership to become a founding member and help shape HuffPost's next chapter
BEFORE YOU GO
PHOTO GALLERY
Transgender Military Photo Series by Jeff Sheng