In 2017, calling a web series about women's experiences on the internet "Woman Online" is controversial, apparently.
"I've already been criticized by men online for this web series," said comedian Sara Schaefer in a recent phone conversation with The Huffington Post, explaining that some online users took issue with the name. "I'm not saying that other people don't get harassed online, but this web series is about what it's like to be a woman online. I'm sorry, that's who I am and that's what I'm talking about."
It's a sentiment that likely many ladies on the internet could empathize with, given the frequent reports of gender-driven trolling women receive online. For example, a 2016 Australian study found that 76 percent of women under 30 experience online harassment. In the same year, writer Lindy West left Twitter after years of being the subject of harassment due to her work, calling the platform "unusable for anyone but trolls, robots and dictators."
That "Woman Online," a project Schaefer created with Seriously.TV, reflects this current climate is no accident. The comedian, known for her 2013 MTV show "Nikki & Sara Live," is fascinated by why people do what they do. As someone whose career is dependent on maintaining an online presence, Sara looked to the internet — and the specific experience of women in that space — as inspiration.
"Social media is, for me personally, an overall positive," she said, citing the ability of online platforms to spread messages of the marginalized and share different individuals' experiences. After witnessing the dissemination of information surrounding the Ferguson, Missouri, protests after 18-year-old Michael Brown was shot by a white police officer, Schaefer saw the power of interacting online. "For me personally, it turned my brain on [to realize,] oh, my god, I can't unsee this. And I can't not be upset about it anymore."
"Because of that, in some ways, we're more sensitive ... Everything feels so close, and so big, because of social media," she said.
Of course, with great tweeting power comes great responsibility, and the democratization of information means, unfortunately, name-calling and threats are elevated to the same level as constructive discourse. Being a woman colors the whole experience in a different hue.
"Every man I know online could post the same thing I post and get completely different responses. There are a lot of gendered insults — cunt, bitch are big ones — that people don't really say to men. There's a reason for that," said Schaefer.
"You know, women have been somewhat marginalized for all of history and again, social media has allowed us a platform to be louder and more unified. That's scary to some people," she continued. "I think there are a lot of women who are targeted because they are just speaking."
The number of stories Schaefer's found from women led her to want to talk about these issues, well, online. Recent episodes include "What really happens in secret lady Facebook groups?" and "Inside a woman's dating app." While occasionally she's brought on guests, like fellow comedian Jen Kirkman, the series' most recent episode showcased Schaefer's own journey to chase down a particularly persistent troll. She begins by reciting some things she's had said to her on the internet: "Don't listen to this dumb bitch, she's barely a comedian." "This chick's husband needs to put her back in her place."
She goes on to tell the story of "Jeff," a man who created numerous accounts to harass her in various ways, escalating to comments about Schaefer's mother, who had passed away.
It's clear that the directive women sometimes receive to "not feed the trolls" wouldn't cut it in this situation. "Imagine if someone at your work was leaving anonymous notes taunting you about the worst thing that's ever happened to you," she says in the video. "Nobody would be like, 'Oh, just ignore it! They just want attention!"
"On one hand, there's nothing you can do to prevent [it]," Schaefer explained to me in our conversation. "It's like telling someone to not go outside if they don't wanna get mugged, you know? It's like, well that's just ridiculous. I have to be able to live my life," she said.
Each video strikes a blend of education and comedy. "Humor is so powerful," Schaefer said, noting that it's an effective way to "communicate the craziness of our world," especially in a time when fake news, the normalization of hateful speech and strong divisions in politics have taken center stage.
"My feeling now is that comedy is an important way to speak truth to power and hold up a mirror to things," she said. "Not just against Trump, but against hypocrisy, and forcing people on both sides and in the middle to question how things are going."
Related
Before You Go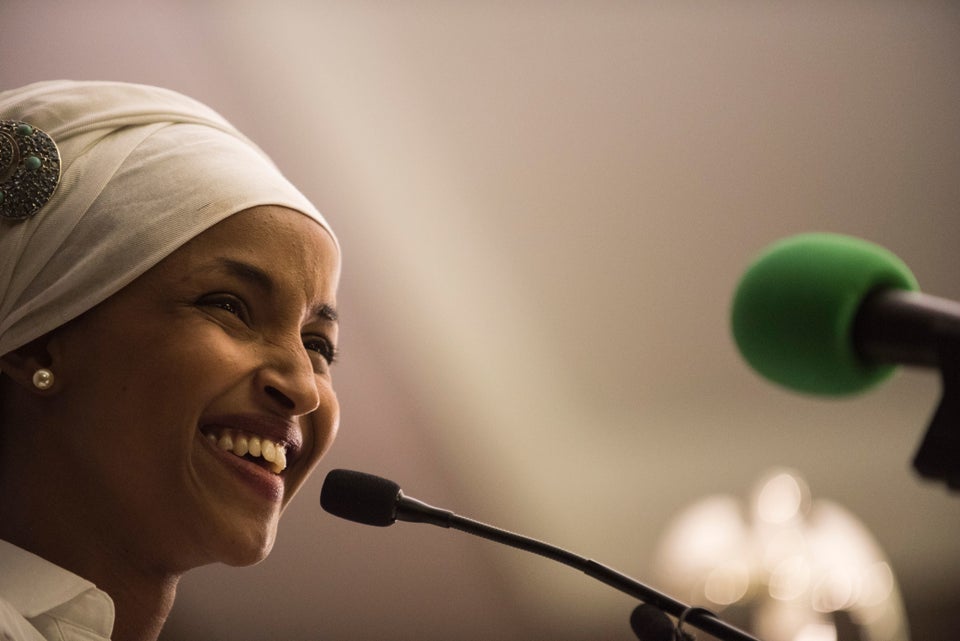 13 Women Who Persisted
Popular in the Community