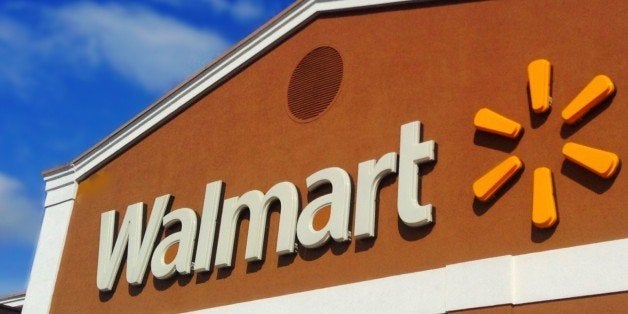 October 14, 2012 is the last day Maria Sklias of Tucson, Arizona ever shopped at Wal-Mart.
Then 58 years old, the Tucson businesswoman parked her car in the Wal-Mart lot at 455 East Wetmore Road around 8 p.m., exited her car and starting walking towards the store's entrance. She never made it.
Sklias was assaulted by an attacker who "repeatedly struck her in the head with a pistol while attempting to steal her purse," according to court filings. "Though Ms. Sklias has no memory of the attack itself, she was either dragged back to the attacker's vehicle or attempted to approach the vehicle to retrieve her purse and became entangled in the door of the vehicle whereupon she was dragged between 200 and 300 feet before falling away from the vehicle."
In June of 2015 -- 32 months after the incident -- Maria Sklias filed a lawsuit in Pima County, Arizona Superior Court. According to her complaint, Sklias "suffered life-threatening injuries which have caused serious permanent impairment including speech impairment, cognitive impairment, nerve damage resulting in partial paralysis and other issues." She also is suffering from depression and has been forced to move in with her son George, "who has assumed a tremendous amount of care duties as a direct result of the attack on Ms. Sklias."
Sklias is suing Wal-Mart Stores, their private security contractor Securitas Security Service USA, and Larsen-Baker/Tucson Place Partners, the owner and manager of the shopping mall where the attack took place.
According to her attorney, Joseph W. Watkins of Tucson, there have been 450 police calls to this Wal-Mart location in the two-year period prior to the Sklias assault. Watkins says this Wal-Mart "has a statistically higher crime rate than that of other comparable Wal-Marts in the Tucson Metroplex."
"All of the defendants knew, or should have known, that the property was in a high crime area," Watkins adds, "and precautions should have been taken to ensure that defendants were providing a reasonably safe shopping environment for their business invitees such as Ms. Sklias. This did not happen. Wal-Mart has failed to take steps to ensure adequate security for its business invitees."
The Sklias lawsuit charges that "this is not a local or isolated issue with Wal-Mart. The corporate negligence in this case goes all the way to Bentonville, Arkansas, Wal-Mart's Corporate Headquarters. Wal-Mart is well known both nationally and locally as a business with security issues... Walmart management has consistently refused to accept responsibility for the security of its business invitees and patrons such as Ms. Sklias."
In 2006, the United Food and Commercial Workers published a report called Is Wal-Mart Safe? The report analyzed crime stats at 551 Wal-Marts and concluded:
•Wal-Mart stores experience a significant number of police incidents. In 2004, police received 148,331 calls for service for the 551 Wal-Mart stores analyzed.
•The average number of reported incidents per store for the 551 stores analyzed was 269.
•In 2004 police may have received almost 1 million calls for service at Wal-Mart stores or parking lots - or 2 reported police incidents per minute.
•Nationally, Wal-Mart stores cost local taxpayers an estimated $77 million in increased policing costs in 2004
The Sklias incident was caught on Wal-Mart parking lot surveillance cameras. At the time of the assault, there was a single, unarmed security guard in the parking lot. The complaint notes that the guard on duty noticed "suspicious behavior" but did nothing to report it or address it prior to the attack. In fact, the videotape shows the guard watched the attackers for five minutes. The video shows the attacker walking back and forth directly in front of the Securitas car. The attack occurred almost immediately after the guard "inexplicably drives directly past both attackers and exits the area."
"Anything less than armed off-duty police officers or other individuals with similar training does not meet the standard of care for this particular property," Attorney Watkins says. "Wal-Mart routinely uses off-duty police officers in Arizona and other jurisdictions. Their failure to use appropriate security at this location -- given the police logs and the number of calls to the property -- is inexcusable, and shows a complete lack of regard for the safety of its customers."
According to News4 TV in Tucson, the attack left Sklias "permanently disabled. She suffered multiple fractures, two different brain-bleeds, and partial paralysis. She was in a coma for three weeks, suffering both emotionally and financially." Sklias' initial medical bills total well in excess of $200,000. She is seeking over $4 million in medical expenses and financial loss, exclusive of pain and suffering.
Sklias, now 61, has closed the two separate businesses she owned, including a restaurant located in the Tucson Mall. Because of her inability to earn income due to injuries from the assault, she has lost almost everything. "I wouldn't wish it on my worst enemy. Everyday is a challenge for me," Sklias told News 4 Tucson. "I've lost my house that I've had for 20 years. I've lost my commercial restaurant building that had four houses in the back," she added.
"Neither Wal-Mart nor Securitas has ever offered to help Ms. Sklias," Attorney Watkins told me. "It's a classic David vs Goliath struggle---where the injured customer has the slingshot and Wal-Mart and Securitas have automatic weapons with unlimited ammunition."
For at least a decade, retail analysts have been noting the rising level of theft at Wal-Mart -- which they call "shrinkage." But over this same period, there has been a reported shrinkage in security personnel at their stores. The result: understaffed parking lot security.
If Wal-Mart spent as much money helping to protect its customers outside the store as it spends protecting its merchandise inside the store, perhaps Maria Sklias would be working at her restaurant today, instead of suing Wal-Mart.

Al Norman is the founder of Sprawl-Busters. He has been helping community groups fight big box sprawl since he defeated Wal-Mart in his hometown 22 years ago. His latest book is Occupy Wal-Mart.
Popular in the Community