If you're in the market for a new eyeliner, Shelby Pagan has a five-star review you're going to want to read.
The 25-year-old registered nurse from Boston posted a hilarious ― and incredibly honest ― review of Kat Von D's Tattoo eyeliner that stayed perfectly in place even after Pagan was involved in a car accident in Honolulu last June. The review is going viral after a Twitter user shared a screenshot of it Monday.
"On my way home from work I ran out of gas and pulled over on the side of the road with my hazards on. I was hit while I was parked [and] on the phone with roadside assistance," Pagan told HuffPost about the accident. She says she was treated for a head laceration, cervical strain and a knee contusion.
Pagan snapped a photo of herself in the emergency room after the accident, because her mother thought she might need to submit the photo to the police for evidence. After that, she posted it on social media.
"I had shared the photo on my Instagram to tell my story and multiple people said, 'How does your eyeliner look so good still?'" Pagan said, adding that she decided to write the review for the liner a few weeks later.
This product is truly amazing. June 28th I was pulled over in my car calling for roadside assistance when a distracted driver hit me going 55 mph. I was taken via ambulance to the ER where I remained for 8 hours. My mascara was running down my face from crying and all other products had been wiped off in transfer to the hospital. But not my tattoo eyeliner. I am posting a pick to show you, this product lasts and looks amazing through anything. Never buying any other liner again.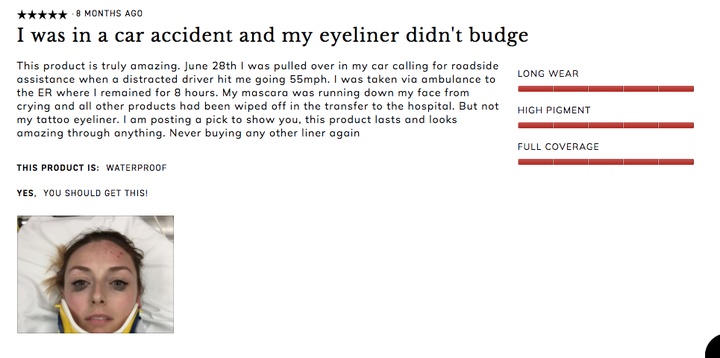 Twitter user Guadalahari came across the hilarious review and posted a screenshot of it on Twitter. The tweet now has about 230,000 likes and 96,000 retweets.
While she can't remember the brand of mascara that she was wearing at the time of the accident, she said she likes to use cruelty-free products from Kat Von D, Beautycounter, Tarte, NYX and ColourPop.
Pagan said she didn't hear from Kat Von D after posting the review, but she's gotten quite the reaction from her post now.
"Most people think it's funny and praise me for the honest review," she said. Pagan already has her own blog, called Coffee Cats and Cusswords, but we think it's about time she started doing more makeup tutorials.
Related
Before You Go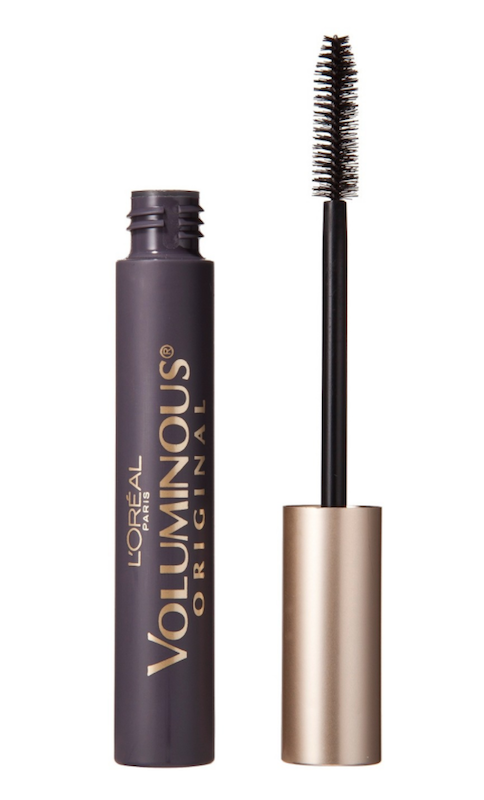 Drugstore Beauty Products Makeup Artists Swear By