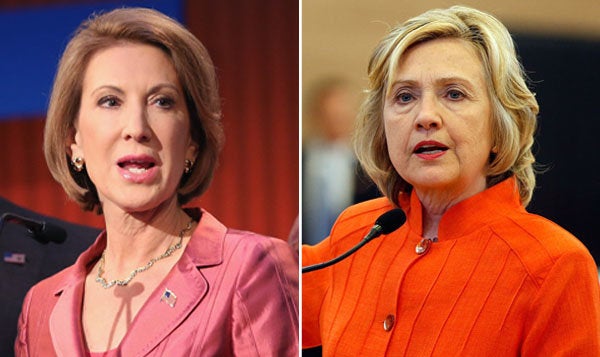 WASHINGTON -- When Democrat Pat Schroeder explored a run for president in 1987, she encountered plenty of people who were excited that she could become the first woman in the Oval Office.
But Schroeder, who was then a congresswoman from Colorado, nevertheless had trouble raising money. Those same supporters didn't think she could actually pull it off. And ultimately, people want to back a winner.
"I remember talking to [former Democratic congresswoman] Shirley Chisholm about her run [for president] and found the same thing she did," said Schroeder in a call with reporters Thursday. "People would say, 'Oh it would be great if you ran.' And then you get out there and you return to them, and they say, 'I didn't say I'd support you. I just thought it would be so much more interesting.'"
"So raising money was a tremendous problem at that time. ... They didn't think women were going to win," she added.
Dozens of women have run for president, but so far, none have been able to nab the nomination from one of the major political parties. Democrat Hillary Clinton seems to be on the clearest path to overcoming this hurdle with a considerable lead over her primary challengers at this point. Republican Carly Fiorina is currently tied for eighth place in the ever-changing GOP presidential field.
Clinton is certainly having no problem raising money. But in a call organized by the Barbara Lee Family Foundation and the Center for American Women and Politics, women who have either run for president or worked for female presidential candidates said they worry that women still face a different set of challenges and a different type of treatment than their male counterparts.
"You have to work twice as hard to be considered to be half as good," said Kathleen Harrington, who served as deputy campaign manager for former Sen. Elizabeth Dole's (R-N.C.) 2000 presidential campaign.
For Carol Moseley Braun, it all came down to credentials, character, charisma and cash. Moseley Braun was the first black woman elected to the Senate and ran for the Democratic Party's presidential nomination in 2004, although she lamented Thursday that her candidacy was never taken seriously.
She said any candidate for office faces questions in those four areas, but candidates who don't fit the traditional mold also go up against stereotypes and assumptions in those categories.
"If you have the credentials, then someone will say, 'She's not charismatic enough.' Back in 2008, I was just incensed that a women's magazine beat up on Hillary Clinton on the grounds that she didn't have a sense of fashion," Moseley Braun said.
"A woman who is disciplined is scripted, and a man who is disciplined is on-message. I think there's a real double standard there," Harrington added.
Visuals, according to the call's participants, are still a particular challenge for women running for office. Moseley Braun said that during public appearances, she'd be given a high chair to sit on that was difficult when wearing a skirt -- something the male organizers likely hadn't thought about.
"All of us could advise men on what to wear," Schroeder added. "If you want to look busy, you either take off your tie, loosen your collar, roll up your shirtsleeves, run down some steps, have a phone in your ear."
"There's no similar kind of uniform for women," she added. "And we tend to either look like unmade beds or look like a model. Trying to find out how a woman looks like she's working hard through these very important visuals is just not something that there's a real formula for."
Clinton has faced decades of coverage about what she's wearing and how she's doing her hair. When Sarah Palin ran as the GOP vice presidential nominee in 2008, she faced similar fascination with her looks and photos that focused on her legs.
"One of the problems I think that women have is that we don't look presidential," Schroeder said. "If one more person said to me, 'I like everything about you but you don't look presidential,' I was going to scream. Because clearly there had been no presidents that had looked like me."
Schroeder said the path for the first female president is also made tougher by the fact that the country has never had a female secretary of defense and therefore still is not used to see women command the armed forces.
"We say president of the United States, commander-in-chief, leader of the free world. ... There is some notion that women don't know anything about defense. But if you're a male, you just instantly do -- even though people forget even Cheney had five draft deferments and never served. But he was considered perfectly adequate for defense secretary," she said.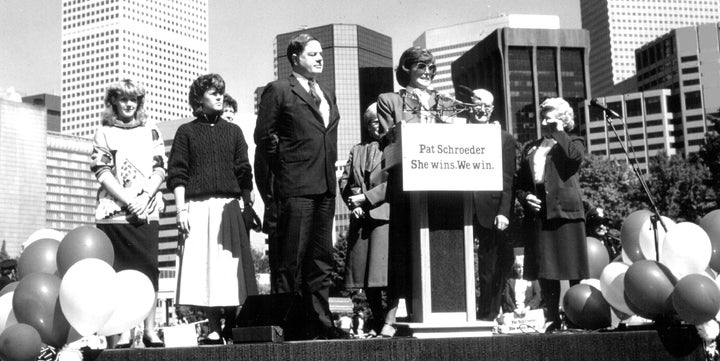 "Women have to acquire authority that a man has simply because of his gender," Moseley Braun added.
Women also have to field frequent questions about their husbands. When Schroeder ran, she said, people just couldn't seem to wrap their mind around the possibility of a man being the first spouse. Harrington said Dole faced questions about her husband, another prominent politician, and Hillary Clinton is constantly asked about Bill.
Leslie Sanchez, a GOP strategist who has written a book about women in politics called You've Come A Long Way, Maybe, said everyone from the media to women on both sides of the aisle needs to do a better job at calling out sexist treatment.
"I think what I'm looking for in this cycle that has yet to emerge, but I'm very hopeful," Sanchez said, "is that the media responds and calls it out faster, and that women -- women's groups, conservative and liberal -- call it out and demand a fair playing field."
Popular in the Community