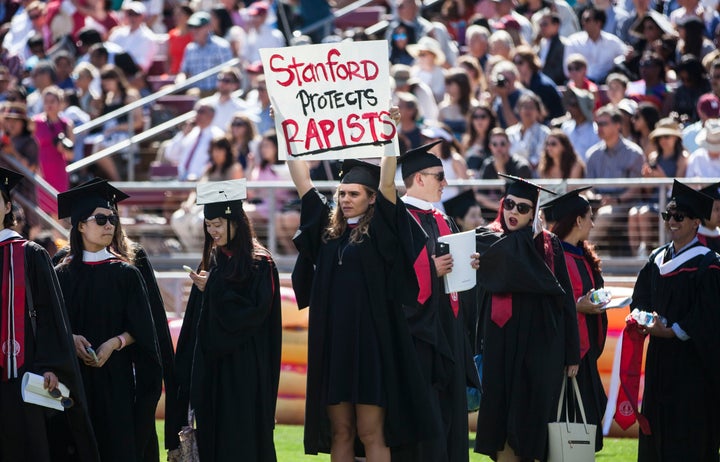 An unidentified woman was reportedly sexually assaulted on Stanford University's campus this week. 
The woman was assaulted on the university's main campus sometime between Sunday night and early Monday, according to a campus alert published Tuesday. The type of incident reported includes sexual assault and rape and, according to Bill Larson from Stanford's department of public safety, "the female victim indicated force was used by a male perpetrator."
It is unclear if the woman is a student, visitor or member of the school's faculty or staff. 
The specifics of the alleged assault were not disclosed, and the Stanford University department of public safety did not provide more information. 
E.J. Miranda, a spokesman for Stanford, told HuffPost that the school's department of public safety was notified of the alleged assault after the woman went to Stanford Hospital. He added that the woman has chosen to remain anonymous and had not provided a statement to police as of Wednesday.
"Stanford works to continuously improve the ways we combat sexual violence and work with students to generate greater awareness of sexual violence in the campus community, encourage victims to come forward and make it easier to report such incidents so they can be investigated," Miranda said. 
"Through education, prevention, support and adjudication, our goal is that no member of our community will ever have to experience sexual assault at Stanford," he added.
Stanford has been in the spotlight since the highly publicized sexual assault case involving now-former student Brock Turner. Facing up to 14 years in prison, in 2016 he was sentenced to six months in county jail after being convicted of three felony charges for sexually assaulting an unconscious woman behind a dumpster outside a fraternity on campus. Turner ended up serving only three months in jail. 
"Students and parents should be aware of that as they come to the university this fall," she said. "Forty-three percent of our female undergraduate students experience sexual violence during their time at Stanford, and the number is highest for freshmen."
Calling all HuffPost superfans!
Sign up for membership to become a founding member and help shape HuffPost's next chapter