A pregnant woman in Florida claims she's making money doing something she has to do anyway ― go to the bathroom.
The unidentified woman recently posted an ad on Craigslist saying she is three months pregnant and offering to sell positive pregnancy tests for $25 each ― two for $35 if the customer is traveling more than 60 miles.
The post makes it clear that the woman knows there are lots of potential uses for a positive pregnancy test. But it stresses that she doesn't care to hear her customers' particular plans:
"Whether you are using it for your own amusement such as a prank, or to blackmail the ceo of where ever who you are having an affair with I DONT CARE AT ALL this is an absolutely no questions asked type of deal tell me what you need I provide it for monetary exchange. I will not overcharge for the urine test but I will not be low balled either do not contact me if you are going to be cheap and difficult."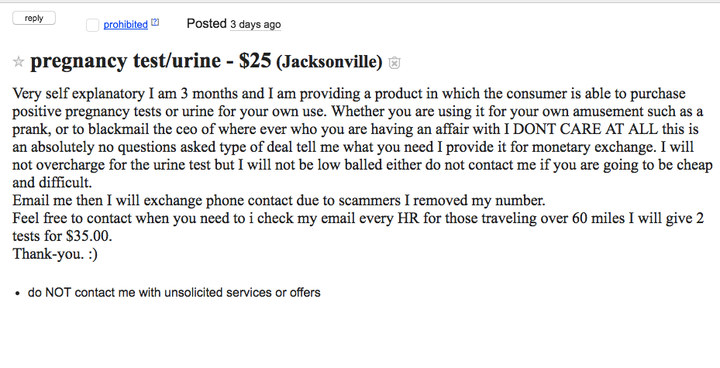 Jacksonville station WJAX-TV went undercover to contact the woman. An intern met her and handed over a newly purchased pregnancy test. After she'd turned it positive, the reporter appeared to ask questions. The expectant mother agreed to be interviewed as long as she was not identified.
"Me being in college, working on a bachelor's and needing all this money to pay for a degree, this was a no-brainer," the woman told the station. She added that she can earn about $200 a day urinating.
Lawyer and former FBI agent Dale Carson told WJAX that it's not illegal to sell urine to produce positive pregnancy tests, but the purchaser who uses it to dupe someone else could be guilty of fraud.
"This is the kind of thing that makes legislators go 'we need to pass a law that says you can't do this,'" Carson said.
Whether that happens or not, some OB-GYNs think the trend insults women who really do want to become pregnant. Drs. Yvonne Bohn, Allison Hill and Alane Park condemned the practice of selling positive pregnancy tests back in 2014 in a HuffPost blog:
"This disturbing new trend is not only outrageous and crude; it's an abuse of one of the most poignant moments in a woman's life. It is an insult to all those women who so dearly want to become pregnant. And it's an injustice to those who would be presented these false positive tests."
Related
Before You Go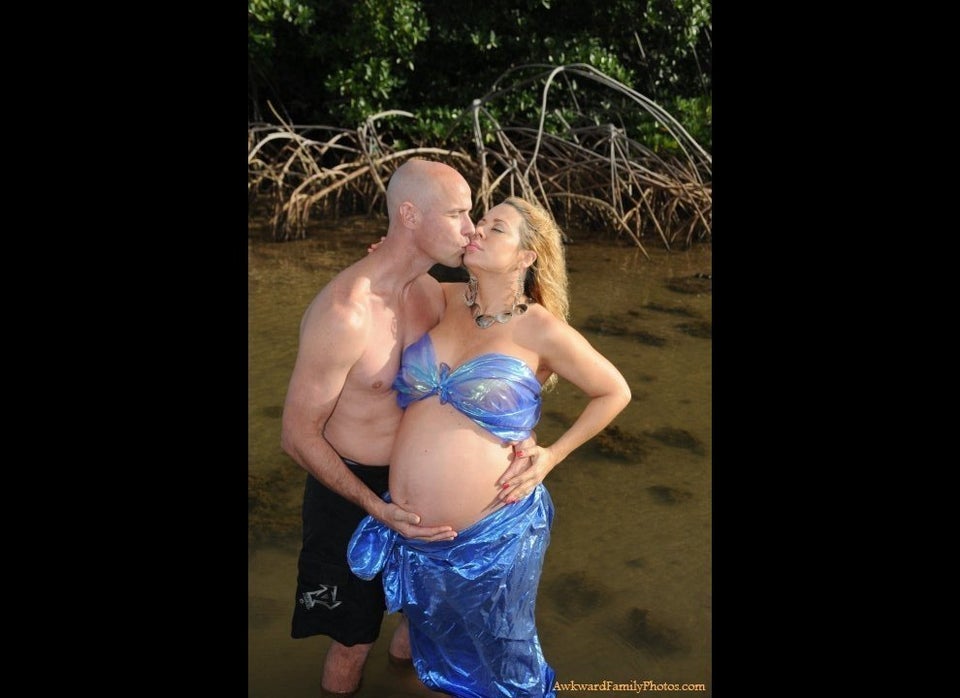 Awkward Family Photos: Pregnancy Edition
Popular in the Community