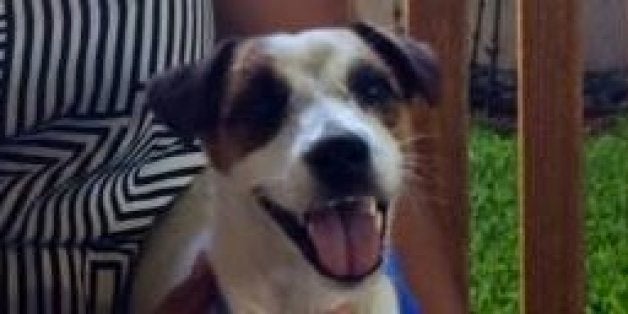 UPDATE: The Hawaiian Humane Society reported that Sally Mae was returned to the shelter after the adopter admitted she could not care for the Jack Russell Terrier. Sally Mae was then adopted by a new loving family on Wednesday afternoon, according to the shelter.
Animal lovers were outraged on Monday after discovering a Craigslist ad that appeared to sell a shelter dog one hour after it was adopted.
According to the Hawaiian Humane Society, a woman adopted Sally Mae, a 10-year-old Jack Russell terrier, from their shelter on Monday evening. As part of their organization's tradition, they took a photo of Sally Mae and her new owner and posted it to Facebook at 7:01 p.m., shortly before the new family left the shelter.
Within the hour, Facebook fans of the Hawaiian Humane Society reached out to the organization alerting them of a recently posted Craigslist ad that offered an extremely similar dog for a $200 "re-homing" fee or for the best offer. It included a "selfie" of the alleged poster holding a dog who looked like the newly adopted Sally Mae.
(The Hawaiian Humane Society told HuffPost they could not release the name of the alleged adopter, citing the organization's confidentiality policy.)
Story continues below...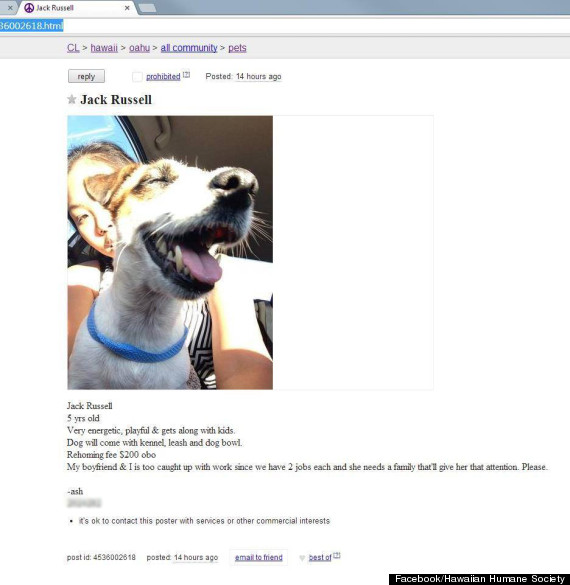 Officials with the shelter confirmed with HuffPost that the Craigslist ad's timestamp showed an hour difference between the time their photo was taken and posted and the time the ad was published.
The suspicious ad, titled "Jack Russell," allegedly claimed that the dog was five years old -- not 10 years old, which is Sally Mae's true age -- and had to be sold because "my boyfriend & I is [sic] too caught up with work since we have 2 jobs each and she needs a family that'll giver her that attention. Please."
The ad has since been removed but was saved as a screenshot by numerous Facebook fans of the shelter.
It sparked a number of angry responses on Craigslist and Facebook, shaming the original poster for trying to sell a shelter dog soon after adopting it. Dozens of Facebook commenters pleaded for the original poster to return Sally Mae to the shelter. One person even offered to pay money to the alleged seller for the release of the dog.
After learning of the ad, officials from the Hawaiian Humane Society reached out to the original adoptive owner to see if she was still interested in keeping Sally Mae.
"We gave her a hotline for adopters who are struggling with the animal adjusting to their new home, which is completely common and very understandable," Christina Kam, Hawaiian Humane Society's communications and events coordinator, told HuffPost. "When we had talked to her, she expressed that was her reason [for posting the ad]. She didn't believe that Sally was adjusting well in her home and said it wasn't going to work out."
Eventually, however, the adoptive owner told the Hawaiian Humane Society that she was going to keep the dog.
"We can't say for sure that she adopted that dog with the intentions of flipping it," Kam said. "She didn't admit to [posting the ad for that reason] and there's no proof for us to say that that was happening."
Local news station KHON2 contacted the alleged Craigslist poster to clarify her intentions. According to their report, she said the situation was "a misunderstanding" and that she did not want to return Sally Mae to the Hawaiian Humane Society "in case the dog is euthanized."
She also told KHON2 that she intends to find the dog a new home and that the "$200 price reflects what she already spent on the dog," although she is willing to give the dog away for free.
"This is a really great lesson for people that are looking to buy animals on Craigslist or any online venue," Kam told HuffPost. "You don't always know where they are coming from ... so it's always best to either find a breeder personally where you can meet in person and talk, or, of course, go to a shelter and find an animal that is truly in need of a home."
If your newly adopted pet is having problems adjusting to its new home, call your local animal shelter for assistance, visit ASPCA's pet care page or call the Humane Society of the United States at (866) 720-2676.
Calling all HuffPost superfans!
Sign up for membership to become a founding member and help shape HuffPost's next chapter
BEFORE YOU GO
PHOTO GALLERY
Cute Dogs On Reddit