Dramatic video reportedly taken by a drone last week in Washington state appears to show a woman trying to shoot the device out of the sky after it flew way too close to her home for her liking.
Though the incident may seem staged, police in Bellevue, where the video's description lists it as being filmed, told The Huffington Post that on Wednesday they received a call about a drone flying "above and around" a home that matches this one's description.
Public Information Officer Seth Tyler said that though the drone clearly set its camera on the woman's home, an investigation didn't find any criminal offenses committed.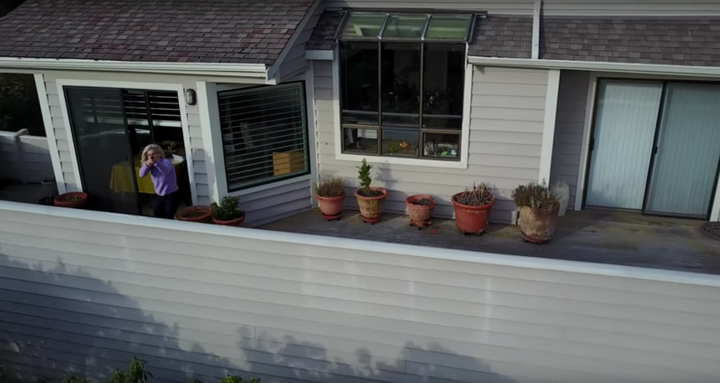 "The laws apply to unsafe operations," Tyler told HuffPost Tuesday. "In this case, it appears that they were flying in a public area."
Regarding any voyeurism laws being broken, he suggested that the homeowner did not have a reasonable expectation of privacy because her window curtains were open. As for the weapon she was seen holding, Tyler said it was a pellet gun and that she didn't fire it.
Jeramie Scott, who serves as national security counsel for the Electronic Privacy Information Center, a nonprofit research organization that specializes in government and commercial use of drones, didn't entirely agree that the woman's privacy wasn't being violated.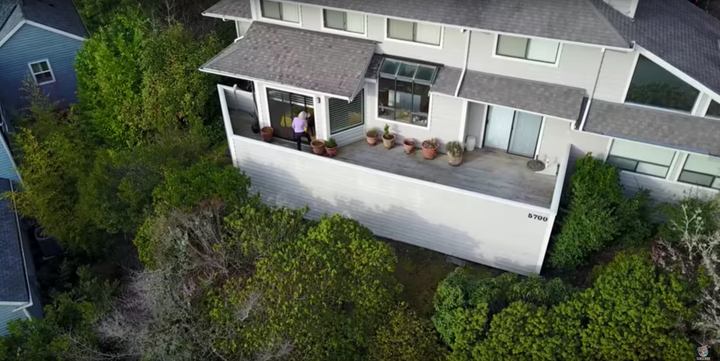 "There are laws on the books, called Peeping Tom laws, that address voyeurism, but they don't necessarily go far enough to address what's happening here," he told HuffPost.
"If you look at the angle of the video, you actually wouldn't be able to see into this person's home without the drone," he said. "Just because the drone was able to peer into her home from a potentially public vantage point, doesn't mean that that individual didn't have a reasonable expectation of privacy that was violated."
Scott suggested that without stricter laws against such acts, drone users "may feel more emboldened given that they can remain in a position of immunity."
"It raises an issue of identifying the actual user of the drone," he said. "The [Federal Aviation Administration] now requires individuals to register their drone, but they only require the registration number to be on the drone."
The issue with that, he added, is that that the registration number "doesn't necessarily have to be visible."
Allen Kenitzer, a public affairs officer at the FAA, said, "All I can tell you at this time is that the FAA is looking into it."
HuffPost has reached out to the 59-year-old woman who made the police complaint as well as to the individual who appears to have sold the clip to video distributor, ViralHog, and will update the story if we get a response.
Though the video may be entertaining, it also serves as a reminder that when flying a drone, it's generally a good idea to respect people's personal boundaries.
The Academy of Model Aeronautics, a nonprofit organization that promotes model aviation, strictly discourages pilots from filming or photographing people or property if there is a reasonable expectation of privacy. An exception would be if the pilot obtains written permission from the individual being filmed.
"A simple conversation may eliminate misunderstandings," the city advises on its website.
Popular in the Community