We've all had at least one date from hell, but how many people have been asked to "pay back" a date who they've rejected? It happened to one U.K. woman, Lauren Crouch, as chronicled on her dating blog No Bad Dates, Just Good Stories. 
In a blog post published Thursday, Crouch wrote about a Tinder date gone terribly wrong, when a guy she just wasn't feeling demanded that she pay him back the £3.50 (approximately $5.32) he spent on her coffee. Seriously, dude? 
Crouch explains that she and the unnamed man met near a train station, and he suggested they grab coffee. After "25 minutes of 'normal' conversation" the man then asked Crouch, "What would you say if I offered to cook you dinner?... I only ask because I've got an Ocado delivery coming tonight."
Naturally, Crouch wasn't too keen on going back to the home of someone she barely knew, so she declined, despite his persistent attempts to get her to say yes. The two said their goodbyes, and what followed was a text exchange too good (and ridiculous) not to post here. Consider this an instructional guide on how to not handle rejection: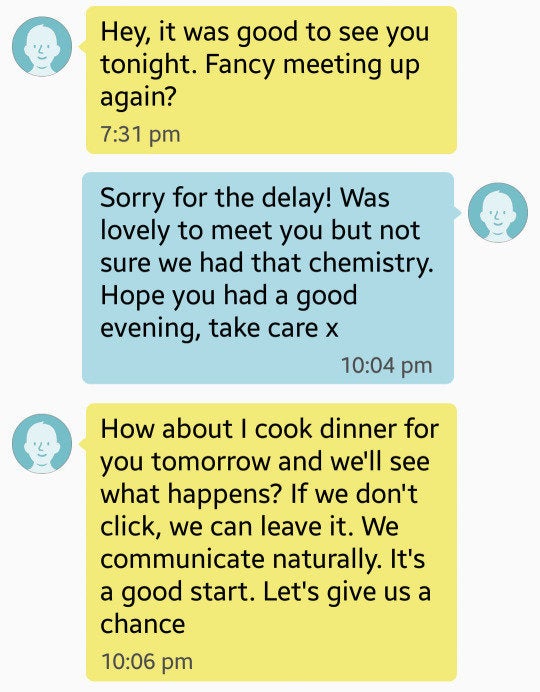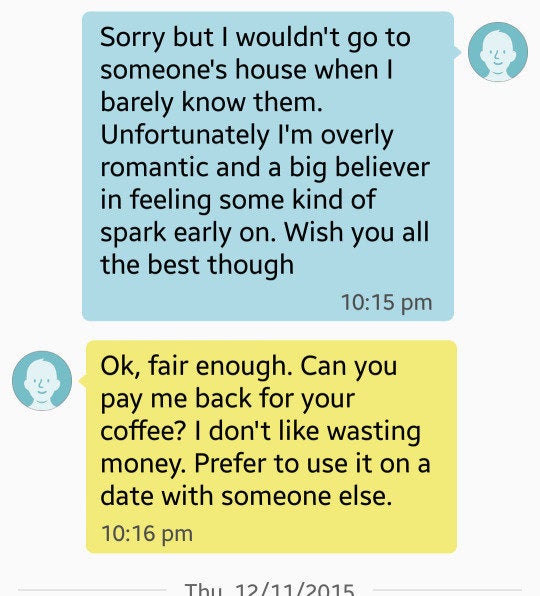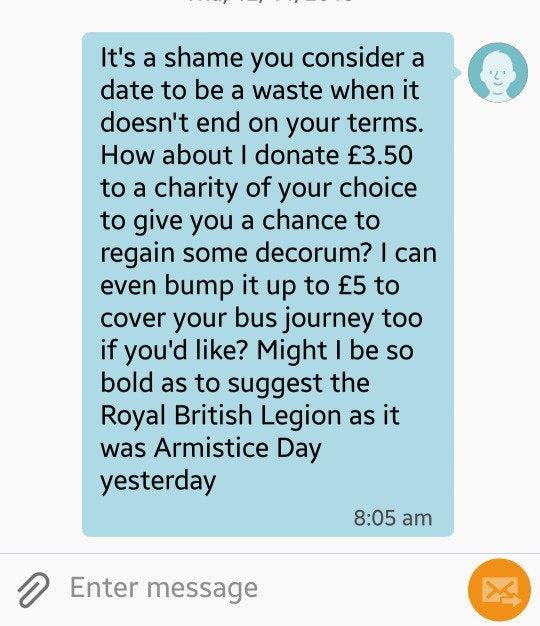 He still insisted that she pay him back, texting, "I'd like to decide what I do with my money." Crouch's experience is yet another example of how some men feel entitled to women's time and energy, so much so that they can't handle normal rejection. 
"Yes you do decide yourself what to do with your money," Crouch wrote in her blog. "And last night you decided to spend it on a coffee. I don't come with a money back guarantee. Dates aren't commodities." Amen, sister. 
PHOTO GALLERY
Dating Turn-Offs
REAL LIFE. REAL NEWS. REAL VOICES.
Help us tell more of the stories that matter from voices that too often remain unheard.