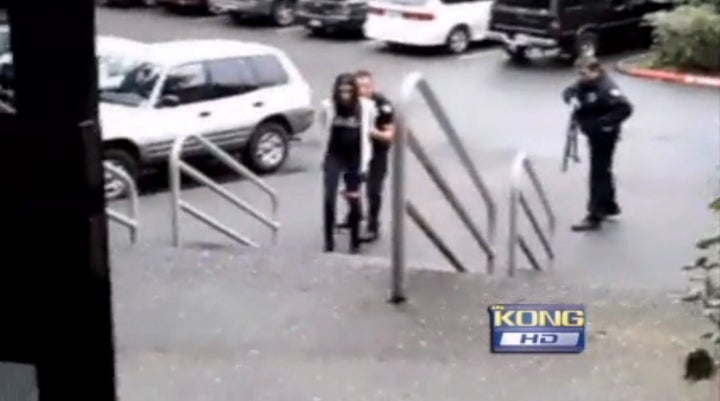 Sign this student up for another session.
A woman in an anger management class stabbed her classmate in the neck during an argument about a "Dr. Phil" show, according to a civil suit filed in Washington's King County Superior Court.
Luna Oraivej, 37, is suing Court Services Institute, a company that provides court-mandated anger management classes, for doing "nothing to intervene or de-escalate the violent confrontation" in an Oct. 9, 2010 class that left her "terrified and bleeding," according to legal documents obtained by Courthouse News.
Oraivej alleges that her classmate, Faribah Maradiaga, walked into the session late -- despite Court Services Institute policies barring the admittance of tardy students -- and began to loudly criticize a "Dr. Phil" tape that instructor Eric Leberg was playing.
When Oraivej defended the "Dr. Phil" video and asked Maradiaga to "give it a chance," her classmate snapped, the suit alleges.
With Leberg looking on, Maradiaga allegedly approached Oraivej's seat, pulled out a blade and "swung the knife four times ... aiming for her neck."
Oraivej says "instinctively shrunk back in her chair," leaving her with stab wounds on her shoulders, according to the documents.
After the attack, Leberg walked the perpetrator out of the class, but didn't tend to the victim or alert authorities, Oraivej alleges.
Police apprehended Maradiaga and charged her with second-degree assault, but she has not reported for court, the Seattle Post-Intelligencer reports.
Fearing she might not receive credit for the class -- which she was attending in a deal that would lead to the dismissal of a malicious mischief charge -- Oraivej says she did not immediately seek medical treatment, instead sitting through the rest of the class despite her wounds.
Her attorney says Court Services Institute is obligated to protect its students, according to documents obtained by the Seattle Post-Intelligencer:
With the extensive court and law enforcement expertise CSI advertises, CSI agents and employees are well aware that courts order individuals to attend anger management classes because they have a history of not being able to control their anger ... anger that, in most instances, led to violence against others ... Nevertheless, CSI has no security policies or procedures to protect its business patrons from one another. CSI takes no precautions to avoid allowing deadly weapons into its anger management classes.
Oraivej is seeking compensation for medical treatment, emotional distress and severe anxiety, among other damages, according to Courthouse News.
CORRECTION: An earlier version of this story incorrectly stated that the lawsuit was filed in Oregon. The suit was filed in Washington.
Popular in the Community