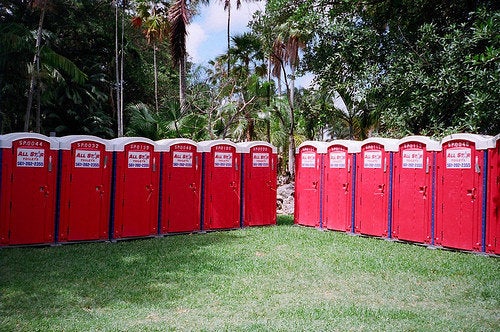 DENVER (Reuters) - Police in Boulder, Colorado were searching on Tuesday for a man who hid inside the tank of a portable toilet at a yoga festival, startling a woman who was using the facility.
The bizarre incident happened June 17 at the Hanuman Yoga festival in Boulder, a college town northwest of Denver.
The woman, who was not identified by authorities, said when she lifted the toilet seat lid, she noticed something moving in the tank, according to a Boulder Police news release.
The woman exited the toilet and asked a man who was standing nearby to check inside. The man told police he saw someone inside the tank covered with a tarp.
An event security supervisor who was summoned to the scene waited for several minutes outside the toilet until a barefoot, shirtless man emerged.
"The supervisor tried to detain the suspect, but he ran away, covered in feces," the release said.
Eyewitnesses said the suspect was wearing dark gray sweat pants, and had several cuts on his legs and back.
He is described as "very tall" about 20 years old, with short brown hair.
One witness told police he believed the man was a transient who goes by the name of "Sky."
(Reporting by Keith Coffman, editing by Dan Whitcomb and Greg McCune)
Calling all HuffPost superfans!
Sign up for membership to become a founding member and help shape HuffPost's next chapter