NEW YORK -- A Brooklyn woman who alleges a police officer called her a homophobic slur before assaulting and falsely arresting her is suing New York City and the police department.
Filmmaker and bartender Stephanie Dorceant, 29, and her ex-girlfriend, Nandi Allman, filed the suit in a Brooklyn federal court Monday afternoon -- two weeks after she was cleared of assaulting the police officer. It claims that early on July 11, 2015, the couple was walking back to their apartment in the Flatbush section of Brooklyn when off-duty NYPD officer Salvator Aquino, who was not in uniform, bumped into Dorceant from behind.
"When Ms. Dorceant asked Police Officer Aquino whether he was 'alright' he responded in sum and substance 'mind your own business you fucking dyke,'" the lawsuit states.
Dorceant told Aquino not to talk to her that way. She recounted what she alleges happened next to reporters earlier this year:
[Aquino] then attacked me, punched me in the face a number of times, choked me and called me several more anti-gay slurs. When he had his hands around my neck I truly thought I was going to die. I could not breathe. The only way I could get him to stop attacking me and my girlfriend was to bite him.

When other police officers showed up I thought we were saved. That was not the case. It turned out that this man was an off-duty police officer. Instead of helping me and my girlfriend and arresting our attacker, more officers piled on top of me, slamming me onto the pavement and putting their knees on my neck, shoulders, and back. They then put us both into handcuffs and threw us into a holding cell in the precinct. After being processed at the precinct I was taken to the hospital, and then to central bookings.
At the hospital, Dorceant was treated for "severe pain" to her "head and body," including "bruising to her face and body, cuts and abrasion to numerous areas of her body, burst blood vessels in her eyes," the lawsuit states.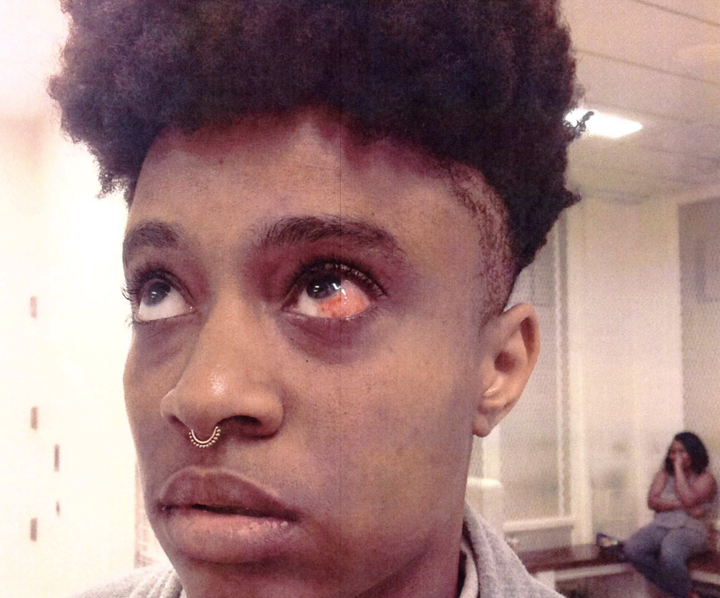 At Central Booking, in Brooklyn's Criminal Courthouse, the lawsuit alleges that the facility was "filthy" and infested with pests. "The toilets were covered in feces, urine and other types of human discharge and there were no beds or cots for plaintiff and other detainees to sleep on."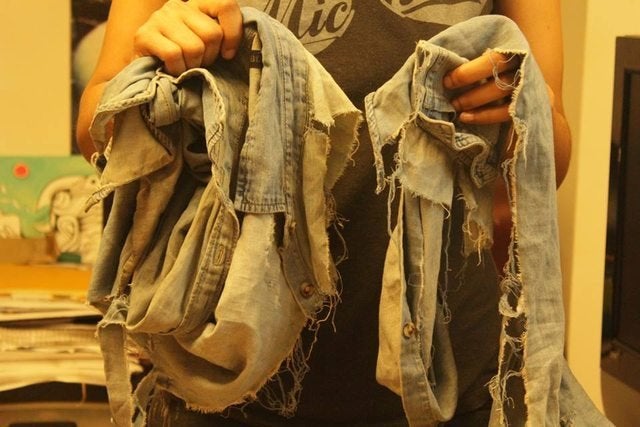 Dorceant was arraigned on felony charges of assault as well as charges for menacing, resisting arrest, and harassment. Aquino claimed that it was Dorceant who attacked him, punching him in the face and repeatedly biting him.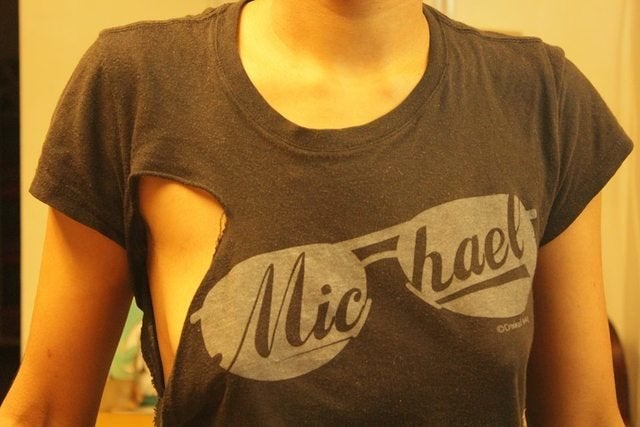 During her arraignment, Dorceant said that prosecutors read aloud a statement from Aquino saying he was concerned he "might have HIV" from her bites. (Dorceant told HuffPost that she later took an HIV test. The results were negative.)
Dorceant was then transferred to jail on Rikers Island, where she spent over a day before Allman was able to pay her $1,000 bail.
The couple vehemently denied Aquino's version of events and contacted Brooklyn District Attorney Ken Thompson's office. The DA's office told HuffPost earlier this year that it had launched a hate crime investigation into the incident.
Reached for comment Tuesday, Brooklyn DA spokesman Oren Yaniv said he couldn't comment on an ongoing investigation.
On Dec. 1, days after Dorceant gave nearly an hour of tearful testimony in court, a Brooklyn grand jury dismissed all the charges against her. Dorceant told Gothamist that Aquino's alleged attack gave her PTSD.
"I keep having nightmares that [police are] trying to kill me," she said. "I woke up shaking my heart was tremoring. I had to call my sister to calm me down because I dreamt that I was in jail and a cop tried to molest me and it felt very real. I constantly keep having this fear they're going to take me, or this is all a dream and I'm actually back in Rikers."
Dorceant added that she only sleeps a few hours a night now, and the stress of the pending criminal charges against had precipitated a breakup between her and Allman.
"Both the NYPD and the Brooklyn District Attorney's Office had countless opportunities to do what a grand jury finally did last week – dismiss this travesty of a case – but they chose not to.""
The lawsuit -- which names the city, Aquino, and five unidentified NYPD officers as defendants -- seeks unspecified damages for a host of civil rights violations, including battery, unlawful stop, malicious prosecution, false arrest, and "bias-based profiling."
Dorceant's lawyer, Benjamin Zeman, said in a statement Monday that Dorceant's assault "contributes to the toxic culture of fear and disenfranchisement that so many of our citizens feel." He added that the charges against his client should've been dropped much earlier.
"Both the NYPD and the Brooklyn District Attorney's Office had countless opportunities to do what a grand jury finally did last week -- dismiss this travesty of a case -- but they chose not to," Zeman said.
"We are gratified the grand jury threw out the case against Ms. Dorceant, but that decision is merely a first step toward obtaining justice for our client, seeing her attacker charged criminally, and sending a message to the Brooklyn District Attorney's office and the NYPD that New Yorkers of all races, religions, genders, ethnicities and sexual persuasions will tolerate nothing less than fair treatment and equal protection under the law."
An NYPD spokesperson said Tuesday that the department couldn't comment on pending litigation. A spokesman for the New York City Law Department said that "the suit will be reviewed."
Popular in the Community