One second she's there, the next she's gone.
Video going viral shows the blonde woman standing in the background of the shot as a man is being interviewed at an airport's baggage claim for TV2's Sports Center show.
Another woman walks past her, pushing a trolley, and then she seemingly disappears.
Some viewers have speculated the seemingly magical woman is a ghost. Others claim her vanishing act is down to "alien activity."
But if you look closer -- and we're talking really close -- you can actually see what happens. The woman just coincidentally happens to move off at exactly the same time as the trolley-pusher.
Her blue jeans are visible through the gap between the other woman's arm and body. You can also see traces of her blond hair, just slightly behind the brunette's head.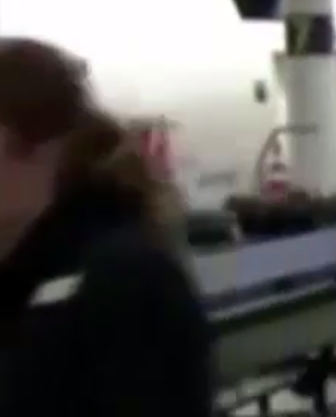 It looks spooky, but it's not down to paranormal activity.
The show confirmed to the Huffington Post that the man being interviewed was Denmark's national women's handball head coach Klavs Bruun Jørgensen, and the woman who appears to vanish was handball expert Trine Jensen.
Watch the full interview here: