Barbara A. Res started working in construction in 1971. Between 1980 and 1984, she helped build NYC's Trump Tower. Res attended the Women's March on Washington on Jan. 21 with a sign that said "I Am The Woman Who Built Trump Tower," paired with a photo of her working on Trump Tower. The 67-year-old told The Huffington Post she attended the march to protest President Donald Trump's positions on women's issues. "I think that what came out of these marches is the message that women are ready to put up a fight for many things," Res said. Below Res recounts the experience in her own words.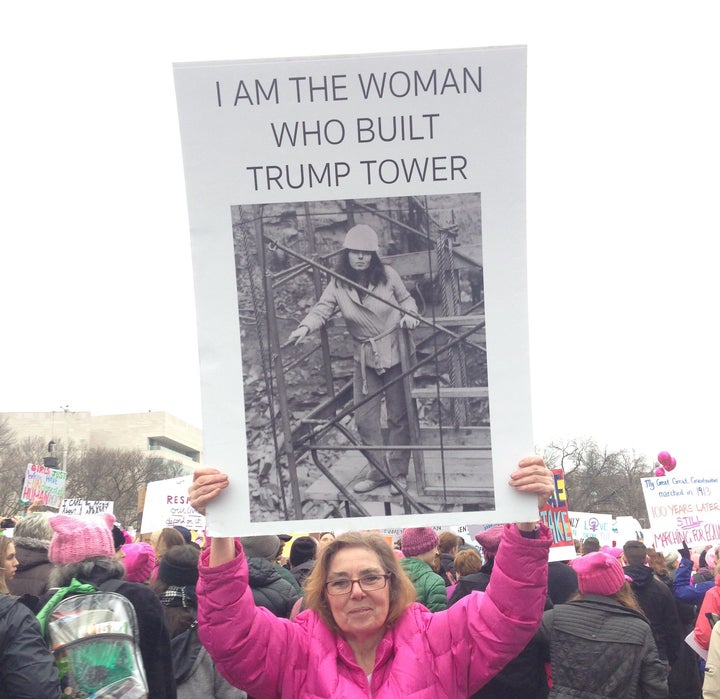 It took me almost 8 hours to get home. But it was worth it.
I went to the March on Saturday, with my child, Res, who had made me a humongous sign which read on the front, I am the woman who built Trump Tower, and Not My President on the back. I went for a lot of reasons, mainly to express solidarity with women and the men who support our efforts to secure equal rights for everyone. However, in truth, I was protesting the presidency of Donald Trump and everything he stands for.
I was like everyone else, except for one thing. Trump exploited his employing me. He claimed he "broke the glass ceiling" by hiring me. He declared that he did wonders for me, and when I came out against his candidacy, he tweeted that I was "nasty," and at a press conference, he said I was dangerous and a terrible person. But even after that, his daughter bragged about hiring me, while his controlled media and supporters made me into a villain and a turncoat.
I had been working for the general contractor on the Grand Hyatt Hotel when Trump picked me. I was an engineer with many years in construction and a very bright future. Trump told me when he hired me that while men were "better" than women, "a good woman is better than 10 good men." He knew that I had to be the best and have a thick skin and be very tough to survive in construction and that was what he wanted. He called me a killer. It was a great opportunity for me, but Trump wasn't giving out favors.
"I was protesting the presidency of Donald Trump and everything he stands for."
I kept a cordial relationship with Trump after I left him, until I wrote my book, All Alone on the 68 Floor: How One Woman Changed the Face of Construction. Someone must have told Donald the book wasn't good for him, which is not true because when I ran into him at a funeral, he was very mean and nasty to me and he denigrated my book. I never held this against him, and I even wrote to him to explain that I was surprised and hurt by his reaction. Of course, I never heard back.
So here I was at the march telling anyone who would listen that Trump is not good for women, and listen they did. So many people thanked me for coming and took my picture. Several had their picture taken with me and I signed autographs. My picture made it into a lot of media, and curiously, onto Rihanna's personal Instagram page where it went totally viral garnering over one million likes! So many people were gratified to see me and they were genuinely interested not only in my working for Trump but at my working as a woman in construction in 1980.
But the day was about protest and solidarity, not me. And I turned the conversations to the fact that Trump was opposed to abortion, pay equity, a fair minimum wage and he dismissed the idea of sexual harassment. He appointed an Attorney General Jeff Sessions who will not likely take up any of women's causes. So, I said, it is up to us to make the agenda, and the way to do it, is to keep active. Let our Congress members know what is important to us. We need to support groups like ACLU and Planned Parenthood until it hurts. There are other things we need to do as well, like letting businesses know how we feel by boycotting.
I still can't believe the least qualified, least dignified, most obnoxious candidate to run for president in my lifetime is actually in office. I can't accept it. For a while, I thought, I have to get behind the president. No, I don't. He stands for everything I oppose. Besides the obvious issues that are important to women, he wants to enact racist policies, hurt immigrants who are still the backbone of our country, destroy the environment, let businesses run unsupervised and without accountability. I am not backing any of this. If he wants to bring jobs back that's fine. But I can't agree to destroying our relationship with our allies. If he wants to build infrastructure, good. But that can't include a ridiculously wasteful and unnecessary wall. If he wants to join forces with Russia to destroy ISIS fine, but he must do so while acknowledging that we do not sanction Putin's policies.
I am hoping that Trump doesn't do too much damage. I am worried about the environment and the Supreme Court. I hope all the liberal justices stay put, although I know that's a lot to expect. In two years, we can take back the Congress. In four, we can elect, from either party, a president who is qualified in experience and temperament.
We just have to keep working hard and hoping for the best. And that's what the march was all about. I am glad I went, and thankful to everyone all over the world for coming out.
Barbara A. Res is an attorney and engineer, living in New Jersey. She served as Vice President in charge of construction of Trump Tower, and later as Exec. Vice President in charge of Development at the Trump Organization.
Support HuffPost
The Stakes Have Never Been Higher
Popular in the Community