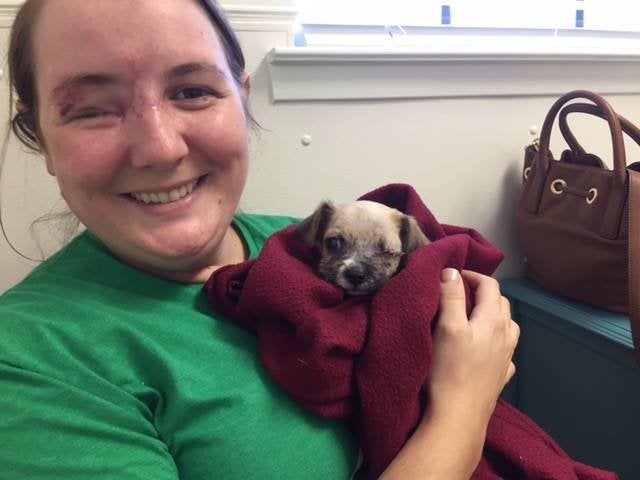 In late June, Maria Williamson was shot in the face during as she sat in her car, at a red light in Mobile, Alabama.
"The bullet went through my nose, and damaged my right eye," she tells The Huffington Post. "Over the course of the next week I had two surgeries, one of them to remove my right eye."
Exactly two months later to the day, Williamson adopted a tiny puppy who had lost an eye of his own, after being attacked by a bigger dog.
"I immediately thought, 'He's so perfect! I know his struggles and I know what he is going through,'" Williamson says. "We both see life through one lens."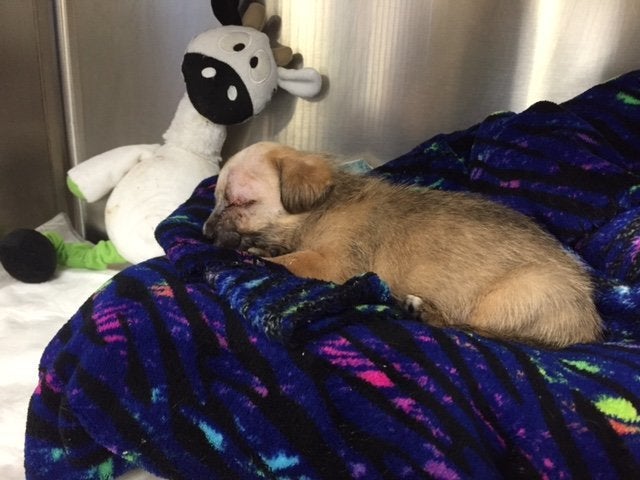 "Due to the trauma of being attacked, Bear's eye popped out of its socket," says ARF's Alison Rellinger.
Thank social media: About a week after Bear arrived at ARF, Williamson's boyfriend saw the shelter's posts. He showed them to Williamson, thinking that the two might find some kinship. He was right.
"I adopted Bear the same day. I couldn't let him sit in the vet's office one more night. I knew he needed to be home, and loved on by his human," she says.
"We just wanted to get him in a safe and happy home with a family that could take care of him for the rest of his life. After such a rough start, we just wanted a home with lots of love," says Rellinger. "Somehow we end up finding the furry companion who just gets us."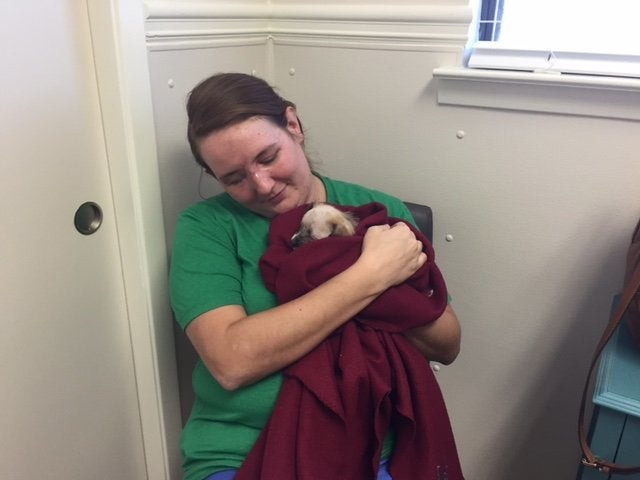 In his new home, Bear is having a ball, naughtily chewing on whatever comes his way, and itching to go outside -- which he can't do quite yet, since his immune system is still too weak.
Williamson loves being able to give her little dog this much-needed second chance, while she, too, recovers.
"Like me, he is a survivor," she says. "We are not victims, we are survivors who get to share our story."
Get in touch at arin.greenwood@huffingtonpost.com if you have an animal story to share!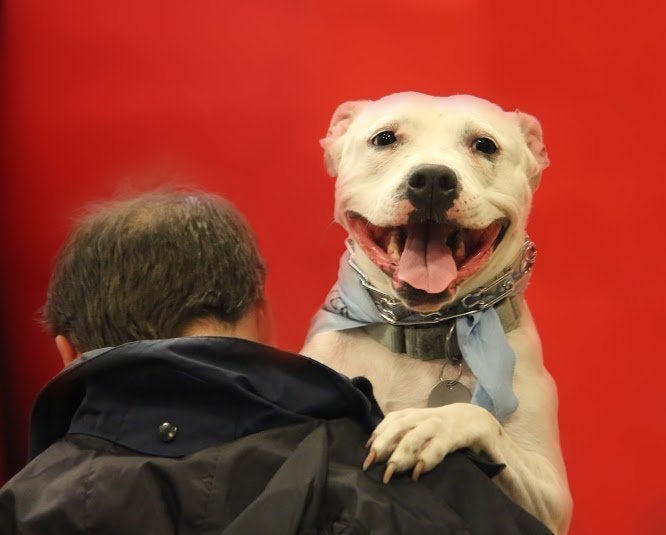 These Pit Bulls Need Homes!
Related