An unemployed mother of four says she is suing Resorts World Casino in Queens, New York City, after a slot machine indicated she won $43 million ― but all she got was a steak dinner.
In August, Bookman thought she had won the life-changing jackpot on the slot when a message on the monitor said, "Printing Cash Ticket. $43, 949, 672.76." She took a selfie with her glowing face next to the words.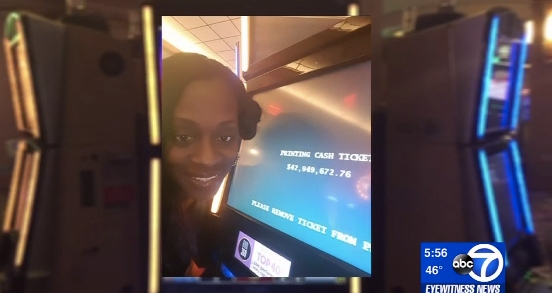 "I couldn't believe it," Bookman told the Daily News. "My body went numb."
That's when the stunning reversal of fortune began, according to WABC. Casino personnel and security escorted her off the floor and told her to return the next day for the decision regarding her jackpot, she said.
When Bookman returned, a casino rep told her she had won nothing because the machine malfunctioned. (A message on all machines states, "malfunctions void all pays and plays.") In lieu of a lifetime of security, she was offered a steak dinner. She declined.
"The machine takes your money when you lose. It ought to pay it when you win," her attorney, Alan Ripka, told the station.
Ripka said the casino should at least dole out the Sphinx machine's supposed maximum payout, $6,500.
Outlets noted that the New York State Gaming Commission said that Bookman has a right to just $2.25 in winnings.
Related
Popular in the Community