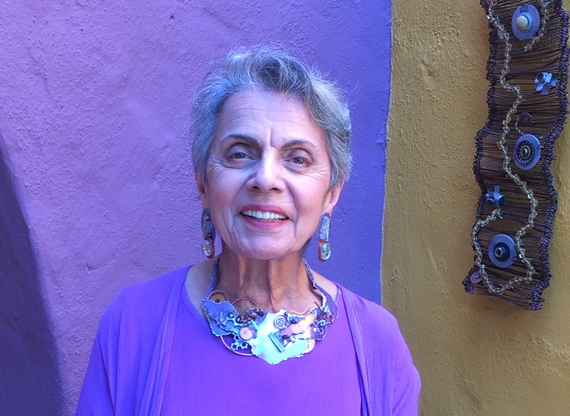 May Day Open Artists' Studios combined perfect weather with an opportunity to see artists' works all around my town (Palo Alto, CA). I chose to check out Rochelle Ford's place because I'd interviewed her previously for my book, The Vintage Years and I wanted to get another peek at her luscious artwork.
At 79 she's amazingly fit, maybe from lugging junk and other found objects like car and sewing machine parts to her studio for their makeover into art objects. Combine that with the steadiness needed to hold and painstakingly manage a blowtorch and you have a combination that more than exceeds the recommended fitness challenge for older adults. Rochelle is a metal artist who didn't embark on her trade until later in life. In fact, she spent her working years in conventional ways -- like managing offices and owning small businesses. But her creativity found expression when it pushed its way out in a big and dramatic way.
Rochelle is petite, barely over five feet tall, but when you see her wielding an acetylene torch to create art from bed springs repurposed, reshaped and reimagined, you forget her diminutive stature. Rochelle is a self-taught sculptor who's been at her trade since she was 58.
On today's visit I realized that some of her creations were for sale, which was why parking was scarce. Not surprisingly, the other lookers were a combination of art seekers, artfully dressed browsers, and folks from the neighborhood who had parts of objects that they wished to contribute to Rochelle's junk-to-art collection. For example, she mentioned that the former owner of a local fabric store, closed for at least twenty years, had come by with some sewing machine parts he thought she could use. Rochelle never turns down a good metal scrap.
Proceeding indoors I found her husband of 55 years, a former NFL football player, helping out with the money end of art purchases. There were years when his career determined moves and career options for Rochelle. Now Henry assists her in the business that burst out of a hobby.
As you might expect, Rochelle was dressed exotically for this event in a lavender silk ensemble, with sleeves that appeared to be tie-dyed. Consistent with this amazingly colorful woman, the outfit was tinted by her own hands. But what struck me most was the metal necklace, really a crescent-moon of a sculpture intricately welded and matching her clothing almost perfectly. I so admired that body art that I went indoors to her front room where she was exhibiting metal jewelry, also for sale, hoping to find a similar adornment.
You don't know this about me but I'm not someone who wears much jewelry. In fact, I'm a stripped-down version of a woman, and a pair of jeans or sweats is my standard attire since I retired. I don't need jewelry but I loved the art in Rochelle's neck-pieces. Of course, I wanted the one she was wearing but I never asked and she didn't offer it for sale. Instead I found another, less colorful (like me) but elegant and a reminder of my delight in Rochelle's journey.
Her studio will be open for one more weekend and I have a feeling I'll be going back for more visual nourishment. You can read more about Rochelle's incredible elder career path in The Vintage Years: Finding Your Inner Artist (Writer, Musician, Visual Artist) After Sixty, eBook version, 2014.
Popular in the Community