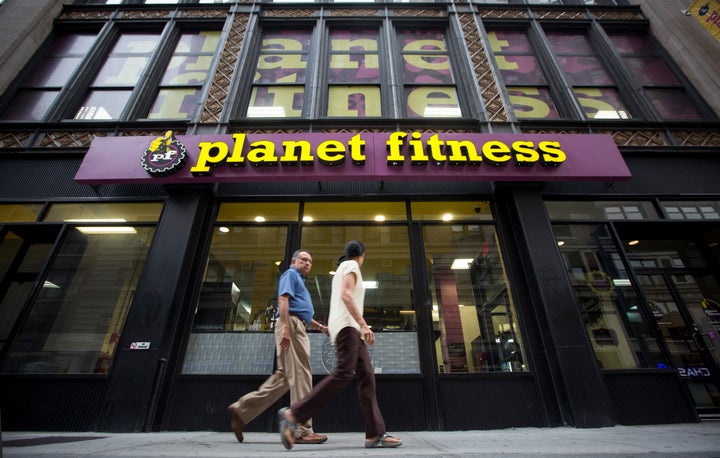 A woman suing her gym chain for its "no judgement" policy as it applies to transgender members is appealing her case to the Michigan Supreme Court.
Yvette Cormier first made headlines in 2015 after losing her membership to Planet Fitness after she complained about a trans woman using the women's locker room at her local Midland, Michigan gym.
During the incident, Cormier went to the front desk to complain that "someone who looked like a man" had entered the women's locker room. After she was informed of the company's "no judgement" policy when it comes to self-determination of gender identity? by both the front desk and corporate headquarters, she reportedly continued to return to the gym to warn other gym members that Planet Fitness "let men in the women's locker room."
Her membership was revoked later that week. Cormier filed suit against Planet Fitness, claiming that "canceling membership without making her fully aware of its policies is a breach of contract." She also alleged that Planet Fitness violated the Elliott-Larsen Civil Rights Act by banning her from the gym, which prohibits discrimination in Michigan against "religion, race, color, national origin, age, sex, height, weight, familial status, or marital status in employment, housing, education and access to public accommodations."
Cormier told CNN in 2015, "I didn't go out to specifically bash a transgender person that day. I was taken aback by the situation." She added, "This is about me and how I felt unsafe. I should feel safe in there."
"The Yvette Cormiers of the world are being told you are going to accept our point of view and it is being crammed down their throats," David A. Kallman, Cormier's attorney, told Midland Daily News. "It shouldn't be one side wins and the other side loses. There needs to be some middle ground here. The courts need to step in and provide some clarity." He added, "Privacy rights of women and men should be upheld vs. somebody's own belief."
In fact, if anyone is at risk in these situations, it's trans people. A recent study by the National Center for Transgender Equality found "almost 60 percent of transgender Americans have avoided using public restrooms for fear of confrontation, saying they have been harassed and assaulted."
Calling all HuffPost superfans!
Sign up for membership to become a founding member and help shape HuffPost's next chapter