In the early 1970s a group of 25 feminist art students took over a deserted mansion in Hollywood, transforming the space into the historic project known as "Womanhouse." Seeking to confront the old Virginia Woolf challenge of finding a "room of one's own," the gatherings that happened at "Womanhouse" questioned the very essence of domestic female activities, as women from the California Institute of Arts staged consciousness-raising sessions uninhibited by the traditional norms associated with the home.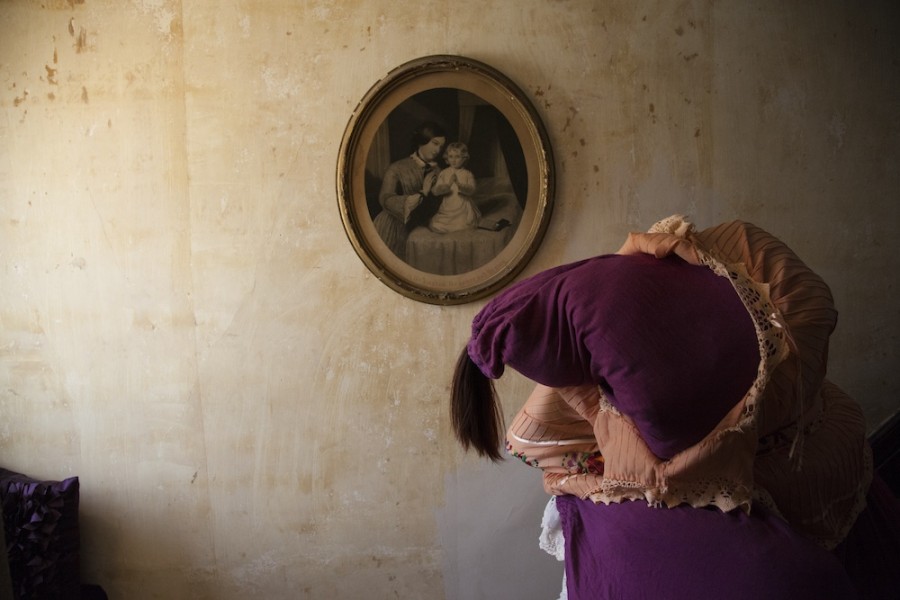 Sarah Jimenez & Kaitlynn Redell, The Imposer, Digital C Print, 25" x 35", 2013.
"What associations did we have with the kitchen, the bathroom, the bedroom," the artists -- led by teachers Judy Chicago and Miriam Schapiro -- asked. "What if a visual artist could do whatever she wanted within a room... how could she address political and historical issues through artwork?" During its month-long existence as a public forum in 1972, "Womanhouse" became an intellectual destination -- a hotbed of feminist discussion, boundary-pushing art exhibitions and the birthplace, of sorts, of the careers of artists like Nancy Youdelman, Robin Mitchell, Faith Wilding and Mira Schor.
Four decades after the closing of "Womanhouse," Mira Schor the painter, writer and teacher is reigniting conversation surrounding the experiment that was "Womanhouse." In a New York art exhibition smartly titled "A 'Womanhouse' or a Roaming House? 'A Room of One's Own' Today," she's invited contemporary artists to tackle Woolf's query once again. What is the room today? she asks anew. What is the space necessary for an artist to make art in and for whom?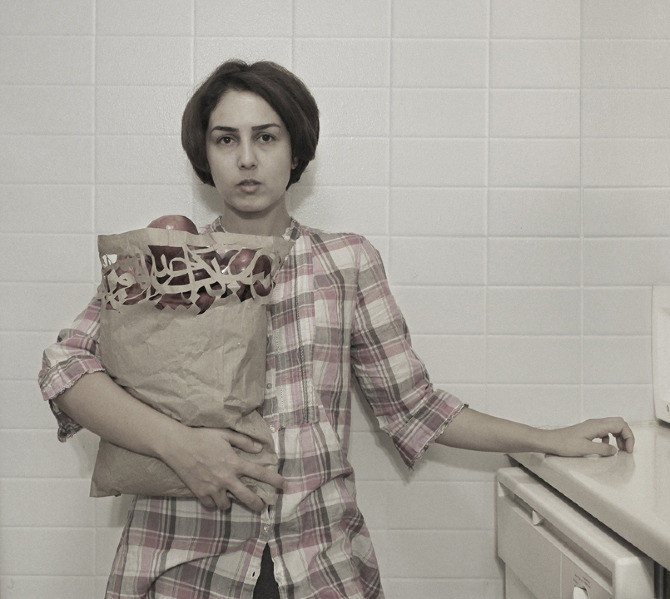 Parisa Ghaderi, And She Picked The Apple (Edition #1), Digital photo, 15.5" x 19.5", 2012.
"There have been many changes in our culture since 1972," Schor explains in a statement for the show, on view at A.I.R. Gallery. "So many more women work in the current economy. They don't only work in order to fulfill their potential as human beings but because their income is necessary now. This necessity has brought up a host of new considerations: anxieties and guilt about childrearing, greater awareness of the living conditions of domestic workers, and even nostalgia for domesticity."
The varied exhibition, part of the biennial CURRENTS series intended to address contemporary issues in the art world, includes works by women painters, sculptors, photographers, videographers and more. Names like Kara Rooney, Julie Schenkelberg and Kimberly Brooks fill the catalogue, all of whom submitted pieces to a jury under the simple requirement that "all women artists, including self-identified women... submit original works of art."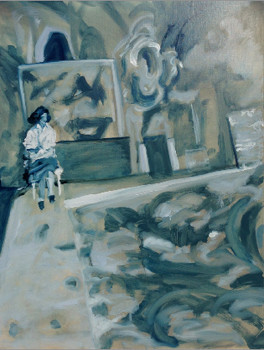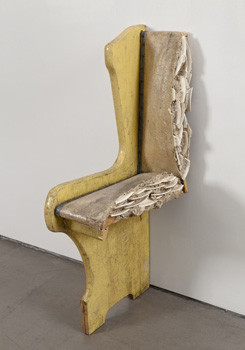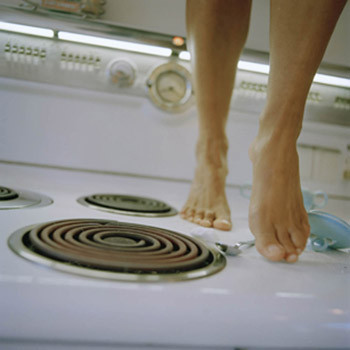 (Left) Kimberly Brooks, Helen Frankthaler in her studio, Oil on linen, 18" x 24", 2013. (Center) Julie Schenkelberg, Dowery Rediscovered, Bench, dishes, wool and acrylic, 26" x 14" x 6", 2013. (Right) Nancy Grace Horton, Hot (Edition #2), Photograph, 30" x 30", 2011.
The artists make their way through the ideal house, covering the rooms we've come to stereotypically love and loathe. Nancy Grace Horton's photograph of toes on a hot stove reveals the persisting anxiety surrounding the kitchen, while Virginia Claire Sprance depicts the cold un-intimacy linked to the bedroom with her portrait of Mrs. Dillion. Brooks paints Helen Frankenthaler in her studio, caught in a whirlwind of brushstrokes and blue hues, the artist's figure standing out as the sharpest object to which the viewer clings. And Caitlin Rueter physically removes the beings that populate a home, leaving behind ghostly, alien cutouts.
Together the pieces might reflect the still-existent hesitation, sometimes disdain, toward the home. While much has changed in feminism and for the societal role of women, the pressures of perfection in the domestic sphere are certainly as prescient for some as they were years ago. Yet just as the intersectional feminist perspective has grown and evolved, helping to raise awareness for issues of race, sexuality and economic status, contemporary artists understand the home can be a symbol for what's on the other side of the clenches of poverty for all genders. Take, for example, Laura Crosby's "Battered Women's Shelter: Protected Play," which reconstitutes the concept for women living in shelters.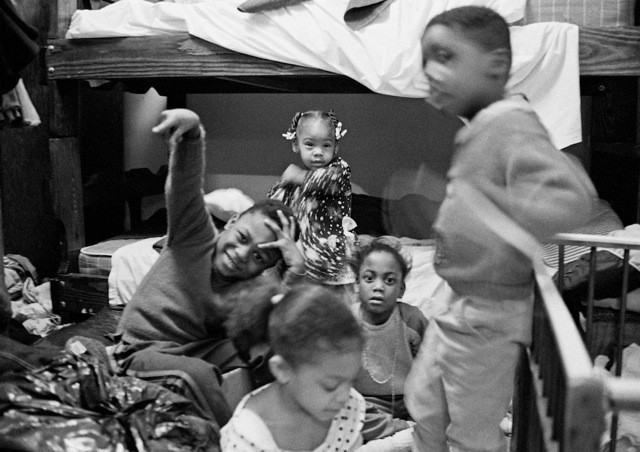 Laura Crosby, Battered Women's Shelter: Protected Play, Archival Inkjet Print, 25" x 30", 2010.
In the exhibition description, Schor points out that the first iteration of the "Womanhouse" project was the result of collaborative discussions and engagement between the artists involved, while "Roaming House" has been constructed from a far. The individual works have been collected, and the conversation will occur during a panel discussion planned for the show's closing.
"I'm looking forward to meeting the artists, many of whom I did not know personally," Schor explained to The Huffington Post. "The original 'Womanhouse' emerged from group discussions and consciousness-raising sessions from which grew both individual and collaborative works, so this show is operating in reverse, beginning with individual works and concluding with discussion, which I hope will then grow more ideas for work on this large and important subject!"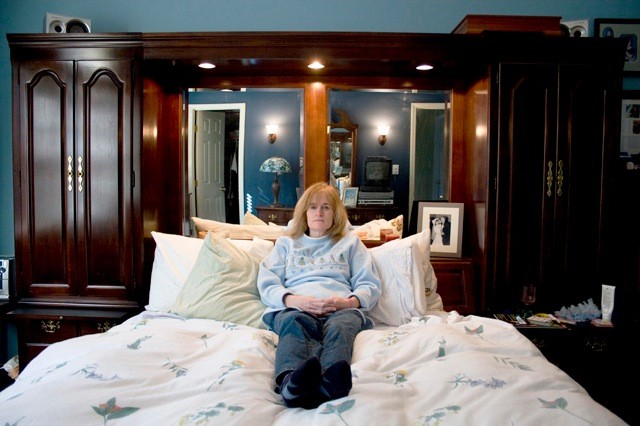 Virginia Claire Sprance, Mrs. Dillon in Bedroom, 24" x 33", 2007.
Scroll through a preview of the works on view January 9 to February 2, 2014 at A.I.R. Gallery and let us know your thoughts on the exhibition in the comments.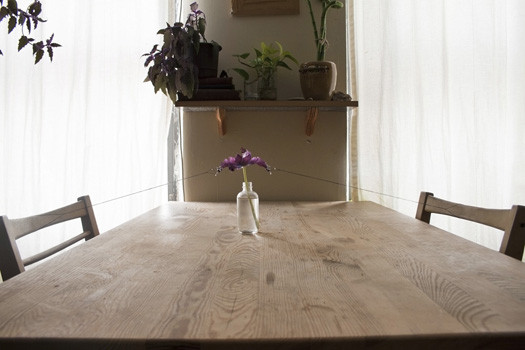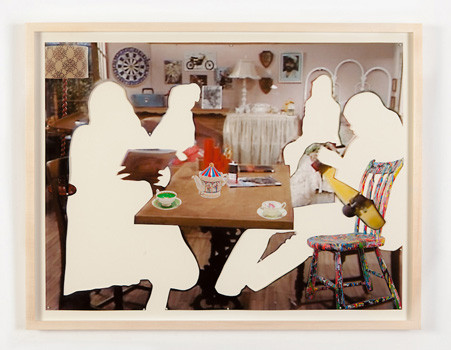 (Top) Kalena Patton, Often Treated Like An Annual (Edition #3), Laser Print, 20" x 32", 2013. (Bottom) Caitlin Rueter, Exquisite Specimens of the Different Styles to Which They Belong, Digital prints, map pins and archival foam core, 24.5" x 31.5", 2012.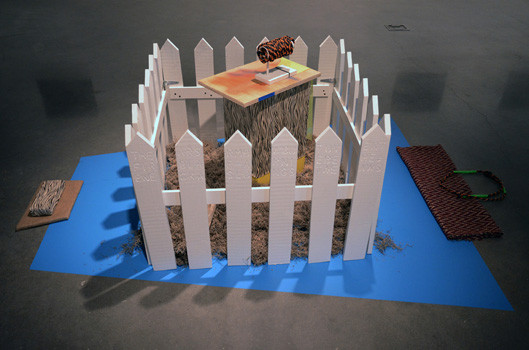 Kara Rooney, fourpoemsforpaz, Mixed media installation with video, 60" x 72" x 36", 2013.
Support HuffPost
The Stakes Have Never Been Higher
Related
Popular in the Community