On the heels of President Trump's inauguration and historic women's marches all over the world, the New York Asian Women's Center changed its name to Womankind, and they say their new name has even more significance in Trump's New America: "We have been considering changing our name for a while now to create an identity that speaks to the power of our unique ways of thinking and doing - changing paradigms, building and healing," said Larry Lee, executive director of Womankind. "And to show that we are more inclusive and transforming."
The organization has been a leader in providing innovative and award-winning multilingual and culturally responsive services to survivors of domestic violence, human trafficking, sexual violence and later in life abuse for the past 35 years. Womankind has helped Asian women and their children rise above trauma and build a path to healing through counseling, safe and confidential emergency housing, immigration and legal services, economic empowerment programs and so much more.
Board Chair Karen Elizaga put the rebranding's purpose into perspective during the organization's press conference on Tuesday. "The new name, Womankind, signifies universal values of equality, fairness, justice and compassion. It allows us to position our work as equally relevant to a broader audience, strengthening our advocacy for women and other survivors of violence. In this way, Womankind represents Asian leadership in the mainstream. As we look ahead, our mission and commitment to Asian communities remain. Our determination to improve the lives of Asian women and their families is ever stronger. In fact, the rebranding compelled us to carefully scrutinize our mission, thoroughly contemplate our vision for the future and unify ourselves toward a crystal clear direction. With this rebranding, we dug deep. We clarified our purpose, by which we are more strongly anchored as an organization."
Representatives from the organization also revealed the trailer of a short film co-directed by Benjamin Ross and Brittany Neff of Co.Reality called "Rise Above," which premiered during the Sundance Film Festival in Park City, Utah, last month. The virtual reality (VR) film focuses on Brittany D, a young South Asian survivor of sexual violence and was produced by Oculus' "VR For Good" initiative, which selected 10 non-profits from around the world to participate. Facebook, who now owns Oculus, has provided marketing support through social media advertising dollars.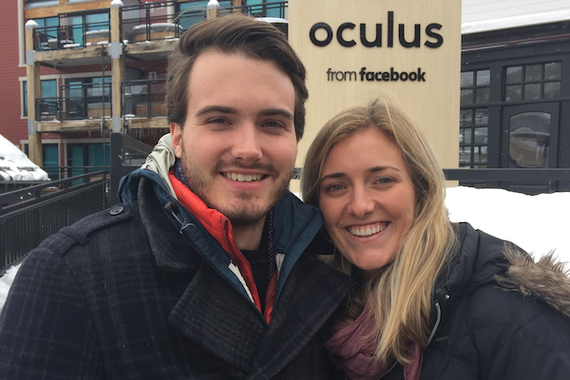 Co-Directors Benjamin Ross & Brittany Neff outside
the Oculus House at Sundance. Photo: JINGO Media.
"It was great to be able to tell my story of abuse through the medium of virtual reality and to be able to share the film through social media," said Brittany D. "I hope the film encourages more people from my generation to report abuse and speak out against violence." The "VR for Good" initiative will make its rounds through the film festival circuit and will, eventually, be available to view in its entirety on the organization's recently revamped web site, www.iamwomankind.org(click on link to web site to watch the film's trailer).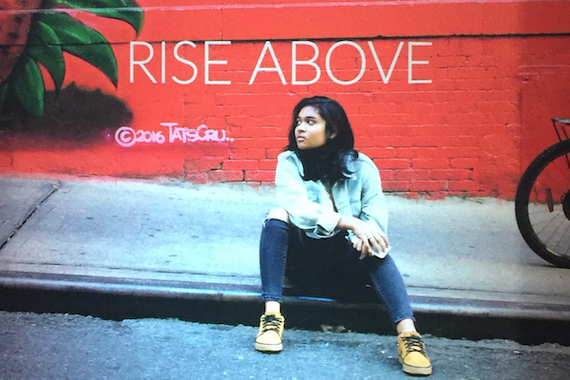 "Rise Above," a short film that premiered at Sundance, features a young
South Asian survivor of sexual violence. Photo: JINGO Media.
The organization also announced the opening of a new community office in Brooklyn, which will now allow advocates to provide services for double the number of victims from that community. The Brooklyn Center makes for a total of THREE community offices and TWO emergency residences that Womankind manages in New York.
In a soulful and pitch-perfect performance, Indie rock artist Queen V ended the press conference on a high note by singing and strumming her rendition of "Broken Wings," which is now available on Itunes for download. Proceeds from the sales will benefit Womankind.
I know well the anguish caused by sexual abuse from my own personal journey. Womankind allows those abused to begin the transformation of healing immediately. The press conference and subsequent interviews with their dedicated staff brought up a complex mix of emotions as I remembered my childhood suffering. I am personally thankful that Womankind allows those abused to not wait half a century for closure as I did.
We should all applaud Womankind's resilience and persistence for tackling the issue of violence against women within a culture that is taught to remain silent about abuse because of shame and social stigma. We can only hope there will not be a need for Womankind another 35 years from now.
Calling all HuffPost superfans!
Sign up for membership to become a founding member and help shape HuffPost's next chapter