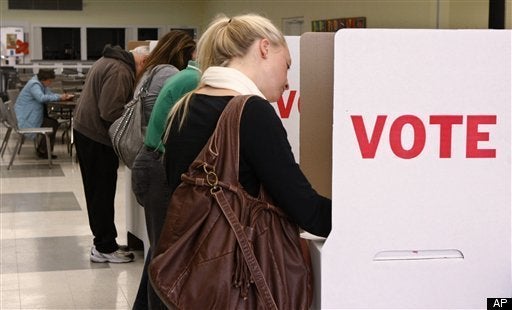 For the first time in recent history, women gave Republicans the advantage in House race contests. It was a slight advantage ( +h1 GOP according to official exit polls), but it's an obvious sign of Democratic underperformance. To compare, in 1994, women gave Democrats a +5 advantage.
In addition to the exit polls, a few studies this week highlight this weakness. My firm, Momentum Analysis, along with Neil Newhouse and Alex Bratty from Public Opinion Strategies, conducted a national telephone post-election survey among 400 Walmart moms, defined as women with children under 18 years old who shopped at Walmart in the past month. (Disclosure: Walmart sponsored the research, and more about our past research can be found here, and elsewhere in the pollster.com archives.) In 2008, these women gave Obama a 5-point lead. In May, these moms were still favorable toward Obama, but gave Republicans a slight edge in the generic ballot question. In September, they were more decidedly Republican, and in October more Republican still. And by the time Election Day came around, a full 61 percent of them voted Republican in the race for Congress.
Driving underperformance among women are, of course, many of the same drivers of underperformance broadly: historical patterns about the party in power, and a difficult economic climate. And this isn't to lay blame for Democratic misfortunes at the feet of women. In fact, the gender gap was higher this year ( +13) than in years past. But I can't help but think there are some lessons here for Democrats, and how leaders should be talking to women voters.
Many women explicitly say the political dialogue is simply not including them. We heard that consistently in three September focus groups we did among Walmart moms. And post-election research by GQRR for Women's Voices, Women Vote shows quite a few unmarried women agreed with the statement, "this year, I did not feel the issues I really cared about were talked about in the campaign." While barely half of unmarried women felt their issues were discussed, looking at only the most intense views, that difference disappears (32 percent strongly feel issues not discussed, 35 percent strongly feel issues were discussed).
There was also a missed opportunity when it came to health care. As I've written elsewhere, there are many specific proposals in health-care reform that affect women specifically. Yet given the scope and complexity of reform, rarely did messages about those policies punch through. The Walmart moms in our focus groups, for example, expressed more uncertainty about health-care reform than strong opposition. And without a clear, consistent Democratic push on women's health, it was easy for opponents to use this uncertainty to their advantage. There were very few exceptions. Senator Barbara Mikulski addressed women's health specifically in her campaign. As I've noted before, Congresswoman Kathy Dahlkemper touched on women's health here, although ultimately unsuccessfully. When Democrats ran on health care, women's health was not the context.
Moving forward, it's crucial Democrats look at women not as a special interest group, or a side note, but as a majority of the population, with proven ability to swing away from us. That means speaking directly to them, about how our proposals affect them directly.