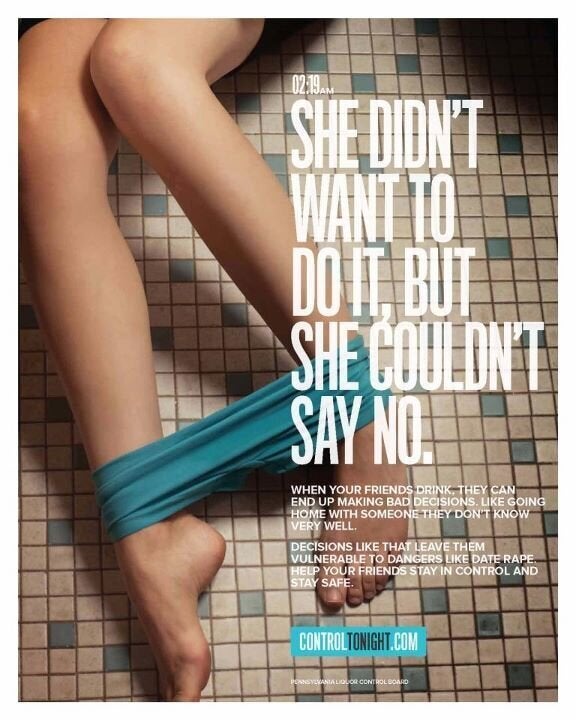 It's fitting that my most recent column was about hate mail, because I have been warned by colleagues and friends that I will most likely be inundated with it for publishing today's column, but since I am a glutton for punishment, here goes.
Though a few have done it, I don't have a single female friend who thinks that drinking to the point of blacking out, passing out or being close to doing both, is necessarily a healthy or safe thing to do -- for a variety of reasons. We could stumble into the street and get hit by a car, or trip and fall and be severely injured, or pass out in the cold and freeze to death. (All of the aforementioned incidents have happened to various members of both genders in states of extreme intoxication, including a member of a famous political family.)
Yet if I type the sentence "And we could also find ourselves at a greater risk for sexual assault," it's been made pretty clear to me that I may just have my official feminist card revoked from the powers that be. At least that's the impression I've been left with due to the organized backlash against the Pennsylvania Liquor Control Board's ad campaign that draws a connection between heavy drinking and rape.
Feminist and progressive sites blared with accusatory headlines like: "Pennsylvania Liquor Control Board Pulls Ad That Blames Women For Getting Date-Raped." I saw the ads (which you can view here and here) and I didn't see them that way. What I saw was someone -- albeit somewhat clumsily -- trying to force a very real conversation that we should have had years ago but that keeps getting suppressed because activists start throwing around words like "victim shaming" and then others with dissenting voices immediately retreat. (In case you haven't noticed I don't retreat easily.)
We have an epidemic of binge drinking among young people -- including young women -- in this country, as in 200,000 teens a year visit emergency rooms because of alcohol related incidents, 1,700 of which result in death. But just as alarming as those statistics is a new study out from the Journal of Studies on Alcohol and Drugs that followed hundreds of young women through their first year of college and found a direct correlation between binge drinking and their likelihood of being victims of sexual assault.
Yet for some reason if those in authority warn female college students, "Be careful of how much you and your friends drink at that party. A cup or two is one thing, but drinking more than that and everyone's judgment -- both yours and any guys that may be there -- is no longer what you want for it to be," the person delivering the message is vilified as a rape apologist. Those of you familiar with my writing know that I am no rape apologist, and have been a vocal critic of the blame the victim first and the rapist second mentality that permeates our criminal justice system. But I will also not be an apologist for political correctness to the detriment of a cause that I care about.
Women have a right to drink. We have a right to drink as much as we want and we have a right to drink as much as we want without being raped. But just as we warn each other that certain neighborhoods are safer in daylight than others, why is it that some feminist activists have a tough time warning other women that women who drink -- but not to the point of being intoxicated -- will in fact be safer from a variety of crimes, including being mugged, than women who drink to extremes? Why is saying that out loud without fear of retribution not an option for any of us who identify as feminists, or anyone else who doesn't want to be vilified? I'm not advocating that we become a society who never drinks. But we should work towards being a society where people -- of both genders -- are both encouraged and educated to drink responsibly.
While this ad campaign may not have completely nailed it visually speaking, I'm all for advertisements that discourage young women and young men from drinking to the point of being unable to safely operate a vehicle or being unsafe for another person to be around. For instance, while it is clear cut that any man who has sex with an intoxicated woman who is unable to give consent is committing rape, what happens when both parties are deemed too intoxicated to engage in discussions of consent? The reality is there is absolutely no good reason for any person of any gender to find being in such a state a regular occurrence, and yet according to the CDC increasingly teenagers are drinking with the sole goal of getting this drunk, as quickly as possible and as cheaply as possible.
The way I look at it is this. We educate drivers on the dangers of drunk driving, and if an accident happens and someone dies, the drunk driver is to blame, no questions asked. But that doesn't mean we shouldn't also aggressively target others about the dangers of getting into a car with a drunk driver. If we want to successfully address the issue, we have to target multiple audiences, and that's what the Pennsylvania Liquor Authority's ad campaign was seeking to do.
The ad campaign itself may have slightly missed the mark but its opponents missed the point.
Furthermore, if they have a problem with the ads but genuinely care about the issue, how about doing something constructive like holding a contest encouraging others to submit alternative ads? (Feel free to post suggestions in the comments section here. I can't guarantee the right people at the Pennsylvania Liquor Control Board will see them, but here's hoping.)
To be clear, I have zero tolerance for rapists and zero tolerance for a criminal justice system that through laughable sentencing guidelines, misguided statute of limitations laws, and inadequate DNA testing funding, seems to indicate that it doesn't take rape seriously. But I'm also running out of tolerance for activists who keep screaming "fire" in a crowded theater when it comes to actually doing something constructive to address one of the oldest and most important public policy issues we continue to grapple with: eradicating rape in our society.
Note: If you'd like to do something constructive to aid survivors of sexual assault click here. Keli Goff is the author of The GQ Candidate and a Contributing Editor for Loop21.com, where this piece originally appeared. www.keligoff.com
Support HuffPost
The Stakes Have Never Been Higher
Related
Popular in the Community