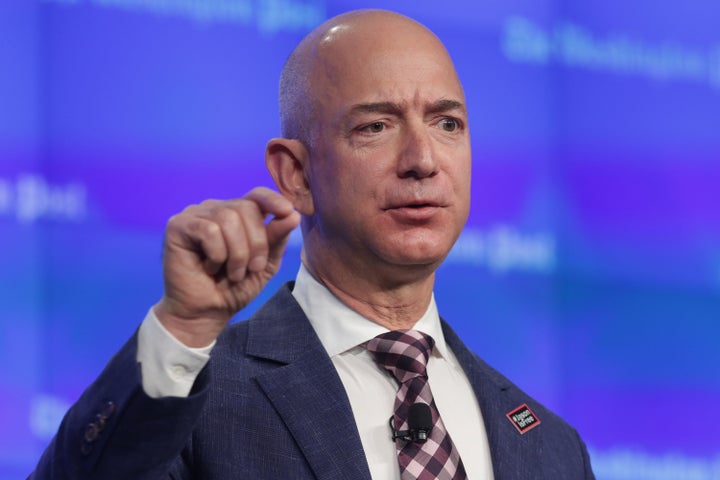 When the most senior, well-paid people at your company are almost exclusively male, is it really accurate to say your business pays men and women about the same amounts?
The question comes up now because Amazon, under pressure from activist shareholders, said Wednesday there's almost no gender pay gap at the company. Women at Amazon make 99.9 cents for every dollar that men earn in the same jobs, and minorities earn 100.1 cents for every dollar that white employees earn. The company, which employs more than 200,000 full-time workers, said it considered salary and stock.
"There will naturally be slight fluctuations from year to year, but at Amazon we are committed to keeping compensation fair and equitable," the retailer said in a statement to The Huffington Post.
This is great. Obviously, men and women should make the same amount of money for doing the same work. This is called pay equity -- equal pay for equal work.
But here's the thing: When you consider how few women work at Amazon, you pretty quickly realize there is simply no way that its women employees make the same amount of money as men.
Amazon does not disclose pay data for managers, but it's safe to assume that managers earn more than rank-and-file workers. Only 24 percent of Amazon managers are women, according to the company.
It's even harder to spot a woman at the tippy-top, where salaries and stock options are the fattest. The company's website lists just one woman out of seven corporate officers -- basically CEO Jeff Bezos's senior team. Of those seven executives, the company details the compensation of three in its most recent public filing on compensation. These male executive officers make a ton of money -- on average, about $7.5 million each in 2014.
Only three of Amazon's 11 board members are women.
This essentially means that the highest-paid people at Amazon are men.
Amazon did not answer questions about this, beyond its statement.
"They've got a ways to go, even if the pay ratios for the jobs are the same," said Julie Gorte, senior vice president for sustainable investing at Pax World Management, the investor group that, along with Arjuna Capital, pushed Amazon to disclose information on gender and pay. "Pay equity isn't the only measure of equality. Equal representation is another thing," Gorte told HuffPost.
"The highest-paid people at Amazon are men."
Gorte's group and Arjuna also pushed iPhone maker Apple to talk about its pay issues recently. And Apple did talk to Pax, which runs a fund that invests in companies where women have fair representation at senior levels. "We had a good back and forth," Gorte said.
Amazon, on the other hand, "didn't seem to want to talk to us," Gorte said.
Under pressure, Apple chief executive Tim Cook opened up publicly. "We're committed to fairly and equitably compensating all our employees, and we review all employee compensation on at least an annual basis to ensure that it meets that bar," Cook said in a statement this month. Women at Apple make 99.6 percent of what men make, but only if you exclude stock, he said.
Apple also suffers from a lack of women at the top -- only 28 percent of the company's leadership is female.
Pax also is pushing eBay to open up about how it pays men and women. and has asked the Securities and Exchange Commission to require all public companies to disclose gender pay statistics.
Amazon is just the latest tech firm to go public with a claim about how it pays women and men. Recently, Intel announced it had no pay gap. Last year, software company Salesforce drew applause after it spent $3 million to close the pay gap between its men and women employees.
There are also efforts at the federal level to require businesses to report salary and gender information, so there can be a methodical way to root out pay discrimination. Unless big companies specifically look at internal salary data and track it alongside gender, race and ethnicity, they won't really know for sure if they pay fairly.
But fair pay is a tricky thing. On the individual level, it's easy to grasp. Does the dude next to me, doing the exact same thing with more or less the same amount of experience, make about as much as me?
But on the aggregate level, there's more to consider. On the whole in the U.S., men out-earn women. By a lot. Women make roughly 78 cents to every male dollar, on average.
But if you do the kind of exercise that Amazon likely did, and control for things like education, occupation and work experience, the gender pay gap shrinks a lot -- to only about 5 cents on the dollar, according to a study released Wednesday by jobs site Glassdoor.
It's tempting to say there's hardly any pay gap. But that would utterly miss the point.
Those unadjusted differences matter. They reflect real inequities in the workplace, where women still cannot seem to break through the glass ceiling. There are woefully few women in the nation's executive offices and boardrooms. There aren't enough women landing the high-paying jobs created by tech companies like Apple and Amazon. That's a problem.
And that's where a pay analysis like Amazon's, frankly, falls short.
Gorte framed it nicely: "If there was only one woman at Amazon and she was the CFO and she made as much as the other C-level senior officers, you'd have pay equity," she said.
Ben Walsh contributed reporting
Related
Popular in the Community