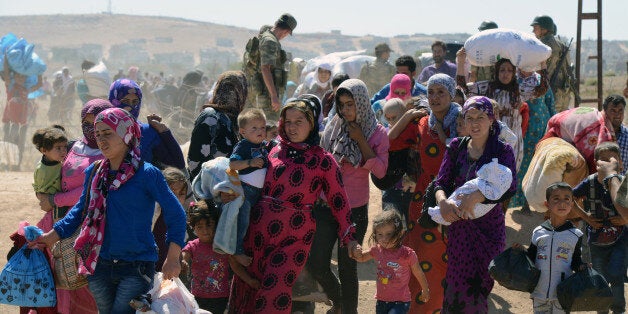 Only a few street blocks from where foreign ministers from the US, Europe and various Middle Eastern countries met in Paris on Monday to discuss the Syrian refugee crisis, the former Syrian "mother of the homeland" of ancient Europe sat on display at the Louvre Museum. But the loss of historical memory, especially on the important role of Syrian women in Europe, has not been the only omission in recent times. As the headline in the New York Times' digital news partner Women in the World noted yesterday -- "No women seated around the table at Syria talks in Paris" -- the role of women continues to be left out of the Syrian crisis negotiations.
"Sure, there are a few in the room, but not one woman is seated at the table in a position of power -- because not one of the above countries has a woman foreign minister," the Women in the World column added. "Such an abject lack of gender parity at high-stakes talks like these is shameful."
The lack of gender parity on the Syrian crisis has also factored in the American presidential debates -- conversely, though, through misleading statements by Republican candidates like Sen Ted Cruz, who claimed 77% of refugees "pouring into Europe right now" were young men.
According to the most recent United Nations Human Rights Council (UNHCR) data from Turkey, women make up 50.3% of an estimated 4.3 million Syrian refugees. Among 2.1 million refugees registered by the UNHCR in Egypt, Iraq, Jordan and Lebanon, according to factcheck.org, 70 percent are female (50.3 percent) and male children under 12 years old (19.7 percent).
Media Matters nailed it: FACT: Most Syrian Refugees Are Women And Children.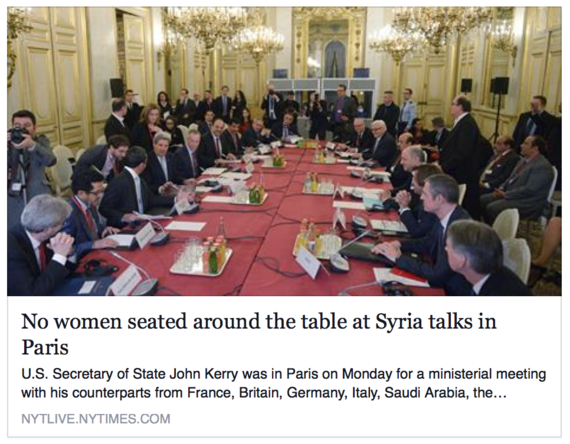 Credit: Women in the World/NY Times
Our contemporary understanding of ancient history has fallen to similar myths and oversights. Take Julia Domna and her statue in Paris: Empress of Ancient Rome during the reign of her husband Septimius Severus (who was from Libya), Julia Domna came from Homs, Syria's third-largest city, now left in ruins from civil war. Julia Domna revamped the role of philosophy in Ancient Rome, and traveled extensively with her husband, including his final campaign to York, England, recognized as the "mater patriae," the mother of the homeland, among other titles. Domna's son Caracalla, as a subsequent emperor in Ancient Rome, instituted the Antonine Constitution, which provided birthright citizenship to free Romans across the empire.
Centuries later, a different role for Syrians and women continues to play out in refugee camps in the Middle East and Europe, and in their journeys to the US and Canada.
According to a UN report released last year, "Woman Alone - the Fight for Survival by Syrian Refugee Women," Syria's refugee women "are struggling to make ends meet in an unfamiliar and sometimes hostile environment. Many face a double trauma: the pain of losing or being separated from their families, coupled with the distress of living in exile alone."
"For hundreds of thousands of women, escaping their ruined homeland was only the first step in a journey of grinding hardship," António Guterres, the UNHCR chief, told the Guardian last year. "They have run out of money, face daily threats to their safety, and are being treated as outcasts for no other crime than losing their men to a vicious war. It's shameful. They are being humiliated for losing everything."
Calling all HuffPost superfans!
Sign up for membership to become a founding member and help shape HuffPost's next chapter