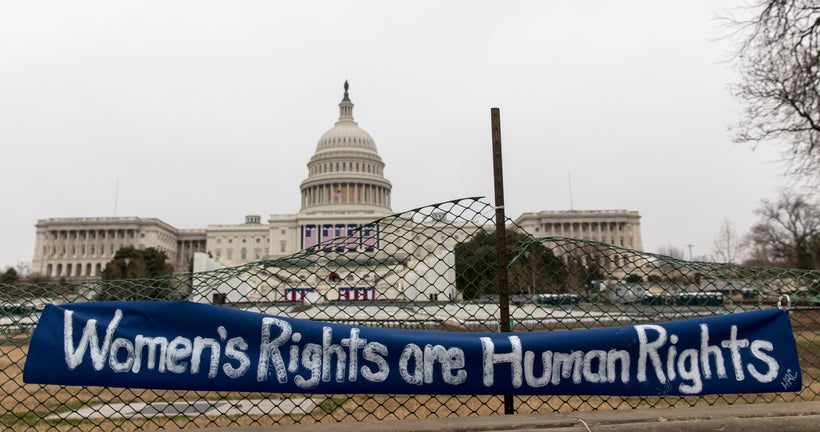 It is hard these days to retain optimism. There is a war of ideologies playing out across the United States, and rights don't seem to be winning.
Two weeks after an estimated three million people came out in support of Women's rights, including the right to make personal choices about their bodies, Vice President Mike Pence spoke at a pro-life rally – the highest ranking official to ever speak at the event. Daily new executive actions are announced that threaten the rights people in our communities, and around the globe – advancing pipeline projects that risk great environmental and human costs, reinstating the global gag rule, and gutting healthcare protections – to name a few . Their reach is far and wide and the pernicious impacts too daunting to quantify.
For the first time in my life, human rights are at the heart of the resistance against regressive policies across the country. Posters proclaiming "Girls just want to have fundamental human rights" were prolific at the January Women's March in Washington.
This turn to framing and claiming women's rights as human rights is more than just a rhetorical shift. It is a resounding call for a new approach to law and policy aimed at more equitable opportunities and outcomes. A rights-based approach defines discrimination against women broadly to encompass laws and policies that negatively affect women's human rights. This approach must take into account the ways that a woman's multiple identities, including her race, nationality, disability, age, as well as economic and social status, impact enjoyment of rights. A rights based approach to women's rights also requires governments to affirmatively identify the factors that perpetuate inequality, and mitigate them. These principles are articulated in CEDAW, the global treaty for women's equality.
And what is most encouraging is that local advocates and officials are embracing the treaty's principles. While the U.S. has failed to ratify CEDAW, there is an uptick in state and local laws that explicitly incorporate these principles as their baseline. Many human rights advocates are familiar with the San Francisco CEDAW Ordinance, passed in 1998 to "integrate gender equity and human rights into city operations." Perhaps less well known is the fact that as of this month, there are six ordinances based in CEDAW in cities and counties across the U.S. Pittsburgh, PA is the most recent city to adopt a law based on the international women's rights treaty. Pittsburgh joined the ranks of Miami-Dade County, Florida, Honolulu, Hawaii, Berkeley and Los Angeles, California. More than 20 jurisdictions have also passed resolutions in support of using CEDAW at the local level, laying the groundwork for further action.
Los Angeles is a fascinating case, because the CEDAW law, passed in 2003 was relatively dormant until 2015 when Mayor Garcetti issued an innovative executive order. The EO puts executive heft behind implementation and accountability. It calls on each of the City's 40+ departments and agencies to develop unique gender equity action plans and to identify a gender equity liaison. The EO also establishes a city-wide gender equity coalition, comprised of these liaisons, with the aim of creating a sustainable gender equity infrastructure within city government and institutionalizing CEDAW implementation. The action plans will inform budget decisions, and progress will be part of how managers and department heads are evaluated.
Pittsburgh's Ordinance also builds on lessons learned from prior CEDAW initiatives. It creates a Gender-Equity Commission to identify gender concerns within city government and recommend solutions. The Commission is mandated to support the development and monitoring of gender equity action plans, make funding and recommendations to the mayor and city council, and facilitate gender equity trainings. Building off of San Francisco's experience, the Ordinance contains detailed measures to counter violence against women and girls, an especially important measure since Allegheny County has had the most domestic violence homicides in Pennsylvania. Notably, Pittsburgh's Ordinance is the first to explicitly include trans women, defining "women" as people who identify as women, even if not assigned the sex category at birth. Other cities and counties are taking CEDAW-based action too.
And while local CEDAW initiatives are at their early stages, and continue to evolve, they offer valuable lessons for how to implement human rights. To distill these lessons, and offer guidance to local governments on ways to effectively strengthen human rights protections, the Columbia Law School Human Rights Institute published a new report this week, Gender Equity Through Human Rights: Local Efforts to Advance the Status of Women and Girls in the United States, which draws from conversations with human rights advocates and local officials involved in CEDAW implementation to date. The report describes key elements of efforts to commit to, and adopt CEDAW into local law, and offers key recommendations on effective strategies for operationalizing women's human rights locally. It also underscores the importance of strong infrastructure and accountability, highlights the need for transparency and public participation, and emphasizes that successful human rights implementation requires local governments to allocate adequate financial and human resources to any local human rights initiatives.
It is clear we cannot rely on the federal government to lead in the arena of human rights. It is imperative that states and localities fill the gap and demonstrate that government must prioritize people, not profit, not popularity, and not political expediency.
Now, more than ever, we must lead with human rights values.
Do not back down. Do not retreat.
[A version of this piece also appears on the Human Rights at Home Blog]
Calling all HuffPost superfans!
Sign up for membership to become a founding member and help shape HuffPost's next chapter
This post was published on the now-closed HuffPost Contributor platform. Contributors control their own work and posted freely to our site. If you need to flag this entry as abusive,
send us an email
.