This month's "Can We Talk?" features an exchange between Rabbi Sharon Cohen Anisfeld and Celene Ibrahim, M. Div., responding to the following questions:

What are the most pressing issues of women and leadership across your religious tradition? Which ones are currently most resonant for you? Which are the frontiers that most compel you at this time--ritual participation, communal leadership, religious law--and why? How is feminism a part of your own religious life and experience of faith?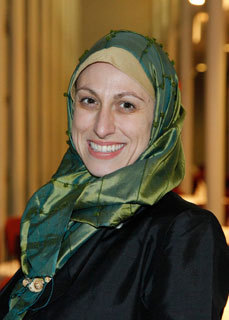 The particularities of Muslim women's religious leadership can look quite distinct depending on where one is in the world. As I ponder questions of religious leadership in relation to my own experiences, I must bear in mind that I am but one among approximately 800 million Muslim women and girls who occupy this planet.
As in Jewish communities, there is a tremendous amount of intra-faith diversity; women's religious leadership can take a different character even across Muslim collectivities in the same town. This is particularly true in the US, where Muslims from countries of origin spanning the globe augment an already multifaceted cohort of indigenous Muslims. I think it's important to put these dynamics front and center, so I don't unwittingly support stereotyping or play into the abounding myths about Muslim homogeneity.
I want to articulate an expansive notion of "religious leadership" beyond the sphere of ritual or congregational life. Professional appointments within faith organizations are but one way to designate who is a "religious leader"; I see religious life and leadership much more broadly. When we think about Muslim women in the US, a tremendous dynamism can be found in the hundreds, even thousands, of American women who run non-profits, drive cultural and educational programs, and industriously serve their families and communities through their volunteer and professional commitments. A significant number, I have come to notice, do not necessarily publically identify as Muslim, partly because of the high levels of prejudice and possible professional repercussions.

The way, then, that I approach the questions at hand is to ask: Who are exemplars setting the tone and standards for their communities? Who is serving without craving accolades? Who is teaching with wisdom? Who is discreetly giving of their wealth to help make the other activities possible? That is how I like to think about women's leadership--as a coupling of abiding knowledge with action.
Dear Celene,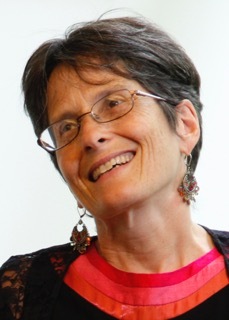 I so appreciate your emphasis on the diversity of Muslim women's experience, and therefore the humility you bring to our conversation about Muslim's women's religious leadership.

I feel similarly aware of the limits of my own perspective in talking about religious leadership among Jewish women. The numbers, of course, are dramatically different - still large in absolute terms, but relatively small; approximately 18 million Jews live around the world today.

The reality of our relatively small numbers as a Jewish people, in fact, has particular poignancy for me in thinking about the significance of women's religious leadership in Jewish life. In the late 1970s, Cynthia Ozick wrote an essay in which she noted that the purposeful exclusion of women for so many centuries from the creative, collective endeavor of the Jewish people was "a loss numerically greater than a hundred pogroms . . . [and] culturally and intellectually more debilitating than a thousand evil bonfires of holy books . . . [because] minds cannot be duplicated and replaced . . ."

I carry these words with me every day as I think about what it means to invite women to contribute the fullness of their leadership and creativity to Jewish life.

Much has changed since Ozick wrote that article in 1979. Women have contributed to the flourishing of creativity in many spheres of Jewish life - Jewish literature and law, ritual, theology, liturgy, learning, and leadership of all kinds. But there are still deep and persistent challenges. One of the most troubling is the subtle way in which so many women I know - of all ages, throughout the Jewish world - still feel that their voices are not fully welcome.

I struggle with what this reticence means, and where it comes from, and I am passionate about working to ensure that young people of all genders feel fully invited to speak, and ask, and search, and sing out with the fullness of their own unique voices. We need all of them in order to hear the living Torah in our own time.

Blessings,
Sharon
The image of Jewish women's voices offering their own living Torah is a meaningful one for me, because in my own leadership development, I have been inspired by many bright and creative Jewish women who are teaching and reinterpreting Jewish texts, Women in Muslim communities, too, are teaching, organizing, and writing in order to bring their own unique voices and perspectives robustly into ongoing communal conversations about the past, present, and future of American Islam.
There are many organizational efforts to amplify their efforts. In the United States, for instance, national bodies such as the Islamic Society of North America have led studies and webinars to reinforce the importance of women's representation within Muslim organizations at large. There are also many grassroots organizations, such as Side Entrance, that advocate for better physical spaces for women in mosques.
At the same time, there are plenty of Muslim communities in the United States and beyond that are led by women, and there are many mosques that have lovely women's facilities. I don't want to give the impression that this is a universal problem. Seeking knowledge is and always has been a religious obligation for women and men alike. Women have never been formally excluded from the ranks of Muslim religious scholars, and there are thousands of prominent female scholars throughout history; their number is smaller than the number of men, but that is largely a sociocultural issue, not strictly a religious one.
Personally, I find that the options and opportunities for religious leadership for women are abundant. My colleagues and I have more preaching and teaching invitations than we can handle! In my own community at Tufts University, I do not lead the Friday prayer and have no ambitions to do so; I have many other opportunities to regularly preach and teach. I also help recruit and equip those who do lead. To be honest, my voice and perspectives are so much in demand throughout the week, I enjoy having a few minutes to listen and quietly reflect on Friday afternoons.
Your observations bring me back to a challenge that you raised at the outset - what can be meaningfully said about "Muslim women" or "Jewish women" when there is such profound diversity within each of our communities? How can we speak about this important topic without falling into some of the usual pitfalls - perpetuating stereotypes, erasing particularity, flattening the subtleties of our experiences both in community and in our private religious lives? And yet, somehow, speak we must!
While this is a tension we both feel, I sense an underlying difference in our responses that seems important to surface. I hear in your words a particular urgency about emphasizing the diversity found within the Muslim world -- an urgency that flows from the painful lived experience of Islamophobia, which by its nature rests upon profound ignorance about the internal richness and complexity of the Muslim world. This is an important reminder for me.
I hear in your words another strain that feels worth noting, because it comes up so often in conversations about women's religious leadership. You rightly emphasize the many different ways in which women - in which anyone - can exercise leadership. You also speak about the different ways in which you personally are - and are not - drawn to manifesting your own leadership and using your own voice. Even as we ask our wider communities to make room for many varieties of women's religious experience, we need to ask each other as feminists to make room for diverse expressions of leadership, dignity, and voice. What have we truly accomplished if we replace one orthodoxy with another, substituting for the intolerance of male authority structures our own intolerance of each other as religious women?
Celene Ibrahim, M.Div., is a chaplain, scholar, and educator. Her contributions to increasing religious literacy have been featured on diverse forums including The New York Times, BBC Persian, Public Radio International, and the Religion Initiative of the Council on Foreign Relations. She holds a joint faculty appointment as Islamic Studies Scholar-in-Residence at Hebrew College and Andover Newton Theological School.
Rabbi Sharon Cohen Anisfeld has been Dean of the Rabbinical School of Hebrew College in Newton, MA since 2006. After graduating from the Reconstructionist Rabbinical College in 1990, she spent 15 years working in pluralistic settings as a Hillel rabbi at Tufts, Yale and Harvard universities. In 2015, Anisfeld was named one of the 50 most influential Jews in the world by The Jerusalem Post. From 2011 to 2013, she was named to Newsweek's list of Top 50 Influential Rabbis in America.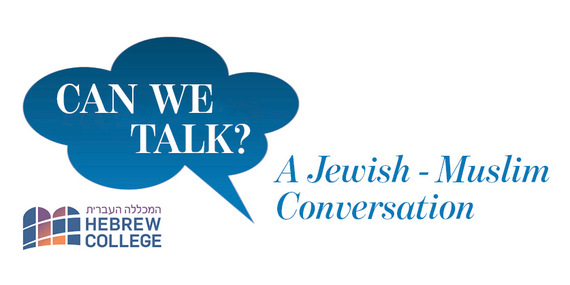 "Can We Talk?" is a project of the Miller Center for Interreligious Learning & Leadership at Hebrew College in Newton, MA. This initiative provides a context for public discussion among Jewish and Muslim intellectuals and community leaders on a broad range of topics--religious, cultural, civic, and political--modeling constructive personal engagement across our communities. Each month, we feature a new conversation between one Jewish and one Muslim writer on a designated topic.
Popular in the Community