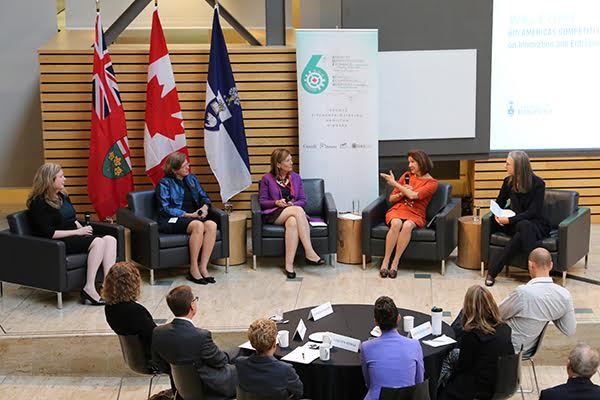 Jobs in science, technology, engineering and math (STEM) are at the forefront of solving problems and creating innovative solutions. In today's complex and interrelated world, we need our best thinkers to be in STEM fields, which also provide strong, solid jobs and incomes.
Yet research indicates that many countries are missing the opportunity to innovate in STEM fields. Barriers limit the kinds of people who are able to enter and remain in these fields; women, especially, are often left out of the talent pool. A 2015 report by the American Association of University Women found that, in the United States, 80 percent of STEM jobs are in engineering and computer science, but women comprise only 12 percent of the engineering workforce and 26 percent of the computing workforce.
What can help to change these imbalances and provide incentives to not only recruit women to STEM careers but also retain them? Last week, I travelled to Toronto to participate in the Americas Competitiveness Exchange on Innovation and Entrepreneurship (ACE), an exciting meeting that brings together innovators, policy makers, academics, and businesspeople to share knowledge and experiences about how to best foster innovation and ensure that the companies can attract and retain talent. This year, there was a focus on increasing women in STEM fields. What are the takeaways?
· Recognize the value of diverse views: The most effective problem solving takes place when diverse voices, viewpoints and people with different types of expertise are involved. Research published in the Harvard Business Review supports this approach, finding that diversity, both inherent and acquired, helps drive innovation. Everyone has a different set of life experiences to bring to the table. In both academic and practical environments, we need to cultivate ways of tackling science and technology problems that are inclusive, not exclusive.
· Be purposeful in efforts to attract women: In the United States, women earn about 20 percent of engineering degrees and 16 percent of computer science degrees. But this trend is being reversed in key universities. According to a recent federal study, in 2015 women earned over 40 percent of engineering degrees at schools like Franklin Olin, MIT, Yale, Howard, George Washington, Harvey Mudd, Brown, and Southern Methodist University. Change is possible. At the University of Virginia, the engineering school emphasizes teamwork, ethics and communications. At Harvey Mudd, the percentage of women graduating with degrees in the computer science program increased from 12 percent to approximately 40 percent in five years. The school revised its introductory computing course and split it into two levels divided by experience, provided research opportunities for undergraduates after freshman year, and exposed young women student to the field by attending the Grace Hopper Celebration of Women in Computing conference.
· If you can see it, you can be it: Across the globe, STEM camps bring young women together across boundaries, and are a valuable way to encourage interest in STEM careers. In Peru, for example, the State Department worked with the private sector and the Government of Peru to sponsor a camp with 100 young women from the United States, Chile, Mexico, and Peru. In the United States, young women engineers have started a social media campaign #ilooklikeanengineer to change gender stereotypes about what an engineer should look like. Helping women succeed in STEM jobs is equally important. At the State Department, we are proud of our work on TechWomen, which is supporting 87 women from 19 countries this year to work on projects with an American mentor at companies across Silicon Valley and the San Francisco Bay Area. In Latin America, a TechCamp brought together about 400 women entrepreneurs and about 40 tech experts to develop tech-based solutions to challenges they faced in growing their businesses.
· Promote STEM's role in problem solving and ability to have a social impact: When schools promote the impact that STEM jobs can have on solving problems, women are more attracted to those fields of study. At the ACE, we saw demonstrations of robotics that could help aging populations manage daily task and being mentally engaged, as well as drones that could help in fight fires. Technology is more than a gadget; it's a tool to solve pressing issues.
Change is possible. If we are purposeful in our action, we can open up STEM careers to women, and overall ensure that we bring our best minds to bear on the challenges we face.
Support HuffPost
The Stakes Have Never Been Higher
Related
Popular in the Community