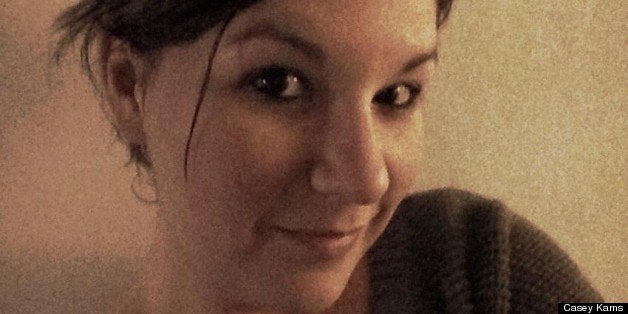 She was only 27, but everything about Casey Karns' life felt stale. Though the work she was doing was meaningful, it was also physically and emotionally grueling. And the sameness of her day-to-day in what was supposed to be the freest time of her life weighed on her -- until she made a big change. Here, as part of our series on young women who've made bold moves to curb stress, Casey talks about how she finally left the job that was running her into the ground and found happiness in a new city.
I was born in a very conservative county in Pennsylvania -- population of approximately 7,000 -- where I was raised by my mother in a single-parent household. I quit high school in the middle of my senior year and worked waitressing jobs, retail jobs, you name it. I took the GED and got my diploma that way. I eventually took a job with the state, working with people who had developmental disabilities, and became active in my union. I was 21 when I started as a residential services aide, providing direct care for individuals in the facility. Then I transferred to the vocational rehabilitation department where I helped supervise employment workshops.
I enjoyed the people that I cared for, and it was very rewarding work, but it just wasn't for me. I don't know if it was the job, or feeling stuck in my hometown, but I was at a point where I felt like my life was consuming me. I was in such a routine: Monday through Friday, 7:30 to 3:30 or 7 to 3. Day-to-day, I felt sluggish, in a rut. I felt physically heavy, like there was this weight on my shoulders. But I just kept staying, and I wasn't sure why I was staying. I envied those people who can just kind of pack up and move and start anew.
For six months, I debated what direction I wanted to go in. I don't know if I can put my finger on the moment when I had that "Aha!" but at some point I realized, "Things aren't going to change unless you change them yourself."
I applied for a job with my international union last Labor Day. I had heard about the position a few years before and toyed with the idea of applying, but there was always something holding me back -- I was living with my boyfriend at the time and I was dealing with some family issues. I just decided it was time for me. I sent out my resume on Tuesday, had a phone interview on Wednesday, and within a couple weeks, I had the job. They decided on Columbus, Ohio, for me. Now I work for a labor union. My job is basically to interact with our members and see what drives them politically and help them contact their legislators.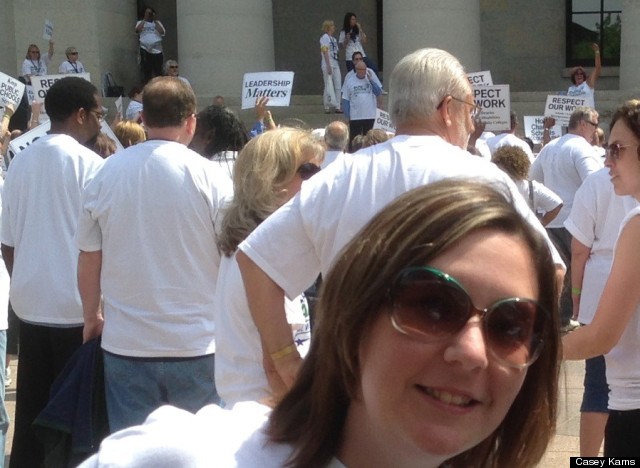 Casey in action at the state courthouse in Columbus.
All jobs are stressful, but my former job was extremely [so]. When you're dealing with the care of other human beings, that in itself is stressful. I was also struggling to get by, paycheck to paycheck. But another huge stressor was the feeling that I was capable of so much more, that I was in a funk and I couldn't pull myself out of it. When I look back at those last six months in Pennsylvania, I define it by large moments of stress and little spurts of happy times. To pick out good moments would be very difficult. When I look at my life now, I define it by moments of happiness.
I have a small family, and I have a few very close friends who are still in my hometown. They were sad to see me go, but they were really happy for me at the same time. They knew that if I thought it was good for me to move, then it was probably good for me to move. I'm only a four hour drive from home, but I'm removed enough that I've been able to develop my own thing. I love the small town I'm from -- that's always going to be home to me -- but the city has offered me a lot of opportunities.
I wouldn't say that my new job is better than my old one, but I feel less stress because it's better for my skill set and my passion. I'm on the right path. I work a lot. Sometimes, I work every day of the week for more than eight hours of the day, other times it's slower -- it just depends on what's going on. But now I'm OK with that.
I think if someone my age were going to ask for advice about when to make a big change personally or professionally, I'd say you'll know when it's time. Eventually you get to that moment when enough's enough. The way I looked at it was, "I'm 27 years old. I'm young. If I fail, I can always get up and try again. I've got my whole life to do it."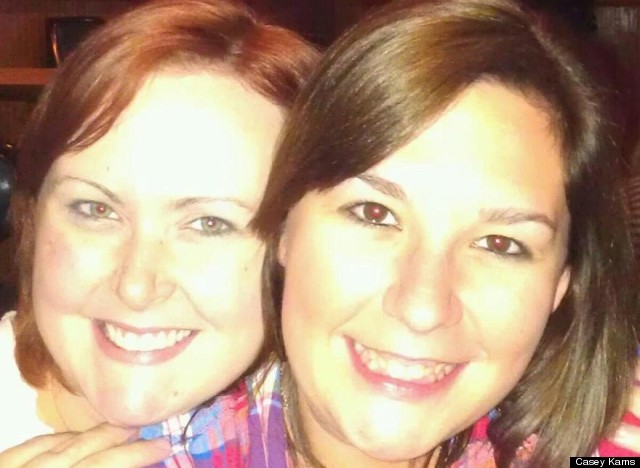 Casey, right, pictured at her going away party in Pennsylvania with one of her childhood friends.
This account has been edited and condensed.
Calling all HuffPost superfans!
Sign up for membership to become a founding member and help shape HuffPost's next chapter