It's 2016. Yet, according to the International Labor organization (ILO), gender pay gaps persist around the world, including in the United States. Women's participation in the U.S. labor force climbed during the 1970s and 1980s, however, in 2010 this figure has declined to 46.7 percent and is not expected to increase by 2018 (DOL, 2011). In 2010, American women on average earned 81 percent of their male counterparts' earnings (BLS, 2010; DOL, 2011). In terms of women in leadership positions, in 2009 only 24 percent of CEOs in the US were women and they earned only 74.5 percent of male CEOs salaries (BLS, 2010 p.9).
Publications such as Sheryl Sandberg's Lean In (2013) and AnneMarie Slaughter's article in the Atlantic (2012) titled, "Why Women Still Can't Have it All" have brought increased attention to many women's issues in recent years. Lean In has sold more than two million copies, and Slaughter's Atlantic article remains of one of the highest viewed blog posts in the Atlantic's history with an estimated 2.7 million + views. Slaughter followed this article in 2015 with her book Unfinished Business: Women, Men, Work, and Family (2015). The former focuses on encouraging women to "lean in" to their corporate careers, while the latter advocates for policy change. Both have accelerated women and the workplace conversation.
Perhaps a small, but significant indicator that these gender inequality issues are becoming front and center can be seen in other arenas. Pantone's Color of the Year 2016 is a blend of Rose Quartz and Serenity (pink and blue). Per the Pantone website, this is a nod to the fact that in many parts of the world we are experiencing a gender blur as it relates to fashion, which has in turn impacted a more unilateral approach to color is coinciding with societal movements toward gender equality and fluidity. Although the U.S. historically has lagged amongst third world countries in regards to statistics around maternity leave, well-known companies such as Facebook, Netflix, Google, and more recently Hasbro, CocaCola, and Ernst & Young drastically are reinventing their policies; some are even offering unlimited maternity leave making those workplaces much more friendly to the working mother. While the U.S. is nowhere close to mandating paid maternity leave, some cities and states are addressing the issue including New York and San Francisco. The rise of the new, so-called "Gig-economy" is also opening up new opportunities for women seeking better work-life balances.
But what does all of this mean for the workplace? And how do we create female-friendly workplaces? We spoke with Ursula Mead, founder and CEO of InHerSight, a website focused on improving the workplace for women by measuring it. The driving belief behind this website is that when women share insights, collectively we can bring powerful transparency to the working world, and what needs to improve. Mead describes InHerSight as Glasssdoor.com meets Match.com for women: "Women with all different definitions of success come to InHerSight and rate the female-friendliness of their employers. We then aggregate that data into company scorecards that allow women to find companies that have what they are looking for and that also give employers valuable insight into how well they support the women who work for them."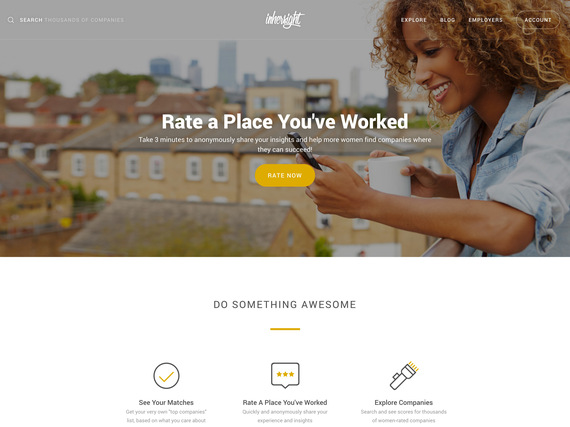 There are three main categories of data collected:
1. Career Growth, which focuses on factors like female representation in top leadership, equal opportunities for advancement, and mentorship programs
2. Personal Development, which looks at how well companies support continuous learning opportunities, a flexible work schedule, and a fulfilling social environment
3. Family Support, which captures satisfaction ratings for areas like maternity and adoptive leave, the availability of lactation rooms, etc.
To date, more than 40,000 women have rated their companies on the site or gotten matched to companies that meet their needs, and better than 8,500 companies are currently in the database. Recent demographic info says that 56 percent of their individuals are in the millennial group of 25-34, while 35 percent are 35 and older. More than 50 percent would self-identify as being mid-level in their career, and 92 percent are college educated. 40 percent are mothers. Mead says, "Our goal is to give women access to the data they need to make great employment decisions, and the more women who use our site, the more beneficial it will become. "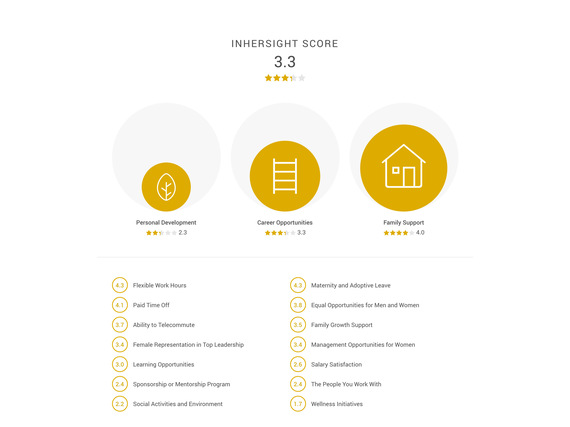 Mead says, "We've already collected a ton of great data and have a lot of rich findings about what women want from companies, what correlates with their overall happiness, and how companies can attract and retain women." Mead continues, "When we looked at the factors that correlate with overall workplace satisfaction, we found that equal opportunities for women and men had the highest correlation with overall satisfaction. This was followed closely by a culture that is respectful, professional and unbiased, and also female representation in leadership."
Surprisingly, maternity leave did not make the top of the list. This is due to the fact that overall; it affects a smaller percentage of women at any given time. They want or need these policies in a certain window of time, and that changes. One area InHerSight is starting to look at more is around leave in general, whether caring for a child or an elder (as baby boomers retire, they predict eldercare will become a bigger issue), and the culture around transitioning back to the workforce post-leave. Mead says, "We see a lot of companies that are increasing the number of weeks of maternity leave, which is awesome, but we think it's important to make sure the soft policies around those lengthy leaves are supportive as well. It's not just about the number of weeks of leave, but making sure the right support is in place when those women return: Can you reenter and feel like things are on track? Was your decision around taking extended leave respected and embraced? We like to use the example of Dell, who doesn't have a of Netflix-style unlimited maternity policy, but women are satisfied there, and that signals to us that the culture around their maternity and adoptive leave is working."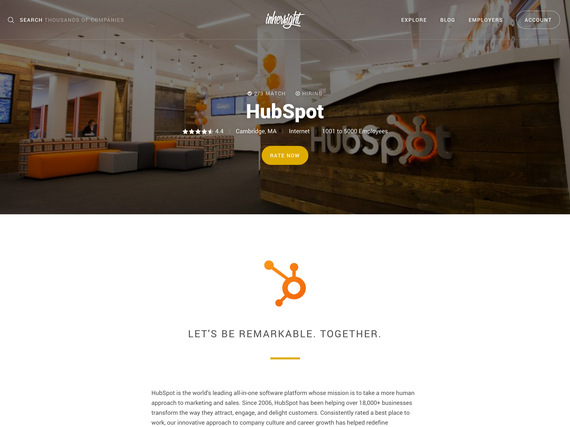 But perhaps the most surprising (or not surprising at all) finding of their data is that the things women want most from their employers aren't unusual perks like on site nannies and game rooms. The top three desires are good paid time off, salary satisfaction and great coworkers. The things we see fall to the bottom of the list are sponsorship, mentorship programs and social activities. Mead expands, "The data tells us that whether women are raising a family, seeking upward mobility or striving for a better work-life balance, they are looking for companies that give them the choice, flexibility and tools to fashion their lives as they see fit. These desires line up with what men are looking for in most cases, too."
Calling all HuffPost superfans!
Sign up for membership to become a founding member and help shape HuffPost's next chapter