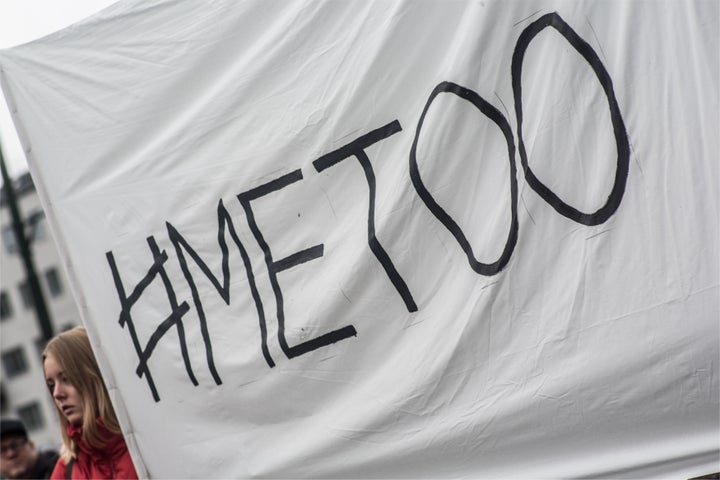 Since the New York Times published allegations of serious sexual misconduct by Hollywood power broker Harvey Weinstein, women have increasingly called out sexually misbehaving men in the news, on social media, and elsewhere. Almost overnight, men who've taken advantage of power positions and forced themselves on women (and sometimes other men) are being outed in very public ways. In addition to Weinstein, we've got producer/director Brett Ratner, US Senate candidate Roy Moore, actor Kevin Spacey, director James Toback, actor Dustin Hoffman, Nickelodeon show creator Chris Savino, celebrity chef John Besh, CNN commentator Mark Halperin, Amazon Studios exec Roy Price, fashion photographer Terry Richardson, actor Ben Affleck, former president George H.W. Bush, NPR exec Michael Orestes, UK Defense Secretary Michael Fallow, and yes, even our current president, Donald Trump, to name but a few.
In some cases, these allegations have not been a total surprise. Weinstein's behavior was an open secret in Hollywood circles for years. As was Ratner's, Toback's, and Spacey's. Richardson was so notorious that many of the top fashion magazines refused to work with him. And Donald Trump? You might remember the Access Hollywood tape featuring Trump and Billy Bush, where Trump talked about his attempts to have sex with a married woman, saying he "moved on her like a b***h," followed by lewd comments from both Trump and Bush about numerous women, and then Trump bragging to Bush about his sexual aggression: "You know, I'm automatically attracted to beautiful. I just start kissing them. It's like a magnet. Just kiss. I don't even wait. And when you're a star, they let you do it. You can do anything. Grab them by the p***y. You can do anything."
The response from these men, after accusations have been leveled, has been all over the board. A few have denied they ever did anything wrong. A few have issued what sound like genuine apologies. Most have issued halfhearted and/or deeply misguided excuses and regrets. And none of these attempts has cast any of these men in a sympathetic light. And really, what can they say? There is no right way to address these allegations. No matter what statements these men make, they must still reap what they've sown. All thanks to some courageous women who've spoken out.
But will this make a difference?
The simple, sad truth is that we live in a patriarchal era, and we have been in this era for quite a long time. Because of this, our society is focused on authority, winning, competition, and control, with men making the vast majority of sociopolitical decisions—often with little or no concern given to how others (especially women) might feel about what they are doing. Just look at our political system. Every president we've ever had has been male; the vast majority of our senators and congressional representatives are also male. This means that, for the most part, it's men who make decisions about women's and family healthcare, childcare, education, abortion rights, the sanctity of a woman's body, equal pay for equal work, equal opportunity for equal qualifications, etc.
Men in power also set the tone for how they want to treat women sexually—in the workplace, in the home, and elsewhere. Basically, they decide among themselves what is and is not acceptable behavior. Think back to the Access Hollywood conversation between Donald Trump and Billy Bush. Trump passed this nasty bit of misogyny off as a simple matter of "boys being boys," and enough people bought that excuse for him to be elected president.
Achieving cultural change is difficult. Women know this, African Americans and Latinos know this, the entire LGBTQ community knows this. In fact, anyone who's ever been marginalized by the American heterosexual white male hegemony knows that making meaningful inroads is a long and painful process, and it usually occurs in fits and starts—two steps forward, one and three-quarters steps back.
So how can women (and sympathetic male allies) affect some real change in the moment?
The last time we saw women (or anyone else) make significant inroads into the misogynistic male hierarchy, they pulled together at a grassroots level, organized, and turned themselves into a social and political force. In the 1960s, for instance, women came together in one another's living rooms, then they started women's organizations, then they took it to the streets and ultimately the voting booths.
Perhaps it's time for women and their supportive male allies to get back to these basics—though this time we can do it, and already are doing it, in the digital world as well as the real world, with #MeToo and Pantsuit Nation serving as the proverbial living rooms of the 1960s.
In today's world, Twitter, Facebook, and other forms social media have become a space in which women can vent about mistreatment and how fed up they are. From this, women and supportive, #PinkTie men can come together, strengthening and reinvigorating the women's empowerment organizations that already exist and creating new ones if necessary. Then, as we're already witnessing, it's time to hit the streets and, perhaps more importantly, the voting booths.
Robert Weiss LCSW, CSAT-S is a digital-age intimacy and relationships expert. An internationally acknowledged clinician, he has served as a subject expert for multiple media outlets including CNN, HLN, MSNBC, The Oprah Winfrey Network, The New York Times, The Los Angeles Times, and The London Times, among others. He is the author of several highly regarded books. Currently, he is CEO of Seeking Integrity, LLC, being developed as an online resource for recovery from infidelity and sexual addiction. For more information please visit his website, robertweissmsw.com, or follow him on Twitter, @RobWeissMSW.
Related
Popular in the Community