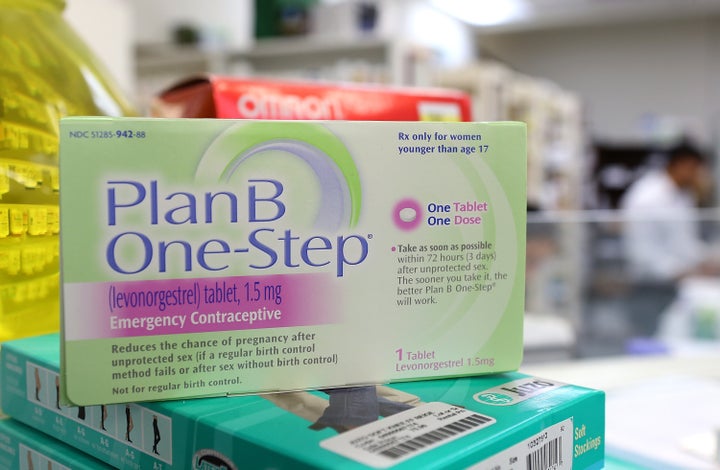 As Donald Trump's inauguration creeps ever closer, women have been taking their reproductive health into their own hands: not only has the number of IUD implantations skyrocketed since the election, but women are also stockpiling the morning-after pill.
Plan B became available over the counter in 2006, followed by other reproductive health care victories like the Affordable Care Act in 2010 (which required insurance plans to cover contraception). In recent years, though, particularly after the Hobby Lobby case ― which allowed companies to ignore that part of the ACA if they felt it was against their religious freedom ― women have grown concerned about access to contraception, and the incoming Trump-Pence Administration isn't quelling those concerns.  
Brooklyn-based writer Rachael Berkey told The Huffington Post that she bought more than one pack of Plan B last week both for herself, and for any other women who might not be able to purchase it on their own.
"With my financial security, I felt a responsibility to be prepared for myself," she said. "And to have something on hand should someone with fewer resources need it." She also said that under Trump's administration, she fears that reproductive resources will be gutted. 
"Trump seems set on defunding and gutting programs that respect a woman's right to choose and that look after vulnerable communities and their health care," she told HuffPost. "It's irresponsible and dangerous, and this was a step I could personally take to be prepared." 
Women are also coming up with more creative ways to start helping one another out. Emma Tattenbaum-Fine, a Brooklyn-based comedian, hosted a comedy night on January 9 where all proceeds of the show were donated to the Abortion Care Network. The event was called "Plan B (The Welcome to 2017 Show)," and featured a number of feminist comedians. Entrance to the show was donation-based, and audience members were encouraged to join a raffle ― one of the prizes was, of course, a packet of Plan B. 
"We wanted to be the reason a woman could easily experience the freedom of choice and not the mishegas of running around and spending a fortune at CVS," Tattenbaum-Fine told HuffPost. 
Women are stocking up on morning-after pills not because they don't use contraception, but because if anything goes wrong (accidents do happen, after all) they may not have many options, Berkey told HuffPost.
"I use protection and am careful in my choice of partner," she said. "But you never know what is going to happen." 
Calling all HuffPost superfans!
Sign up for membership to become a founding member and help shape HuffPost's next chapter
BEFORE YOU GO
PHOTO GALLERY
10 Must-Know Birth Control Facts