There's never been a more exhilirating time to be a builder or a maker.
Today, tech and entrepreneurialism is a way of life. The values that underpin technology and innovation-- access, transparency, inclusion, egalitarianism, grit, democratization of voice and information-- are the values that shape the future of work, family, politics and culture.
Makers and creators are challenging "how things have always been done" to create worlds of opportunity never imagined before.
Amongst entrepreneurs, those who are able to occupy the space between tech and emotion, bringing together compassion with coding, and science with humanity, will foment lasting disruption.
I'm convinced women are the "next great wave" of global business. After the Internet, digitalization, the Internet of things and now the "Internet of everything", I believe women entrepreneurs will remake our world in unprecedented ways.
Women are starting businesses at twice the rate of men and taking control of creating new work cultures and new definitions of leadership. Within the ranks of women, I think working mothers are a special niche combining a sense of purpose beyond oneself, an unparalleled dedication to beating the myth of "work-life balance" and just getting things done all at once all the time, with a fearlessness that only a mother dedicated to making a better world for her kids and being a role model for her sons and daughters can.
Daria Kantor exemplifies this type of new wave entrepreneur.
She's a mother, an athlete, a dedicated wife, a friend and a passionate innovator trying to provide access to all who want to pursue a healthy lifestyle.
The founder of TruBe, a startup democratizing fitness through tech, with the aim of offering flexible fitness to consumers, and linking up personal trainers to these customers using a tech platform. A true fitness fanatic and busy working mother, Daria believes her company will not only make fitting a workout into a hectic day possible, but that the free time it creates will make for a more stress-free, balanced life.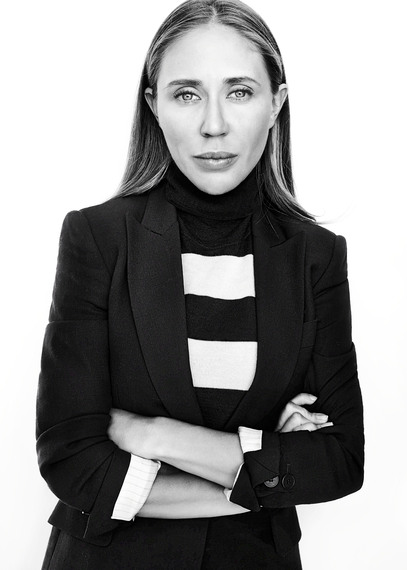 She's a woman building her own platform whilst creating a platform for others to generate self-confidence and sense of ownership around our own wellness.
I sat down with Daria over tea in London to discuss TruBe, her beautiful family and what it takes to found a great company with great values in today's lightning-speed, ever-shifting business climate.
Natalia Brzezinski: Where does your passion and drive come from?
Daria Kantor: I'm quite a competitive person. I like to push my body and mind and I have always seen overcoming physical challenges - such as pushing past your breaking point in fitness - as mentally stimulating.
TruBe was a creative process that I launched from concept into reality, and building that vision from scratch means there are a lot of hurdles and challenges. It's all down to you and if you can push past the aches and pains then you're more likely to succeed.
Where did you get the idea for TruBe, what is your "entrepreneur's birth story'?

I was involved in the sports and fitness industry from a young age, and so have always been close to sport. My goal with TruBe was to create a platform that would allow the user to take full control in the process of finding a trainer, or training in a studio. The other problem I wanted to solve was for PTs, who are freelancers and often have unsold sessions during the week. Given the high costs PTs pay gyms to rent the space, it seemed wasteful and needlessly costly for them to also be losing out on potential customers.
What's your greatest challenge in attaining your business goals with TruBe?
We are trying to democratise what has traditionally been considered an elite product.
At TruBe we know that people can achieve more with a coach, but not everyone trying to get fit would consider hiring a PT.
The core of our offering is flexible fitness, and our pricing is extremely competitive - so it's really about breaking down this conception to broaden our appeal to a wider audience, in the hope they might consider a TruBe PT as a one stop shop to staying fit and achieving that elusive balanced lifestyle.
Given the market is so competitive, how do you make the business stand out?
The traditional UK fitness market is quite saturated, but there are still opportunities to innovate in the digital space. TruBe found its audience about ten years ago when the UK fitness landscape was disrupted by the entry of budget gyms, which stole significant market share from mid-upper range gyms and made flexibility a key selling point for fitness providers.
Companies like PureGym and easyGym were so successful because they responded to a shift in consumer behaviour - people didn't want to be tied down to an annual subscription, at one gym in a set location.
However, budget gyms didn't satisfy everyone's needs and there was definitely demand for an affordable, but higher quality, fitness solution that offered human interaction (essential for motivation!). Our overheads are lower than conventional gyms as we don't pay admin fees, rental and other standard costs of running a gym, so our customers really benefit from this in our pricing structure as we pass savings on to them.
Who is TruBe's core audience?
Our consumers are working professionals, many in finance and banking or law industries. These people work long hours, travel a lot, and are familiar with the concept and benefits of having a PT.
Our other audience is fitness providers. Personal Trainers were also affected by the shift in consumer behaviour associated with the rise of budget gyms, because in the new fitness environment, consumers trained alone or went to classes, and therefore 25 000 freelancers weren't as busy as they could have been.
What are the main challenges or roadblocks for entrepreneurs today?
With tech there are high costs - for instance the cost per acquisition per user is very high as the product isn't in front of the user. If you think about it you have many stages to get through before you have a real customer.
Finding tech talent can also be tough - you want to find not only the best minds, but as a start up, we're quite small, so it's very important the personality gels with the team, and that they can support the vision of the company.
What is the most personally difficult aspect of being an entrepreneur for you?
I'm really hands-on with TruBe - for instance I personally select all our PTs- but I also have to project the vision and remove myself from the details so I can be a better leader.
Do you think you were "made to be" an entrepreneur? What would you be doing if you were not doing TruBe?
It has always been in my nature to build and create. In fact, it's not only my passion for fitness that drives me forward with TruBe, but it's also in my nature to be a problem solver - which is essential with a start-up.
What is your leadership style?
I am a collaborative leader, and I strive to empower my team to take the right risks and fully embrace their potential.
How do you balance your life at home with your life at work?
The two worlds flow naturally into each other. I also find that I get drive and energy from both worlds, the variety of being a working mother means I get inspiration from home and the office
How has your upbringing and background shaped you?
My international background taught me how to adapt to new languages and cultures from a young age. I'm Russian, was brought up in Switzerland and I'm Jewish. Moving around a lot really toughened me up. I knew I had to carve my own path and establish an identity that would allow me to fit in to new surroundings.
Tell me a way in which you are fearless?
Fear is a feeling that you get for an instant - it's a response to something, but it's not always rational.
I tend to take a longer term view of the challenges that life has presented me with - and I think it's really important to ignore the little voice of doubt in your head and look at the bigger picture.
I founded my first company when I was 19 and I knew I had to aim high and push to be successful.
With TruBe I think I was fearless in launching the company in a saturated market. We knew the consumer wanted more options in terms of access to fitness, but we didn't have a miracle recipe.
What was the most humiliating setback or failure in your career, and how did you get up and STAND UP from it?
When we launched TruBe, it was after months of hard work, research, anticipation and excitement. We knew the consumer's response would be key to developing the product, and we were excited to start analysing their behaviour in order to improve the platform. We then launched, and we didn't get many bookings for the first few months. I was driven to find a solution. That impetus forced me to reconsider our business model, and TruBe now has several thousand bookings a month.
What do you hope your daughters learn from you? Do you think being a working mum is good for them?
I want them to embrace failure but also try really hard to achieve things.
I hope that being a working mum demonstrates this value to them.
I fundamentally believe there is no better way to teach your children things than by setting the example through your own behaviour.
London is one of the most multicultural cities in the world. Do you feel like an "outsider" in London?
London is a melting pot of so many different backgrounds and a lot of people living here have multiple cultural identities. It's a truly international scene and I feel that it embraces all of me.
I'm also very much a citizen of the world.
I went to an international school, and I really enjoy immersing myself in different cultures and embracing the rich differences between them.
What is your favourite thing about London?
In terms of business, the tech scene is really exciting and I feel like there is so much talent and opportunity.
In my personal life, I'm a passionate art collector and the scene here is incredible. There are so many great galleries and exhibitions.
I can't pick just one, but I have love for London, Tel Aviv, Moscow, and New York.
How would your friends describe you?
Creative, sport-lover, fitness fanatic.
I'm also very straightforward - and sometimes this means straight talking.