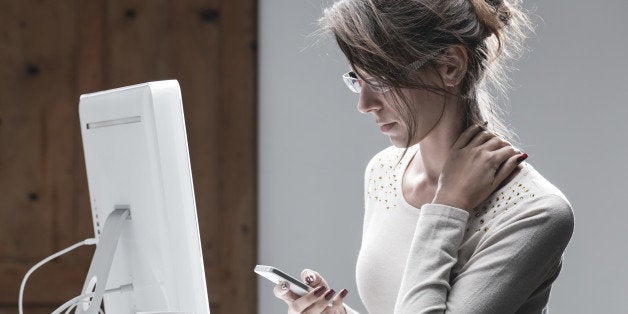 More than 73 million women participate in the U.S. workforce, making up more than half of the country's working population. Women are increasingly their family's breadwinner--more than 40% of working mothers are the sole or primary income earner in their household, a number that reflects both the rise in single motherhood as well as the fact that some women are out-earning their partners, despite the gender pay gap.
And gone are the days when control of the family's finances fell primarily to men. As more women enter the workforce and bring home the family's income, they are also taking on more responsibilities related to financial management--responsibilities that historically were considered in the "male" realm. Data from a national survey of American adults* conducted by my firm, Whitman Insight Strategies, indicates that women are just as likely as men to be responsible for a variety of financial responsibilities, including:
•Making monthly payments for utilities, phone, etc. (78% of men, 83% of women)
•Paying credit card bills (74% of men, 81% of women)
•General financial planning/budgeting (68% of men, 65% of women)
•Making mortgage or rent payments (59% of men, 59% of women)
The sample in this study included only women and men in "partnered" households, meaning people who are married, in a domestic partnership, or living with a significant other. We might infer from this data that men and women have achieved some sort of equality in their relationships, in that they are equally responsible for financial management in their households.
But while women and men may have achieved parity when it comes to financial obligations, with other household tasks, women shoulder much more responsibility than men. Women are much more likely than men to be responsible for buying groceries, cooking and preparing meals, household cleaning, and planning social activities:
•Buying groceries: (65% of men, 90% of women)
•Cooking/preparing meals: (48% of men, 85% of women)
•Household cleaning (48% of men, 88% of women)
•Planning social activities (26% of men, 57% of women)
Women are also performing more of the caregiving work--55% of partnered women say they are responsible for caring for loved ones, including children and elderly relatives, while only 39% of partnered men say the same.
But perhaps younger generations are creating more egalitarian households where women and men share in domestic labor? Wrong. Gender roles are remarkably similar across generations. The data from this survey shows that women of every generation--from Millennials to Baby Boomers--are much more likely than men to be responsible for the cooking, cleaning, social calendar keeping, and caregiving.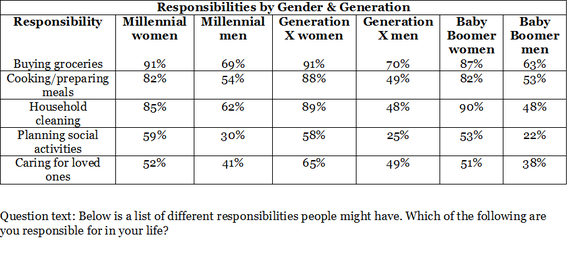 To be sure, with some domestic tasks, younger men are doing more work than men of older generations do--62% of Millennial men say they're responsible for household cleaning compared to 48% of Generation X and Baby Boomer men. But unfortunately, men taking on more responsibility does not help women very much--85% of Millennial women, 89% of Generation X women, and 90% of Baby Boomer women say they're responsible for cleaning the house as well.
On other domestic tasks, including cooking, grocery shopping, and keeping the social calendar, there is virtually no difference across generations--women are about 30-40 points more likely to take on these responsibilities compared to men. It is among Generation X (ages 35-54) where we see the starkest gender differences in caring for loved ones--65% of women claim this responsibility, compared to just under half of Generation X men. Members of Generation X do more caregiving overall, perhaps not only for their own children, but to elderly parents or relatives as well.
So while women are taking on more responsibilities in the paid workforce, greater financial power does not translate to greater power or equality in the domestic sphere. And even though women are playing a bigger role in the management of their family's money, these additional responsibilities are on top of the other household tasks for which women are also responsible. Rather than sharing household responsibilities with their partners, women are simply shouldering more obligations.
We cannot assume that these disparities will disappear in time, once younger, more egalitarian generations replace older Americans who are more rigid in their gender ideologies. The data from this survey give credence to the idea that gender roles are durable, and it will take more than time to change deeply held beliefs about what men and women should do with their time.
* Note: Whitman Insight Strategies conducted this online survey of 1,347 American adults who indicated they were married, in a domestic partnership, or living together with a significant other. The survey fielded in March 2016. Please contact bstalsburg@whitmanstrategies.com for more information about this study.
Other studies conducted by this author can be found here.
Related
Popular in the Community