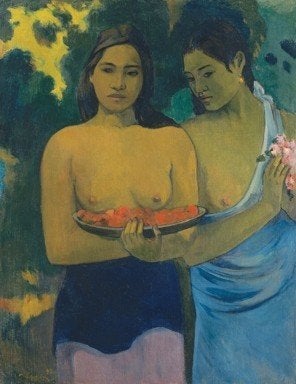 What began in 1909 as a declaration by the Socialist Party of America -- a call for women to have rights equal to their male counterparts -- was officiated two years later on March 8, 1911, as International Women's Day (IWD). That same year over 300 hundred protests were held throughout Europe and the US, where over a million people demanded that women be given the right to vote and to hold public office.
This was a moment in time when women's right to vote movement, called "suffrage," was beginning to be taken seriously by powerful men in high places; being, as well a time when women were forging their way in the workplace, also opening new doors to educational opportunities.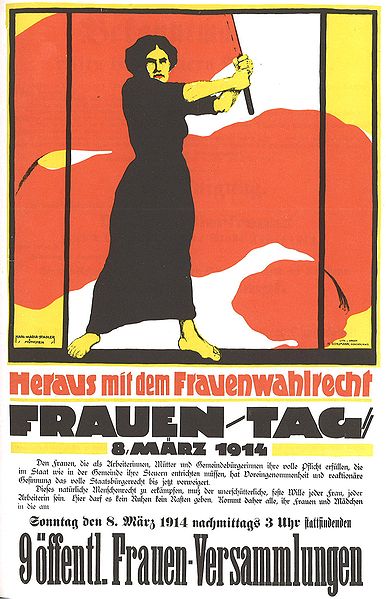 A German poster celebrating IWD, March 8, 2014 (Image: Wikimedia Commons)
In the arts, Germany's Bauhaus school -- founded just 8 years after the inauguration of IWD -- illustrates this well, as at various points in the modernist art school's history, nearly about half of all students enrolled were women. A similar trend was echoed in the Harlem Renaissance, where creatives like Zora Neale Hurston and Elizabeth Catlett were making big waves.
"In contemporary art, we can never underestimate the role of women artists in opening up the art world to diverse groups... starting in the 60's," says Lisa Tuttle, an Atlanta artist who's also the Public Art Outreach and Education Coordinator of Fulton County. Naming a few women artists that she looks up to, Tuttle says that "Feminist artists such as Miriam Shapiro, Judy Chicago, Adrian Piper, Martha Rossler, Yvonne Rainer, Nancy Spero, Hannah Wilke, Howardena Pindell, and many more [including] The Guerilla Girls, hammered down many of the walls of the patriarchal Eurocentric monolith of minimalism and modernism." Women who have written about the arts, Tuttle says, are important as well. Leading her to say that "Writings by critics, such as Lucy Lippard, validated the work of entire new groups of artists and approaches."
Dee Hood, an artist and educator in Florida, shares her thoughts on the woman artist who has impressed her most. "There are a number of women artists who come to mind for their contributions," but Laurie Anderson, she says "goes to the top of my list." Of Anderson, Hood says "She has been such a powerful force in breaking boundaries, not only gender but media boundaries...a daring pioneer in blurring technology with art, storytelling, installation, music, politics, poetry, science, performance, film, dance, etc." Giving more reasons why Anderson is such a hero to her, Hood says "Her music reaches from the pop charts to the Museum of Modern Art... [Anderson] was also the first artist-in- residence for NASA, out of which she created 'The End of The Moon'".
Another woman artist, who lives and works in Chicago is Nancy Bechtol. She champions the work of ARC Gallery -- a women artist-run cooperative in existence since 1973. Bechtol says she deeply admires the mission of Arc Gallery, serving as its director in 1999 to 2001, because "ARC was founded... as an alternative to the mainstream gallery system," being one of "the oldest co-ops of its kind in the country." Bechtol also says "The gallery has evolved but the core is always solid, and has given women and all emerging artists opportunities for exhibition -- essential for artists." And ARC continues its feminist tradition, she says, "by providing exhibition opportunities for professional and emerging artists working in all media based on excellence of artwork, without discrimination toward gender, race, age, class, physical/mental ability, sexual, spiritual or political orientation."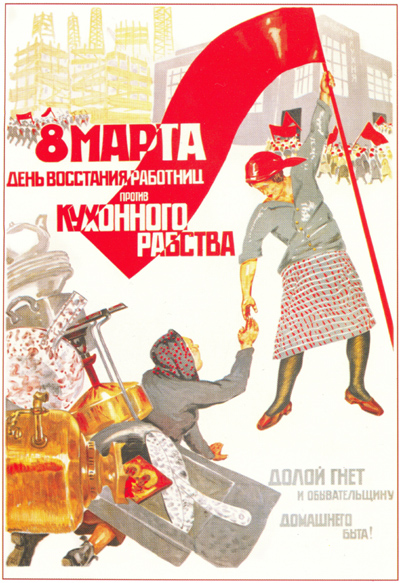 A 1932 Soviet poster that reads "8th of March is the day of rebellion of the working women against kitchen slavery" (Image: Wikimedia Commons)
Today, as more men become conscious of women's rights, at the core of this consciousness is a remembering that every man is the child of a woman. And though in our flawed -- intentional and not -- constructs of building and reinforcing of our shared spaces and resources on this male-dominated planet, there are, nevertheless, many men who seek profound change in this area of human rights equality.
One such man, Ban Ki-moon, Secretary General of the United Nations, wrote recently in a March 8th comment speaking to this year's 100th anniversary of International Women's Day. Saying in part:
One hundred years ago, when the world first commemorated International Women's Day, gender equality and women's empowerment were largely radical ideas. On this centenary, we celebrate the significant progress that has been achieved through determined advocacy, practical action and enlightened policy making. Yet, in too many countries and societies, women remain second-class citizens.

Although the gender gap in education is closing, there are wide differences within and across countries, and far too many girls are still denied schooling, leave prematurely or complete school with few skills and fewer opportunities.

In the realm of decision-making, more women, in more countries, are taking their rightful seat in parliament. Yet fewer than 10 per cent of countries have female heads of state or government. Even where women are prominent in politics, they are often severely under-represented in other areas of decision-making, including at the highest levels of business and industry. A recent UN initiative - the Women's Empowerment Principles, now embraced by more than 130 major corporations - aims to redress this imbalance.
"As a young woman artist, I certainly noticed the disparity between the number of female and male artists and faculty" says Hood. Adding that "It's important for everyone to be able to identify with someone you admire and respect." Resonating with Hood, Tuttle closes by saying "The work, intelligence and activism of countless women artists, curators, gallerists and critics created the space for the multiplicity of views, approaches and mediums that we see acknowledged in the international art world today."

Related
Popular in the Community