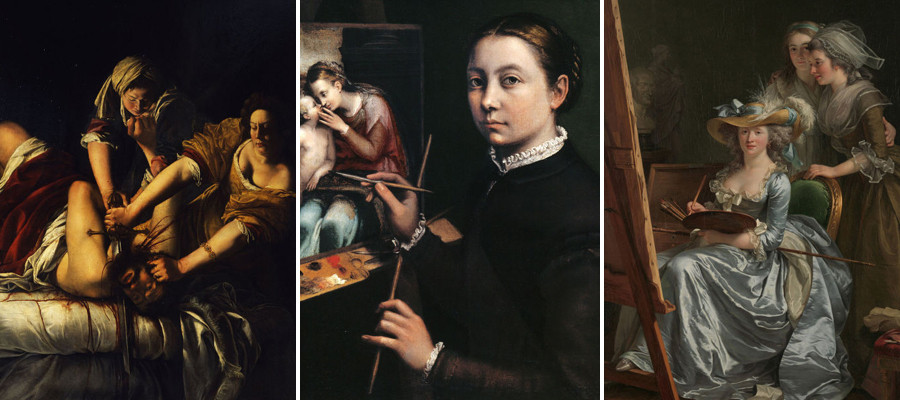 They broke the rules. They changed the game. They often had very poofy hair.
These are the women artists who embodied the idea of feminist art far before the term was coined. Whether they were making art during the Italian Renaissance or in 19th Century New York, the following artists prove that women were always just as capable as their male counterparts -- and in our opinion, far more badass.
In honor of Women's History Month, we're honoring 10 of the many revolutionary women artists who did not take no for an answer, and in doing so, made the world a more equal, and more beautiful place.
1. Julia Margaret Cameron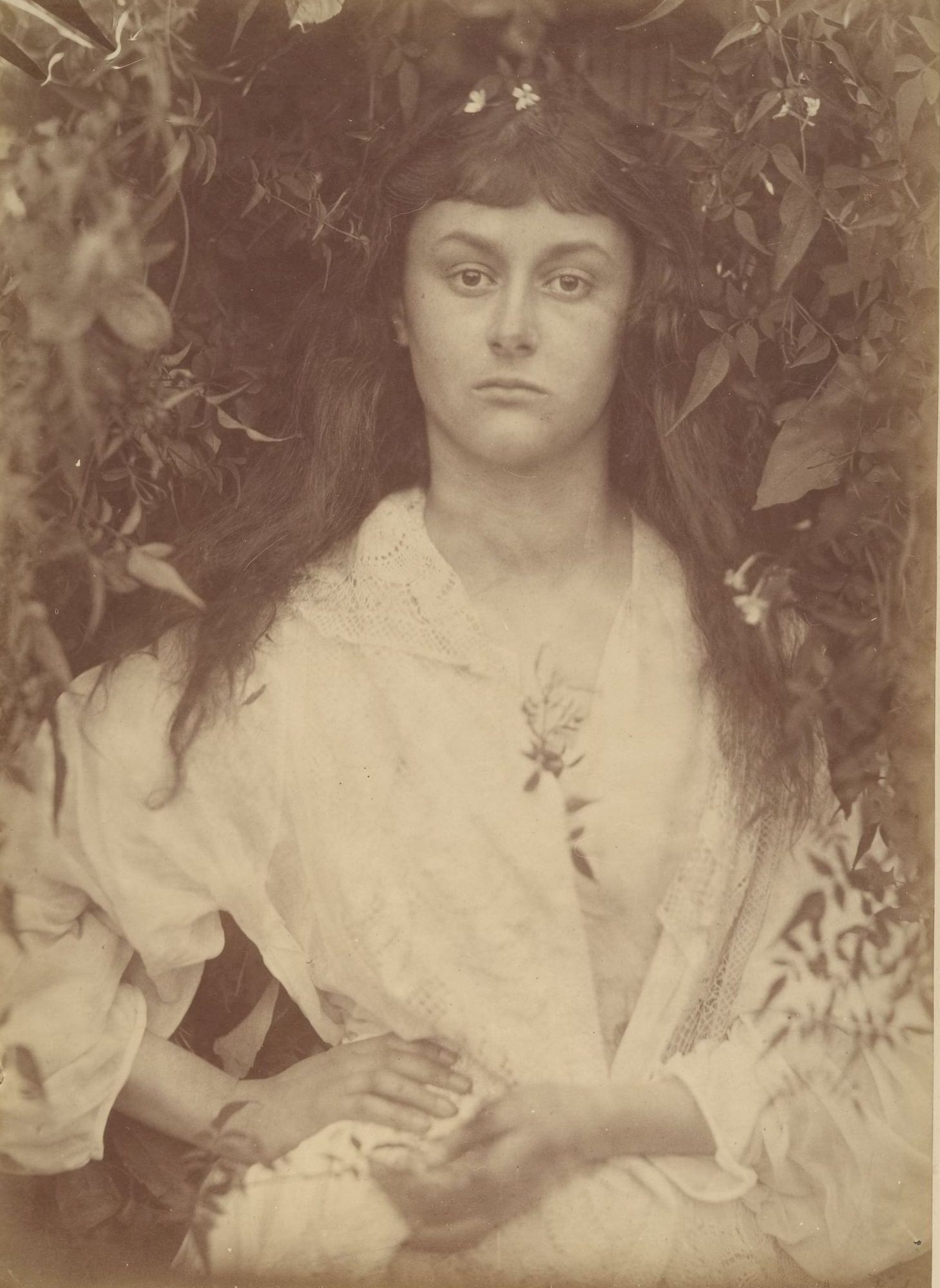 Born:1815 Heritage: BritishMedium: PhotographyWhy we love her: Cameron didn't touch her first camera until she was 48 years old, but once she did, it was love at first sight. "From the first moment I handled my lens with a tender ardour," she wrote upon receiving it, "and it has become to me as a living thing, with voice and memory and creative vigour." Her dreamy portraits reveled in photography's shortcomings, using blur and haze to conjure a distinct essence over a mimetic resemblance. Replicating scenes from mythology, the Bible and Shakespeare in her photographs, Cameron was, in a way, a proto-Cindy Sherman, exploring the roleplaying possibilities of the medium. If anyone on this list would have loved Instagram, it's Cameron.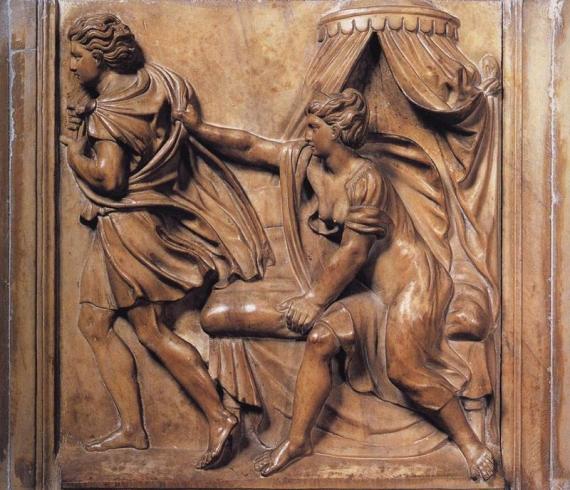 Properzia de Rossi. Museo de San Petronio, Bologna. Ca. 1520
Born:1490 Heritage: ItalianMedium: SculptureWhy we love her: Although well versed in many of the arts in typical Renaissance style, de Rossi took a particular liking to sculpture, beginning with apricot, peach, and cherry stones. (She was most famous for her Crucifixion in a peach pit.) She soon took her talents to more massive materials, becoming one of the few acknowledged women sculptors of the time. Due to the physical exertion needed for the art form, many, such as Giorgio Vasari, considered it a decidedly masculine practice. The exact quote was: "Sculpting is not an art form that women should attempt." Sorry, Vasari.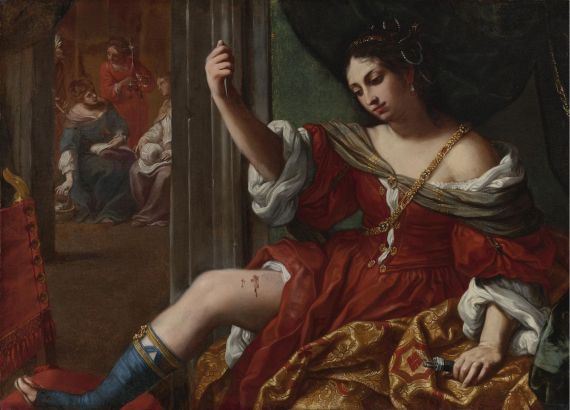 Portia Wounding Her Thigh, 1664
Born: 1638Heritage: ItalianMedium: Baroque painting.Why we love her: Although she died at the young age of 27, Sirani created over 200 paintings in her lifetime, combining dramatic dark backdrops with sharp, vibrant colors and depictions of powerful heroines. She also started an academy for other female artists. Judy Chicago gives her a shout out in "The Dinner Party," which you know is a good sign.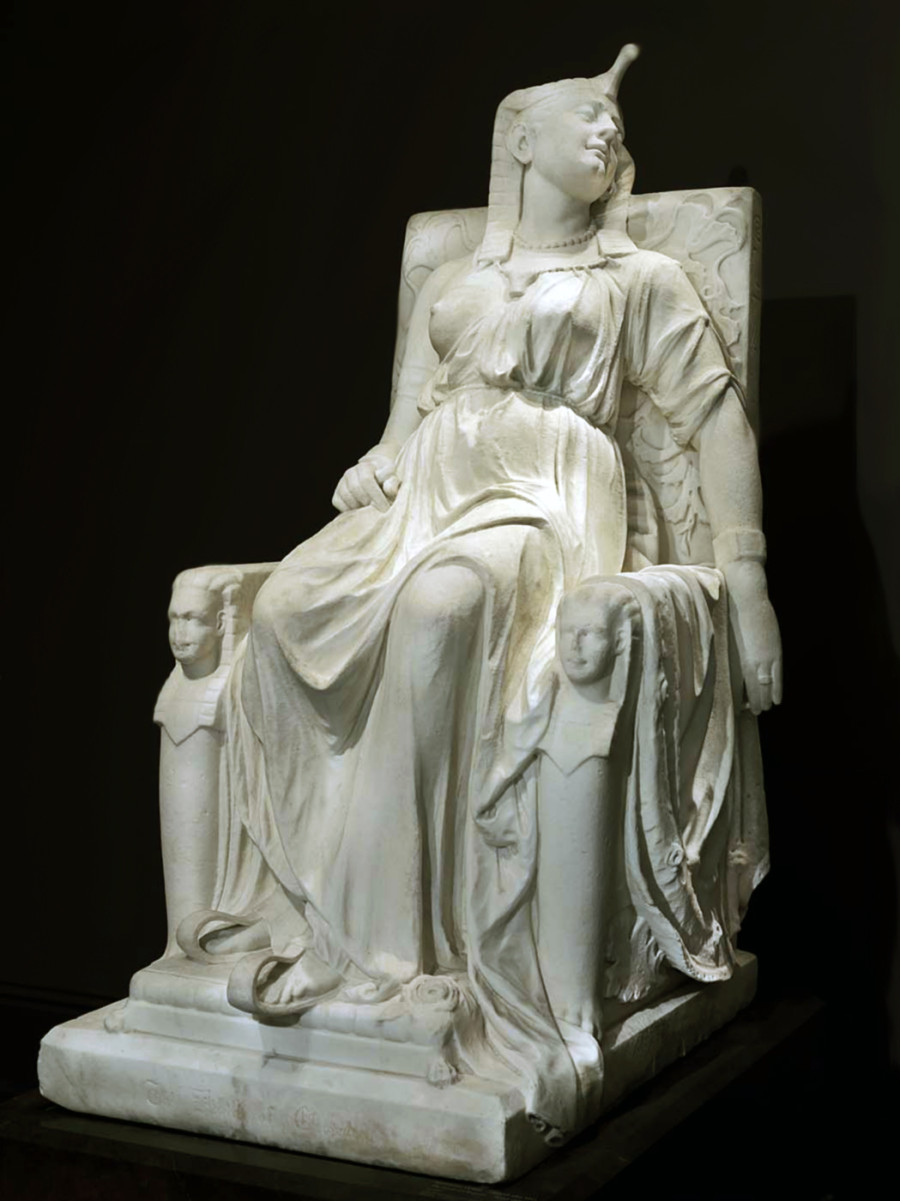 Born: 1844Heritage: Afro-Haitian and African-AmericanMedium: Neoclassical sculptureWhy we love her: Lewis, who was born in Greenbush, New York, began learning about art while studying at Oberlin, one of the first colleges to admit women and people of color in the U.S. However, she faced discrimination all throughout her education -- including being beaten and accused of poisoning fellow classmates. After graduating, she moved to Boston to pursue sculpture, namely recreating abolitionists and Civil War heroes. She eventually spent most of her artistic career living in Rome, where she created painstakingly beautiful marble sculptures in neoclassical tradition. She's best known for her 3,015-pound marble sculpture, "The Death of Cleopatra," and we can see why. The behemoth form has all the drama and softness of a Michelangelo sculpture, as well as a truly awesome headpiece.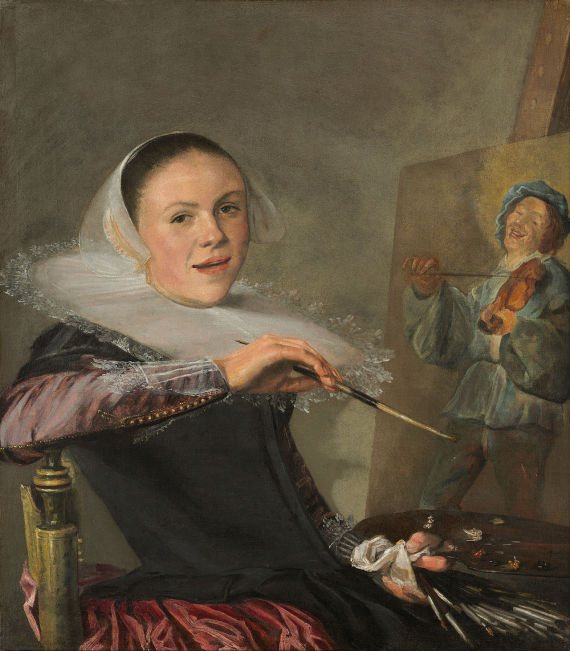 Born: 1609Heritage: DutchMedium: Baroque paintingWhy we love her: Leyster, born in Haarlem, Netherlands, became the first female painter to be registered to the Haarlem Guild of St. Luke. She's most well known for her "Self-Portrait," renowned for its playful fluidity at a time when most women's portraits were rigid and serious. Also, if she could seriously paint with that massive collar around her neck, that is some serious talent.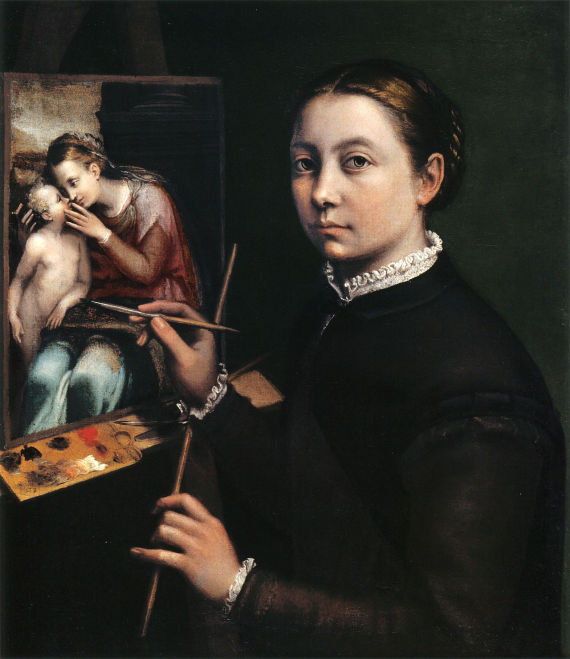 Self-portrait at the Easel Painting a Devotional Panel
Born:c. 1532 Heritage: ItalianMedium: PaintingWhy we love her: Anguissola, the oldest of seven children, was of noble descent, and her father assured her that she would have the best education in whatever passion she intended to pursue. He apparently was a man of his word, and Michelangelo became Anguissola's unofficial mentor. She received great opportunities due to her wealth and status, but she was still denied many possibilities as an artist because she was a woman. For example, because it was deemed improper for women to view nude models, she couldn't partake in life drawing and her artistic scope was limited as a result.
7. Saint Catherine of Bologna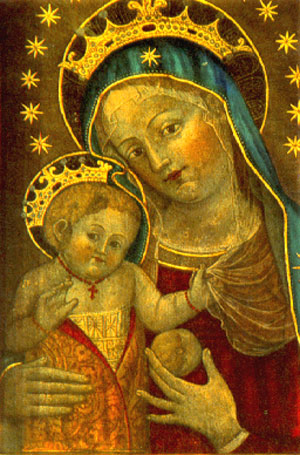 Born:1413 Heritage: ItalianMedium: Drawing, painting, writingWhy we love her: Born Catherine de'Vigri, Saint Catherine was an artist, nun and, you guessed it, saint. She grew up well-trained in drawing and other fields, as the daughter of an aristocrat, and served as a lady-in-waiting before joining a convent. She recollected and mused on her experiences in the convent, at a time of transition, in her writings and artworks. Although she died in relative obscurity, she is now hailed as the Patron Saint of Artists, due to her religious and creative devotion.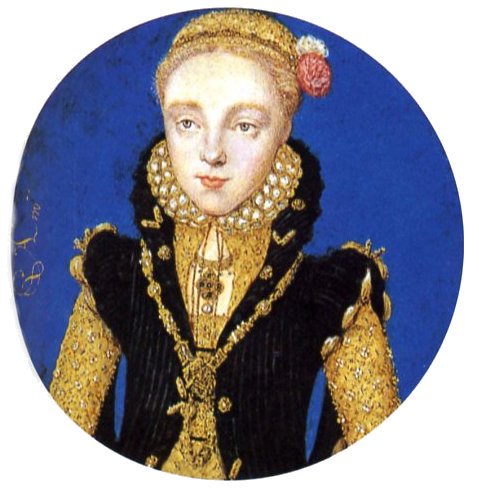 Portrait of Elizabeth I by Levina Teerlinc, c. 1565.
Born: c.1520Heritage: FlemishMedium: Painting, miniaturesWhy we love her: Teerlinc created portraits of Elizabeth I, many in miniature dimensions. In fact, the Victoria and Albert Museum in London declared Teerlinc responsible for the first group of assembled miniatures. Basically, she invented miniatures, royal miniatures to be exact, and that's pretty badass.
9. Adélaïde Labille-Guiard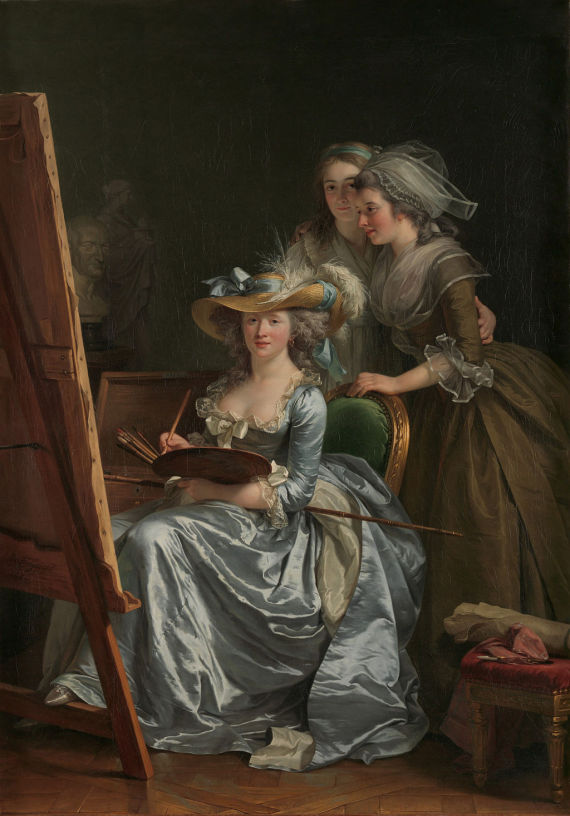 Adélaïde Labille-Guiard. Self-Portrait with Two Pupils
Born: 1749 Heritage: FrenchMedium: Miniatures, pastels, oil paintsWhy we love her: Labille-Guiard, a daughter of the bourgeoise, was accepted into the Académie de Saint-Luc at only 20 years old. She proved to be quite the revolutionary, later campaigning for the Academy to be reopened to women. Labille-Guiard too made an appearance in Judy Chicago's "Dinner Party" installation. And, come on, her hair.
10. Artemisia Gentileschi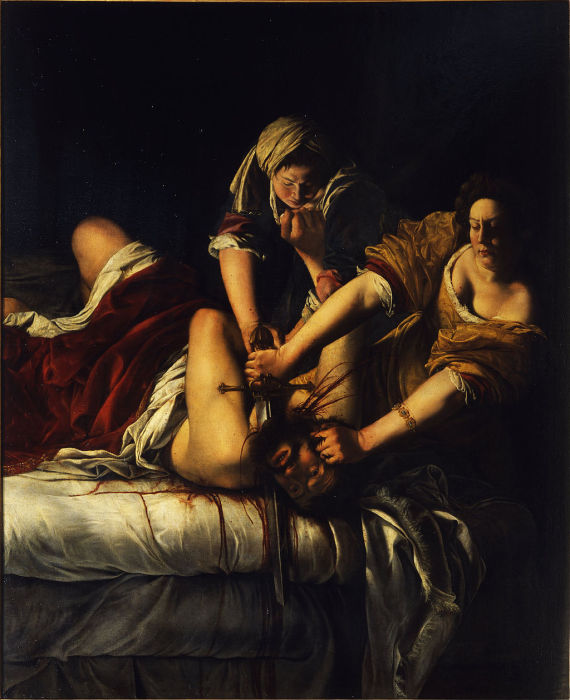 Judith Slaying Holofernes (1614–20) Oil on canvas 199 x 162 cm Galleria degli Uffizi, Florence
Born: 1593 Heritage: ItalianMedium: PaintingWhy we love her: Gentileschi, the daughter of a painter, grew up creating art in her father's workshop as a child. At around 18 years old, she was raped by a painter working with her father, and subjected to immense interrogation, humiliation and even thumbscrew torture as a result. The ordeal informed Gentileschi's feminist oeuvre, filled with women protagonists, powerful, violent and united. Her aesthetic was equally bold and strong, eschewing the traditional dominant views of feminine weakness (both in character and skill). Often, her images combine sexuality and violence, such as rendering of Judith slaying Holofernes or a naked Cleopatra being bitten by a snake.
Related
Before You Go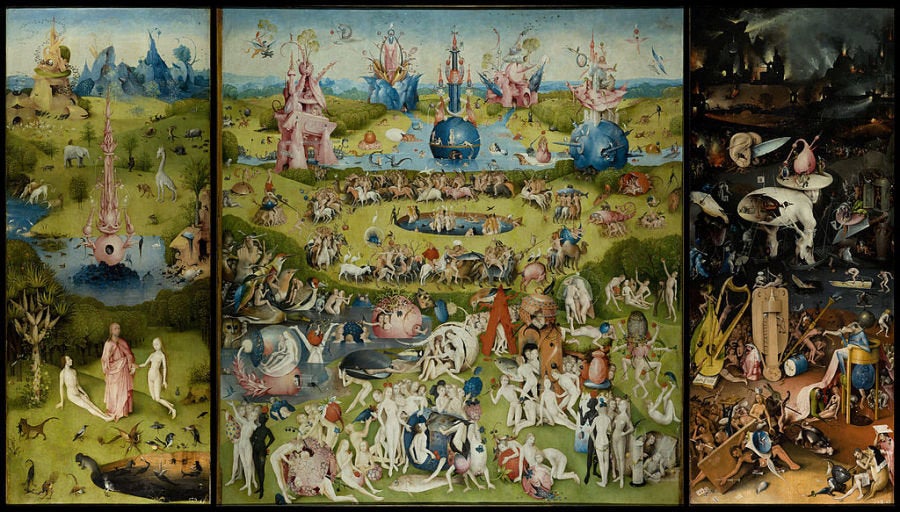 30 Artist Names You Are Probably Pronouncing Wrong
Popular in the Community