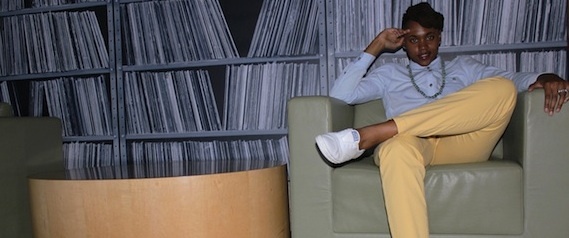 Photo Caption: Ebonie Smith
Meet Ebonie Smith, a gifted music producer, songwriter, and entrepreneur who is committed to encouraging women to join her in her craft. This is her amazing story.
Seven years ago, Ebonie was an undergraduate student at Barnard College, majoring in Africana Studies, with big dreams of a music production career, a field not typically associated with women. After graduating from Barnard in 2007, Ebonie went on to earn a master's degree in music technology from New York University; and today she is employed as an audio engineer and producer for Atlantic Records. In 2009 Ebonie founded Eudora House Music Production & Publishing, a boutique music production company.
As a music producer, Ebonie wants to see more women in this male-dominated industry, and she decided to do something about it. Partnering with Barnard College, she's created an event for supporting and encouraging women in music production -- Gender Amplified Music Festival. It was only natural that her alma mater host the event, for it was while Ebonie was attending Barnard that she conceived of Gender Amplified -- A Movement Celebrating and Supporting Women Music Producers. Held last September, this festival gathered women to the college campus for a daylong event that included "live performances of works produced by women; panels on music production, education, gender, and content; and instructional workshops geared toward high school- and college-aged youth to encourage them to pursue music production and technology."
I was intrigued by how Ebonie went from majoring in Africana Studies to an impressive career in music production, and I wanted to learn more about her background.
Before college Ebonie Smith was into basketball, music, math, and science. In fact she had so many interests as a high school student that when it came time to attend college, it was difficult to decide upon a college major.
Ebonie knew she wanted to attend college, but she had no idea what to major in. Because she wasn't clear about her study interests she decided to look at colleges that offered as much diversity and flexibility as possible. When she shared this information with a college counselor, the counselor suggested Barnard.
Barnard College is located in the heart of New York City. Founded in 1889, it's a private women's college that is a member of the Seven Sisters. In 1900, the college became affiliated with Columbia University. The college is known for its rigorous liberal arts foundation in an environment that offers more than 50 majors. From the beginning, Barnard College graduates have become leaders in numerous fields including the arts, business, government, science, non-profits, nationally and internationally.
"Barnard women change the world and the way we think about it," says Barnard College. And Ebonie Smith is no exception. Her broader goal is to affect "social consciousness through musical exploration and education;" and I am convinced that she will have an enormous influence in this unchartered field.
Knowing that her interest in recording and music technology was sparked while she was in college, I asked Ebonie how attending Barnard helped her career as a music producer, songwriter, and entrepreneur: this is her reply:
Attending Barnard College helped my career in a number of ways. The liberal arts instruction allowed me to design a multidisciplinary course of study that combined music technology, African diaspora studies, and gender and women's studies. This academic path provided the foundation for Gender Amplified. Also, I had a campus job as an audio/visual technician from freshmen to senior year. I learned so much about audio and sound engineering through this opportunity. It was critical work experience that prepared me for the job that I have today working as an audio engineer/producer for Atlantic Records.
I also was curious to know how majoring in Africana Studies positioned her for an awe-inspiring career in music production:
Africana Studies is the study of the histories, politics, and cultures of people of African origin, both in Africa and the African Diaspora. Such a broad major allowed me to focus on musics of the African diaspora and how technologies influence the cultures that surround music creation. Through my studies, I learned that music production is a cultural exercise, especially as it pertains to hip hop and beat production for rap music.
Related
Popular in the Community