Americans elected a record number of women to Congress on Tuesday. But in the nation's gubernatorial offices, the picture is more complicated and less encouraging.
On election night, women picked up three more governorships than they had going in. But the number of female governors is still tiny: There are now nine women set to run states, tying the previous record set in 2004. (There were 16 women in the running this year.) Though it's possible that Democrat Stacey Abrams will ultimately prevail in her bid for the governor's seat in Georgia, the number of women running states will still be small.
"It's been painstakingly slow to get women elected as governor," said Deborah Walsh, the director of the Center for Women and Politics at Rutgers University.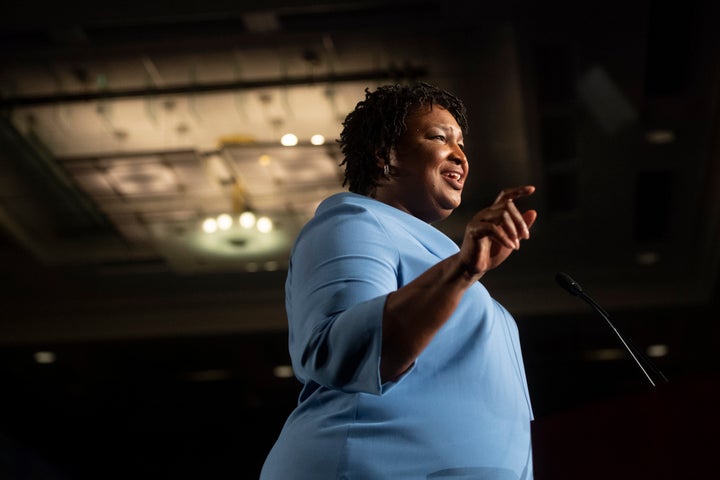 Election night 2018 proved that voters are getting increasingly comfortable with the idea of sending a woman to Congress, where she'll be a part of a decision-making body. This is partly because the notion of a female legislator lines up fairly well with stereotypes about women, who are often perceived as more collaborative and good at working in groups.
But when it comes to the governor's office, those stereotypes fall apart. There is still a big obstacle in getting voters to see a woman as the ultimate decision-maker.
"The big story is the wave of women [in the 2018 election] and it is exciting, but we have known there are additional barriers for women when it comes to executive office," said Amanda Hunter, a communications director at the Barbara Lee Foundation, which has studied every female gubernatorial candidate's race over the past 20 years.
When the foundation first started studying the topic, only 16 women had ever been elected governor. Now, the number is 48 (49 if Abrams wins). Meanwhile, over 2,300 men have done the job.
Women must work twice as hard to prove they're qualified for office, Hunter said. Men can simply list off their work history to show they're up for the job, but women have to offer concrete examples of their effectiveness, she said.
And women are more likely to be criticized on their perceived lack of qualifications ― a standard that's even higher for women of color. Abrams, for example, has been called out by conservatives as "unqualified" because she carries debt ― meanwhile, those same conservatives support President Donald Trump, who's owed legendary sums over his career.
Women seeking executive office walk the same kind of tightrope that women gunning for the CEO job face. They must be likable, but also be perceived as tough. Often those traits conflict (see: Clinton, Hillary.) And if a woman isn't likable, she's perceived as less womanly ― a big gender violation that's tough to recover from.
Men can just focus on being tough and strong, said Stefanie Johnson, a professor at the University of Colorado Boulder's Leeds School of Business who's researched the double-bind women leaders face.
"People see men as jerks but they just don't care, they still like them," she said.
Landing CEO jobs has always been harder for women. Fewer than 5 percent of the chief executives in the S&P 500 are women and, of course, there's never been a female president.
Rutgers' Walsh also pointed out that governors are less visible on a national stage, so voters rarely get to see a woman in that role represented in the media ― unless there's some breakout national story (like when then-South Carolina Gov. Nikki Haley took the national stage after removing the Confederate flag from her statehouse).
"It's only going to be as more women are in those jobs and people see them doing that successfully and visibly that we'll see change," Walsh said.
Indeed, once a state elects a woman governor, it seems to break down the barrier. Tuesday night, Michigan elected its second female governor, as did Kansas. New Hampshire has had more than one female governor.
To be sure, there were a lot of firsts for female governors Tuesday ― as there were for women up and down the ballot. South Dakota elected its first female governor, Republican Kristi Noem. Iowa did the same with Republican Kim Reynolds.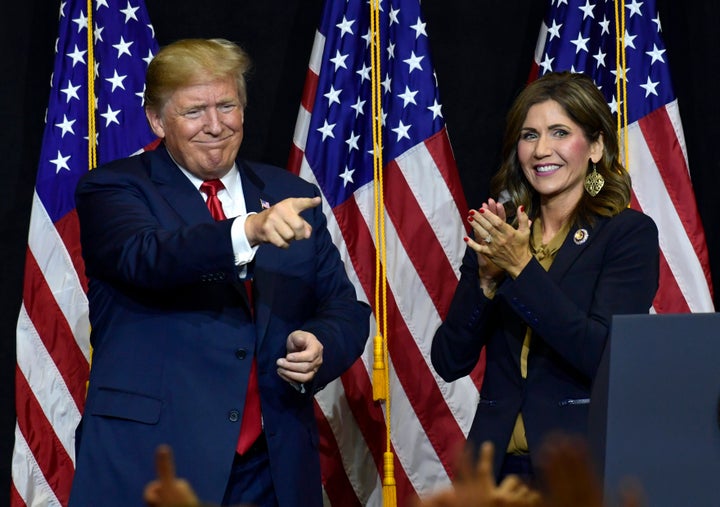 As the old adage goes: You can't be it, if you don't see it.
It's possible that this most recent wave of women legislators will set a new example of what a leader looks like. And if 2018 is the new guidebook, there are lots of options. Plenty of women in this cycle ran as their authentic selves ― talking about being parents or soldiers, and opening up about their racial backgrounds and personal experiences.
There seem to be more possibilities for women when it comes to being considered executive material or likable.
For example, Gretchen Whitmer, the Democrat who just won the race for governor in Michigan, used the tagline "Fix the Damn Roads," in her campaign.
That's notable, said Walsh. "I can't imagine 10 years ago or 15 years ago that a woman running for anything could use the word damn and get away with it," she said. "There's just a lot more leeway there now."
Popular in the Community