Pumping breast milk at work is one of the more depressing indignities of new motherhood. You're holed up in some tiny windowless closet at work, breasts exposed, hooked up to a whirring suction, nervous to be away from your job and sad to be away from your baby.
What's worse than that, though? Not having the opportunity to pump at all.
Only 40 percent of new mothers who return to work after giving birth have access to the private space and breaks they need to pump breast milk at work, despite federal regulations requiring employers to accommodate them, according to research published Tuesday in the journal Women's Health Issues.
Without support at work, women are much more likely to stop breastfeeding their children.
Low-income women and single mothers were even less likely to have access to a private space that's not a bathroom, or to take breaks to express milk, the study from the University of Minnesota School of Public Health found.
"This is pretty woefully inadequate, based everything we know about what moms and babies need," Katy Kozhimannil, the lead researcher on the study, told The Huffington Post.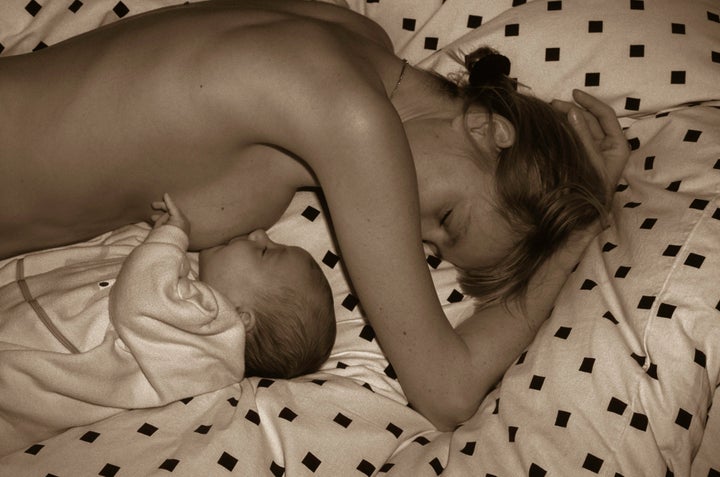 Since 2010, the Affordable Care Act, or "Obamacare," has required companies with more than 50 employees to provide reasonable accommodation and time for hourly workers to express breast milk.
Obamacare does allow employers an exemption from the provisions if they can prove it's a hardship to comply -- but there are all sorts of innovative ways workplaces can help nursing mothers, according to Dr. Joan Younger Meek, a member and past chair of the nonprofit U.S. Breastfeeding Committee and a professor of clinical sciences at the Florida State University College of Medicine. She mentions she's even seen makeshift tents set up for farm workers.
Still, many women and even some employers aren't aware of the new rules. "I wish I could say I was shocked," said Meek of the study's findings.
It's typically in an employer's best interest to support breastfeeding, which has fairly well-documented health benefits. The American Academy of Pediatrics recommends that mothers breastfeed exclusively for the first six months of a child's life.
But it's not so easy when you're away from your baby for hours during the day -- and especially tricky if you're an hourly worker with little control over your break time. Mothers who had time and space to pump at work were twice as likely to exclusively breastfeed their baby for at least six months, according to the study.
Good breastfeeding accommodations aren't just beneficial for moms and babies: Since breastfed babies are less likely to get sick, new mothers are less likely to take sick days from work. Mothers who get breastfeeding support at work are less likely to quit their jobs, according to the Health Resources and Services Administration.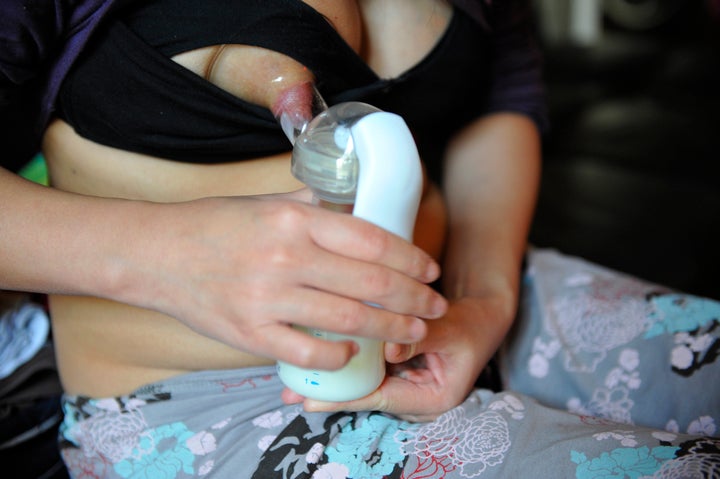 There are things women can do to make sure they get the support they need, should they choose to breastfeed after returning to work.
Meek recommends that pregnant women start a conversation about breastfeeding accommodations before they go out on leave. They can talk to other mothers at work about their experience. They can also talk to a supervisor or their human resources department about what they need. "It's easier to plan ahead of time then to scramble at the last minute," she said.
Women who have problems after returning to work or who have an unhelpful employer can file a complaint with the Department of Labor, which will investigate the issue.
"My biggest obstacle turned out to be the space," said Lauren, a teacher in Virginia, who shared her breastfeeding story on the website of the It's Working Project, a for-profit organization that aims to make workplaces better for women.
Even though she put together a schedule for pumping on her breaks, Lauren had no place to go. She shared an office -- and it didn't lock. She considered quitting nursing altogether, but then decided to talk to her school's vice principal, who found her space in an electrical closet.
That worked just fine. "It was warm!" Lauren is quoted as saying on the website. "Much more comfortable than my office, which was set to a frigid 60 degrees."
Since this is the first study to look at the link between workplace accommodations and length of breastfeeding, it's possible that new moms have better opportunities to breastfeed at work today than they did in the past.
Certainly, there's more support for breastfeeding these days, said Meek. "It has gotten better, but lower-income workers and single mothers and breadwinner mothers still have difficulty."
The study, which was supported by a grant from the National Institutes of Health, analyzed a survey of 2,400 women who gave birth in 2011 and 2012 and were interviewed in 2013 so they could describe their return to work. More than 1,000 of the women went back to work and answered follow-up questions about breastfeeding.
The survey did not look at what types of jobs most women held or what kinds of companies they worked at. The researchers found that 59 percent of women had access to adequate break time and 45 percent had a private space for pumping. Only 40 percent of women surveyed had access to both things.
Every year, about 1.8 million women return to work within six months of giving birth, the study estimates.
Popular in the Community