More women are going to business school and, if you care about how few females make it to the upper echelons of corporate America, that's not terrible news.
The percentage of women enrolled full-time in the nation's top business schools, a list that includes Harvard and Wharton, increased to 36 percent in 2015 from 32 percent in 2011, according to a survey released Monday by Forte Foundation, a nonprofit group founded in 2001 that represents large multinationals and business schools and advocates for more women in business.
"We've been watching this slow and steady growth," Forte Foundation Executive Director Elissa Sangster told The Huffington Post. "You never know when the tipping point happens, but it seems in our sights."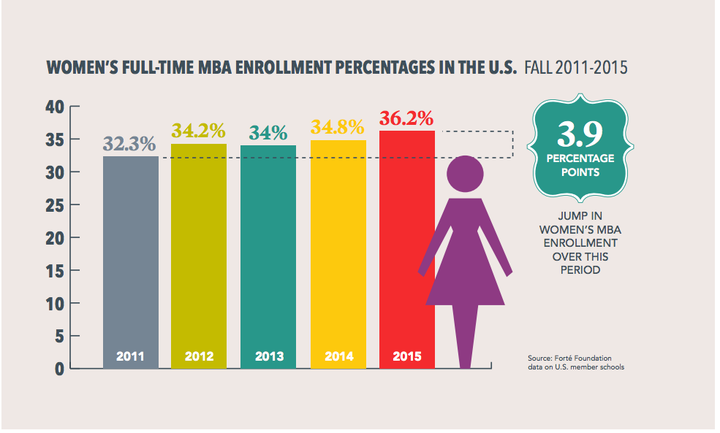 The only top U.S. school missing from Forte's survey of 36 institutions is Stanford, which separately reported 40 percent women enrollees in the class of 2017.
At 12 member schools the percentage was 40 percent or more, a target goal for many institutions over the past few years. The fact that b-schools aren't striving for actual 50/50 parity reveals just how far behind they are on the whole women thing.
Sangster, though, is optimistic. "Fifty is in their sights," she says of the schools with the most women.
Business Schools with 40 percent or greater women's enrollment, according to Forte's survey:
Dartmouth College (Tuck School of Business)

George Washington University School of Business
Harvard Business School
Massachusetts Institute of Technology (Sloan)
Michigan State University (Broad College of Business)
Northwestern University (Kellogg School of Management)
University of California - Berkeley (Haas School of Business)
University of Chicago (Booth School of Business)
University of Pennsylvania (The Wharton School)
University of Rochester (Simon Graduate School of Business)
Washington University in St. Louis (Olin Business School)
Yale School of Management
Meanwhile, women have achieved parity at the undergraduate level in the U.S. In fact, for the first time in history, women are now more likely than men to have a bachelor's degree, according to Census data.
At the graduate level, however, we're not there yet. Women comprise fewer than 50 percent of enrollees at law and medical schools -- hovering in the high-forties.
B-schools have been slower to catch up for a complicated mix of reasons. Women may be turned off by male-dominated cultures and even the curriculum. At Harvard, the school's famous case studies -- stories about a business person facing a problem that students must solve -- overwhelmingly involve male protagonists. And when a female protagonist is involved -- oftentimes the problem being studied is work-life balance, noted one Harvard student who spoke to the Wall Street Journal earlier this year.
"The problem would be that 'oh, she got pregnant,'" the student told WSJ. "I found that really kind of worrying."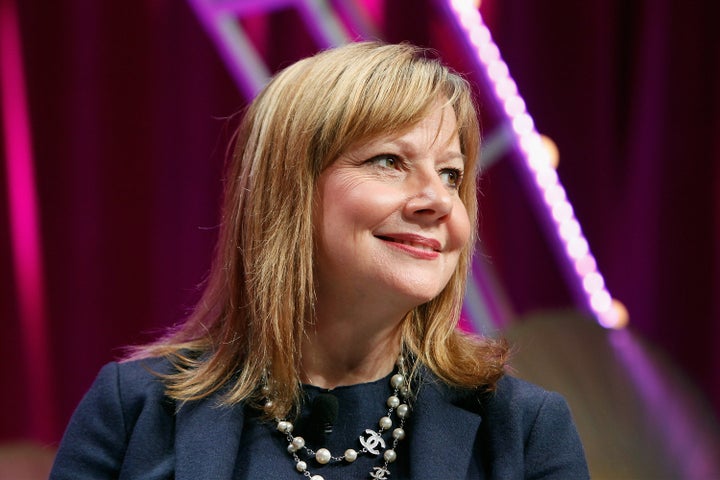 Nitin Nohria, dean of Harvard Business School, pledged to double the percentage of female protagonists in case studies to 20 percent (not a great number, btw). Nohria has also been outspoken in his push to get more women enrolled and it's been paying off. Female enrollment at Harvard Business School is at record highs -- HBS reported that 41 percent of the 2016 class are women, and the incoming 2017 class is 41.5 percent female, according to Forte Foundation.
Last spring the school launched a new program aimed at getting women from women's colleges to apply. Other business schools have launched a raft of programs designed to attract women -- and are competing fiercely for qualified female applicants.
Applicants to business school typically work for a few years ahead of enrollment -- unlike those in med or law school. And typically, they work in more male-dominated industries -- think consulting, finance, etc. Business schools also tend to attract people who've studied business or engineering as undergrads -- a group that is majority-male.
A cynic might ask, who cares how many women (or men) go to fancy business schools? But, it turns out that getting more women into the pipeline at these elite institutions is a key part of increasing the number of women who lead the U.S.'s biggest and most powerful companies.
And once you get more women at the top, it becomes easier to fix other problems with the modern-day workplace, including, say, the gender pay gap, the lack of women in other leadership and strategic roles, a culture that favors men with stay-at-home wives, etc. It'll also help funnel more women into corporate boardrooms -- another place they're MIA.
Seems unbelievable to write this in 2015, but these are all real, pressing issues for Fortune 500 companies.
Also, if more women go to business school we will get more delightful parody videos like this classic from the ladies at Columbia Business School:
Of the eight female CEOs in the Fortune 100 (yes, just 8), all, but one -- Ginni Rometty at IBM -- studied at elite business schools, meaning they received an MBA, pursued another advanced degree or did executive education there. The list of schools includes Stanford, Harvard, Yale, Columbia, Wharton and Cornell, according to a HuffPost analysis.
Forty percent of male Fortune 100 CEOs have an MBA, according to Forte. Clearly, getting more women to these schools is a "key way to solve the problem at the top," Sangster says.
Related